by Leif Skodnick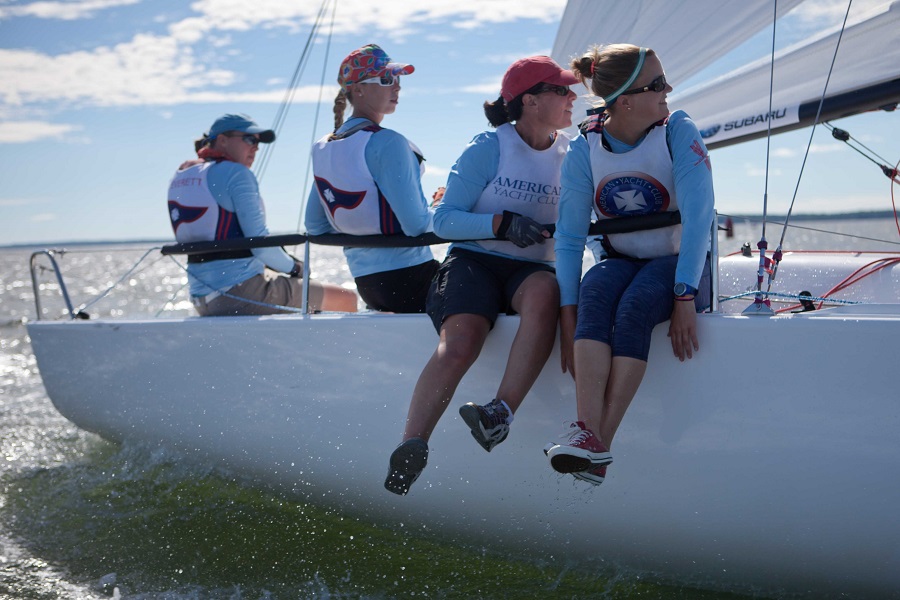 RYE, N.Y. (August 19, 2016 ) – Communal experience as a team and college sailing experience in shifty winds paid dividends for Clemmie Everett (Rye, N.Y.) and her crew, who took home the Bengt Julin Trophy for winning the 2016 International Women's Keelboat Championship at American Yacht Club on Friday.
Representing American Yacht Club (l – r) , Clemmie Everett, Erin Sprague, Alix Hahn and Carolyn Russell are the Champions!   © Matthew Cohen/cohenphotography.com
Starting the day in third place, Everett, with crew members Alix Hahn, Carolyn Russell and Erin Sprague, finished the elimination stage of the championship with 73 points over 20 races and won two of the final stage's three races to capture the championship.
"Wednesday's racing was coming right off the shore so it was very shifty," said Everett. "Alix sailed at Tufts. Tufts sails at Mystic Lake. I sailed in the Charles River in college. We both do a lot of frostbiting. We were totally comfortable with puffy and shifty conditions."
The team made a conscious effort to avoid penalties that would have cost valuable standings points.
"The biggest thing was sailing clean," said Carolyn Russell of Greenwich, Conn., who trimmed spinnaker for the winning crew. "You don't want to make contact, because that really kills you."
They were successful, accruing 13 points over their final five races in stage two, including a bullet and two second place finishes that placed them second heading into the championship flight, though they tried to keep that out of mind.
"We tried our hardest never to realize we were really close," said Erin Sprague, who trimmed the mainsheet and traveler. "After the second round robin, once we looked at the numbers, we had a little taste of the fact that it was possible."
But until their J/70 was close to the final finish line, Everett and her crew tried to keep it out of their heads.
"We didn't talk about it a lot, we were just out for a sail," said Alix Hahn, who grew up sailing at American Yacht Club and trimmed jib and called tactics for the winners. "After the second race in (the championship flight) we knew this was ours to lose, and we went out and won that last one, and it felt really good.
When the boat crossed the line, tears flowed, hugs were given, and the spinnaker came down. But Everett's team knew what an amazing week of sailing they had shared.
"Every minute in the boat counts," said Alix Hahn, who grew up sailing at American Yacht Club and trimmed jib and called tactics for the winners. "Without question, this is a peak victory for all of us. I don't think any of us have had a sailing moment that's as special as this one."
For the winners, the influence on younger female sailors could not be understated.
"I would say to any young girl who is scared of sailing right now, just keep at it, ask a lot of questions, and find some mentors or find some coaches and get determined, and decide this is what you want to do, and go do it."