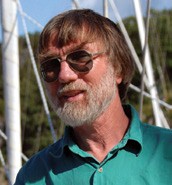 PassageMaker Magazine is presenting a series of Cruiserport University seminars during the Newport International Boat Show in Newport, RI. The seminars will be held directly across Thames Street from the show at the Newport Blues Cafe, and the "headliner" is author and researcher Nigel Calder, who is returning to Rhode Island for the first time in a decade to deliver two technical seminars in his inimitable style.
Nigel Calder
An Englishman by birth, Mainer by choice and storyteller by inclination, Calder will present "Diesel Engines: Maintenance & Troubleshooting" all day on Wednesday, September 14, 2016 beginning at 8:30 am. His seminar "Troubleshooting Electrical Systems" will be taught over two mornings on Thursday and Friday, September 15 and 16, also beginning at 8:30 am. Calder's books Marine Diesel Engines and Mechanical & Electrical Manual have saved many a mariner who found himself in a dilemma but was wise enough to carry them on board as a reference. Attendees at the diesel and systems seminars will receive a certificate of completion that may help them earn a discount from their insurer.
Calder will also join AIM Marine Cuba specialist Peter Swanson from 3:30-5:30 pm Thursday for "Rum, Rhumba & Revolution: Go To Cuba Legally With or Without Your Boat," in which they'll discuss how to cruise to Cuba and what you'll find there.
Other seminars include "Weather Basics for Boaters" with Jeremy Davis, operations manager at Weather Routing, Inc.; "Navigation for Husbands & Wives" and "Getting the Most from Your Radar" with Bob Sweet, a senior navigator and author of The Weekend Navigator, GPS for Mariners, Using GPS, Using GPS with Charts, and consultant to OceanGrafix; "The Physics & Psychology of Hull Shape" with naval architect Lou Codega; "Onboard Communications & Entertainment" with marine electronics expert Paul Comyns; and "The Great Loop: How To Prepare, What To Expect" with Kim Russo, Executive Director of the American Great Loop Cruisers Association.
CruiserPort University is "propulsion-agnostic," with seminars applying equally to those who would cruise under sail or power. For more information, visit passagemaker.com or call 443-745-7785.