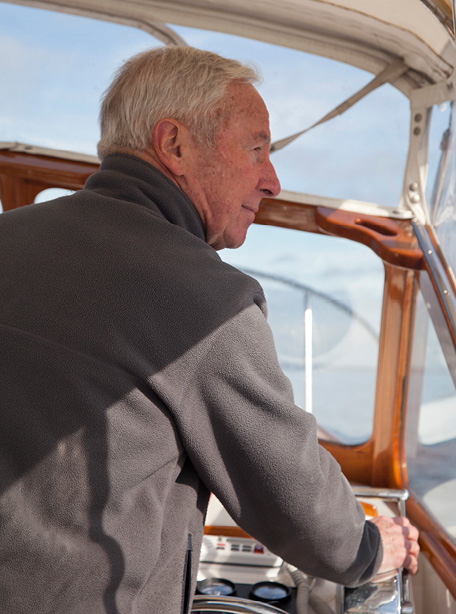 It is with great sadness that we report that our friend Howard McMichael, Jr. died at the age of 82 on Tuesday, June 2. Howie, as he was known to family and friends, suffered a stroke on Thursday, May 28, from which he never recovered.
Howard McMichael, Jr. was the longtime leader of and inspiration for McMichael Yacht Yards & Brokers, having taken over the company from his father, Howard McMichael, Sr., upon Howie's return from serving in the U.S. Army in 1962. Having grown up in the boat yard, he started selling boats as well as managing purchasing and marketing for the company. Under his leadership, McMichael grew to one of the country's major yacht brokerages and yacht servicing companies.
Howie served as President of McMichael through 2019, at which time he became the company's Chairman. Under his watchful eye, the leadership of the company transitioned to its current President, Steve Leicht, a McMichael family member. The company continues to be fully family-owned with a board comprised of his sister Susan McMichael Robertson, his sister Joan's son-in-law Steve Leicht, and his son-in-law H.L. DeVore.
Nothing pleased Howie more than being out on the water. You could find him on his beloved boat Puff, setting the weather mark with his best friends Joe Fontanella and perpetual PRO Butch Ulmer. If he wasn't at that perfectly set weather mark, then he was off cruising on the family J/44 Honahlee with his grandchildren.
Howie was a yachtsman in the truest sense of the word. An active sailboat racer his entire life, he was a Past Commodore of Larchmont Yacht Club and an active member of the Storm Trysail Club. His love and dedication to the yachting and boating communities was demonstrated in many ways including countless hours volunteering for Storm Trysail's Safety-at-Sea programs and Intercollegiate Offshore Regattas as well as recently supporting the Newport Bermuda Race and the youth sailors of the MudRatz and the Young American Sailing Academy.
Howie will be missed for those and his many other contributions to the sport he loved. More so, he will be missed by all to whom he was a friend. Gregarious and willing to share his vast knowledge about sail- and powerboats, Howie was always willing to stop whatever he was doing to help answer a question or address a concern. For those and his other inspiring characteristics, his legacy as a leader and crewmate will continue for generations.
Plans for a celebration of Howie's life will be forthcoming. In the meantime, fair winds and following seas, Howie. ■