While writing the March Publisher's log in February, I unwittingly foreshadowed the record levels of boat buying we have seen since mid-April. I wrote about finding the perfect boat at my better half's insistence. It has been quite a journey to find the foiling catboat that can sleep four and tow 12-year-olds on wakeboards while still looking great without too much bright work to tend to.
And my spouse has been very, very patient, helped a tiny bit by my syndication strategy (borrowing the neighbor's old Mako to, quite literally, stem the tide of frustration). Also, the syndication strategy did indeed move the goal posts for the search. It highlighted the need for a boat that the whole family could enjoy that would be capable of cruising what are arguably the best cruising grounds in the world, those from Barnegat Bay to Maine. And thus the research began, and then the subsequent chase that spanned the entire East Coast and parts of the Great Lakes in large part due to the predicted side effects of the pandemic (see our May Publisher's Log, "Sailing in This New World").
What was really fun about the research was learning how much I didn't know about not just yacht design but the intimate connections between good powerboats and good sailboats. Like many kids, I was raised to believe you had to pick sides. And as I got older and proceeded to do a ton of coaching, I spent thousands of hours in small powerboats, but never really went beyond what makes a good coach or umpire boat or much about engine design beyond if you didn't run them daily, they tended to act up. Other than Ray Hunt, mostly due to a short but really enjoyable stint in the 110 Class, I never really knew about the relationships between sailboat and powerboat designers and builders. History like the story of Leon Slikkers and his founding of S2 Sailboats then subsequently the excellent product lines of Tiara and Pursuit powerboats, all renowned for good and sensible designs with good building practices and the resulting avid following.
And the results of my efforts? When you read this, hopefully my 12-year-old will be taking advantage of his COVID- induced free time (no camps, no baseball yet, and delays in sailing programs commencing) to deliver the new family cruiser back to Connecticut from Jupiter, Florida with his Dad, via the Intracoastal Waterway. She's a 1986 Blackfin 29 Flybridge, lovingly restored by a family originally from New York but now avidly boatering in Florida, complete with two lifts in the backyard. And the name? Well, if I had found a foiling catboat without too much varnish that could sleep four and tow the boy and his buddies around, it may just have wound up the same!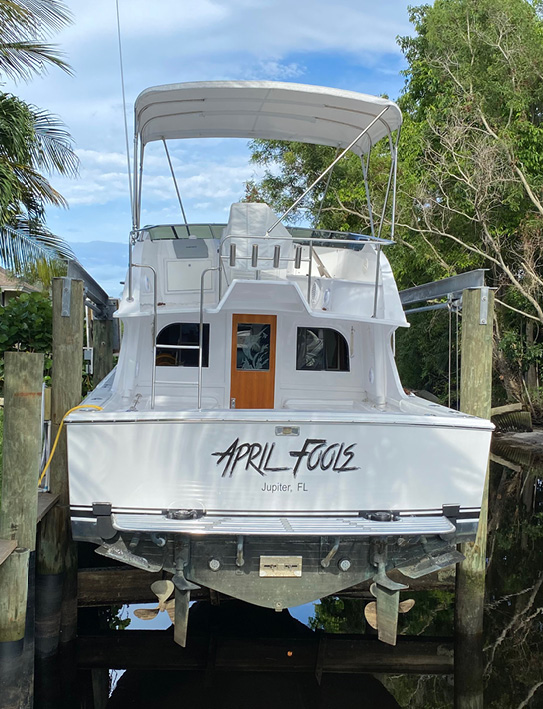 See you on the water,
Publisher
Benjamin V. Cesare
ben@windcheckmagazine.com