By Ben Wyckoff Shore
Published by Cinder Block Publishing   250 pages   paperback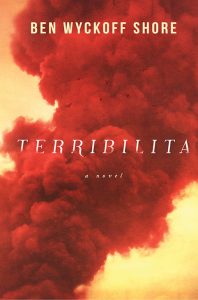 A term used to describe how a piece of art can evoke powerful emotion in the viewer, particularly awe or terror (originally ascribed to the works of the 16th Century Italian artist and sculptor Michelangelo), Terribilita is also the title of the first book by Ben Wyckoff Shore.
Taking place during the Italian unification movement of the mid-19th Century known as the Risogimento, this historical novel is a tale of a father and son from a famous family who become engaged in battles of that tumultuous era. When Enzo Ferrando, the leader of the longshoremen in the port city of Genoa, sinks a ship loaded with guns owned by a powerful politician, his father is assassinated in reprisal.
Conscripted into the Italian army for a campaign in Eritrea, Enzo soon becomes a captain with a determination of living up to the legacy of his father, a war hero who served with Garibaldi. Yearning to avenge his father's death, Enzo also fears that a vendetta will claim the life of his son Lucca, and the young man is sent into hiding as a deckhand aboard a merchant ship. Set in a culture in which violence played an intregral role, Terribilita is a coming of age tale about family, redemption, and love.
Born on Long Island, Ben Wyckoff Shore earned a BA in Economics from Tufts University and an MBA from Dartmouth College's Tuck School of Business. Although he resides in Queens, NY, he has most of his good ideas while he's in Vermont. An avid sailor, skier and hiker, Ben likes all sorts of dogs but especially underdogs. He and his wife Mariana have no cats together. ■