By Christopher Rosow
Published by Quadrant Publishing, LLC   375 pages   paperback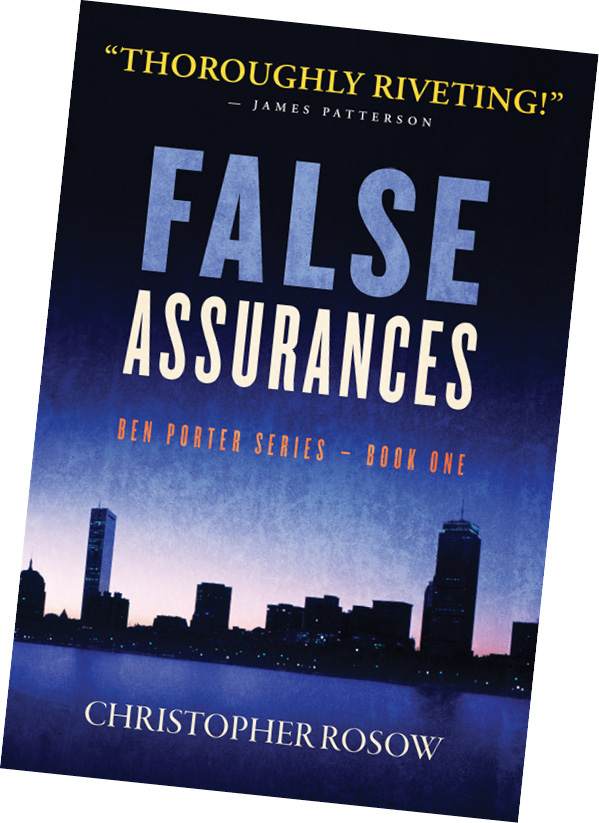 It's exceedingly rare for a self-published book by a new author to break into the top 20 on the Amazon "Most Sold" list. Christopher Rosow's first book, False Assurances, not only ascended to #6 on that list for the week ending May 17, it simultaneously hit #1 with a bullet on Apple Books…an occurrence only slightly more likely than seeing a mermaid.
In July 2017, a J/111 competing in the Marblehead to Halifax Ocean Race is boarded by terrorists intent on smuggling weapons into the U.S. After escaping from his captors, the owner is rescued and subsequently calls the FBI Boston field office to report that his boat's been hijacked. The call appears to be a hoax, and the local agents have already been assigned to a visit by the President that evening. Because Bureau procedures require a response to all threats, the task of investigating the call is given to an unlikely hero, FBI Information Management Specialist Ben Porter. With no training in field work, will Ben be able to uncover the deadly plot and prevent it from being carried out?
Christopher Rosow conceived this story while standing watch (perhaps not entirely diligently) during the 2017 Marblehead to Halifax Ocean Race. After the manuscript was rejected by a succession of publishers, he made the decision to self-publish and also write a sequel to False Assurances called Threat Bias. In just over a fortnight, 40,000 copies of the first two books in the Ben Porter Series were purchased and both have garnered 5-star ratings on Amazon.
Lauded as "thoroughly riveting" by best-selling author James Patterson (a man who knows a bit about "couldn't-put-it-down" novels), False Assurances and Threat Bias are available in e-book or print format on Amazon, in e-book format on Apple Books, or in print format from your favorite independent bookseller via Ingram. This reviewer is predicting that these will be the best thrillers you'll read this summer…and that heads will roll at more than a few publishing houses when the film rights to the Ben Porter Series are purchased by a Hollywood studio.
Known to his many friends as Treef, Christopher Rosow currently chairs the junior sailing program at Pequot Yacht Club in Southport, CT. Many of that club's young sailors have done the Beach Point and Dorade overnight races aboard his customized Santa Cruz 37 threebeans. He and his wife Meghan and children Connor, Keilan and Maggie live in Southport with a chocolate Lab and a Havanese ("The Odd Couple of dogs," he jokes) and what he describes as "way too many boats." A lifelong sailor, Treef's latest passion is foiling and he can often be found flying over the waters of Long Island Sound on his UFO. ■