Deep Water Voyaging, Navigation and Yacht Management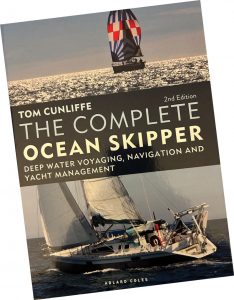 By Tom Cunliffe
Published by Bloomsbury Publishing, an imprint of Adlard Coles
Reviewed by Cooper
For aficionados of the British sailing press, the name Tom Cunliffe ought to be well known. If it isn't, you need to change that. He is one of the masters of the sailing game. A veteran sailor having spent time in, and on, every style of boat on most oceans and worked in just about everything there is to do on the waterfront, he has the experience of the grazed knuckles and that rare capacity to share his experience in an engaging, readable and easy fashion.
The Complete Ocean Skipper, his latest, is a good read in which he offers you a list of: Here's what to think about and some of the pitfalls that may befall you if you them if you don't think about them beforehand.
The chapter headings read like the punch list one might compose when one is contemplating executing the "Exit Plan." Hulls, rigs, engines, systems, steering, accommodations, navigation and interestingly and rare, Paperwork and bureaucracies, are covered and are all addressed, not in a massive degree of nuance and minutiae, like other tomes on the topic, but with good straightforward information you can actually apply to your own adventure. The British sense of humor is never below the waterline, as with a paragraph on electricity. Under the sub head The Basics: "…power kept in accumulators generally known as batteries…" For anyone not versed in electricity, managing all the systems we are encouraged to have these days can frequently be frustrating, expensive and often both. He offers hope by offering a dichotomy of "must have" and "want to have."
He even addresses some serious basics, like food and water including thoughts on washing up. Sea water works just fine. Some related advice on food prep and planning for a passage is equally simple. Start with one day at a time, then work on each meal. And then regarding "the what" in the food department? He is a founding member of the KISS school of culinary composition. Food, meals, that are easy to prepare, simple, nutritious and taste good. A couple of pots, see above re washing up. And he includes a thought on treats in the "I've been a good boy" and the opposite end of the smiling sunny voyage department, "I wanna die" nourishment, bland crackers & fresh water.
A robustly hardbound book, it will fit in a small backpack or tote bag. It could be taken in simply as an engaging read when sitting under the awning, at anchor as one might simply take in the cruising guide to That Dreamland.
If "slip the dock lines for the wild blue yonder" is on a Post-it note on your fridge, then one reading "Buy The Complete Ocean Skipper should be next to it too. ■