By David Seigerman, clean water communications specialist
Off the beaten paths, patches of Opuntia humifusa are preparing to bloom. Bright bursts of yellow will pop this summer from spiked green pads that look like a beaver's tail crossed with a stegosaurus'. Yes, cacti grow around Long Island Sound's shores, particularly in two sections of West Rock Ridge State Park, a 1,691-acre open parenthesis of green space spanning New Haven and Hamden, CT.
And Annalisa Paltauf isn't going to tell you where to find them. The clusters of Eastern prickly pear have receded in recent years, so their exact locations are kept secret by park regulars – in case the loss of New England's only native species of cactus is human-driven (though the culprit could just as easily be deer or some other natural factor). But preserving the unique flora is only part of the point of a place such a West Rock.
These shared spaces help to preserve people from stressors, too. Sometimes, a walk in the woods in search of prickly pear is exactly what we need. "This place is such an important part of my mental health and my overall well-being," said Paltauf, a member of Save the Sound's ecological restoration team and an avid hiker/runner/dog-walker who bought her house because it's only three-tenths of a mile from a trailhead in the southern stem of the park.
Many visitors to West Rock seek out the south overlook, where the vista includes Long Island Sound's waters (and, on a clear day, all the way to the north shore of Long Island itself). Paltauf prefers the vantage point from the north, as much for what she can't see as what she can.
"I don't like to see buildings," Paltauf said, reflecting on the ridgelines, reservoirs, and rolling hills in her views from the top of the park. "It makes you feel like you're in the middle of nowhere."
Public places, funded by public investment, provide an escape – in the case of West Rock, quite literally. Regicides Trail, one of Paltauf's favorite runs, is named for William Goffe and Edward Whalley, Englishmen who escaped to the New World (ultimately, to New Haven) after their involvement in the execution of King Charles I. They, too, were on the run, hiding out in a rock formation known now as Judges Rock.
We all have places like that – sanctuaries, whether we have to climb mountains or stroll pebbled beaches to reach them. Steve Englebright, who spent 30 years in the New York State Assembly and chaired its Environmental Conservation committee, has no shortage of favorites. But there is one that feels especially significant: a stretch of land between Conscience Bay and Little Bay in Setauket on Long Island, near where the Woodhull Farm thrived in the 18th Century. It was the epicenter of the Culper Spy Ring, which provided vital intelligence to Gen. George Washington that turned the tide of the Revolutionary War.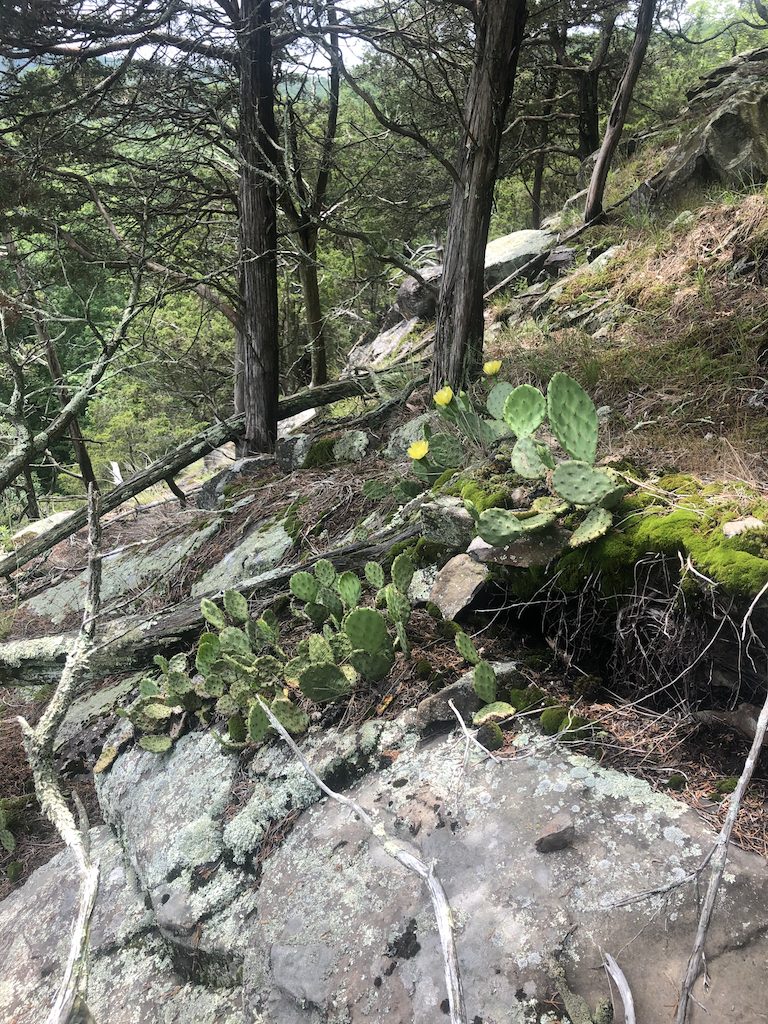 The location of these eastern prickly pears is one of Connecticut's best-kept secrets.
© Annalisa Paltauf
Today, it's home to a stretch of tidal wetlands acquired in 2018 by the New York State Department of Environmental Conservation to protect wildlife habitat and help protect Long Island Sound from contaminants in stormwater runoff. Walking along Dyke Road toward the gateway to Strong's Neck, Englebright is moved not just by the history and the beauty of the salt marshes but of our responsibility for them.
"To have been able to fund the protection and preservation of a place that was a touchstone of the beginning of our country was a great privilege," said Englebright, who was elected to the Assembly in 1992.
In his first year in Albany, Englebright worked to secure the establishment of the Environmental Protection Fund, which will celebrate its 30th anniversary this spring. The EPF is a dedicated source of funding for conservation efforts across New York, separate from other items in the state's annual budget. Over its first quarter-century, the EPF funded $2.6 billion of environmental projects and programs, from land acquisition to waterfront revitalization to park preservation, and was allocated $400 million in fiscal year 2023.
Much of the revenue for the EPF comes from real estate transfer taxes. In New York, when you purchase a piece or property for yourself, you're also investing in public places for all of us.
"The benefits of investing into shared spaces cannot be overemphasized," said Englebright. "But the job isn't done. These resources can be compromised with one foolish decision. It's important for the public to be watchful and to demand that the EPF be invested into. It's not an expenditure; it's an investment program."
Across the Sound, in a house near a network of trails in a state park maintained by the Connecticut Department of Energy and Environmental Protection, Paltauf agrees. "There are places that have trails but you have to have a permit to use them, and you have to pay for the permit," she said. "Public spaces are for everyone." To learn more, visit savethesound.org. ■