Story & photos by David Hemenway
A group of United States East Coast Finn sailors have started a new organization called the Classic Finn Organization and have developed a website at classicfinns.org. Our goal is to revitalize older, often unused, Finns and get them out sailing.
Classic Finns are a great way to go sailing at a reasonable cost in a fantastic boat. This website provides information on available Finns and equipment, in addition to upcoming Finn events. These will include events supported by the US Finn Association as well as local clubs. We encourage sailors to save these great old boats and form fleets of classic Finns in their areas. While we are currently active in the Eastern U.S., we look forward to expanding to other areas that are interested in classic Finns. The US Finn Association has welcomed classic Finns to sail in their regattas with more modern boats.
Here is the background of why I started the Classic Finn Organization. One evening toward the end of May, I was perusing craigslist for interesting boats and found a free old Finn in a nearby town. I have had a number of Finns over the years and enjoyed them. They are fun boats to sail because they have lots of sail adjustments. They are sailed single-handed, so there are no crew challenges. Finns are also easy to trailer with nearly any vehicle.
My new Finn was made and bought in Holland in 1962 by the original owner, who sailed her in Europe and brought her home to Connecticut about fifty years ago. As the owner aged she was left under a tree and neglected. When the family sold the property, the old Finn had to be rehomed or be destroyed. She was missing her rudder and centerboard, and the hull, rig and sail were in poor condition. I couldn't resist helping the old girl, so off she went to Cappy's Boat Shop, which is the name of the shop behind my house. The picture below shows her when found in May 2022.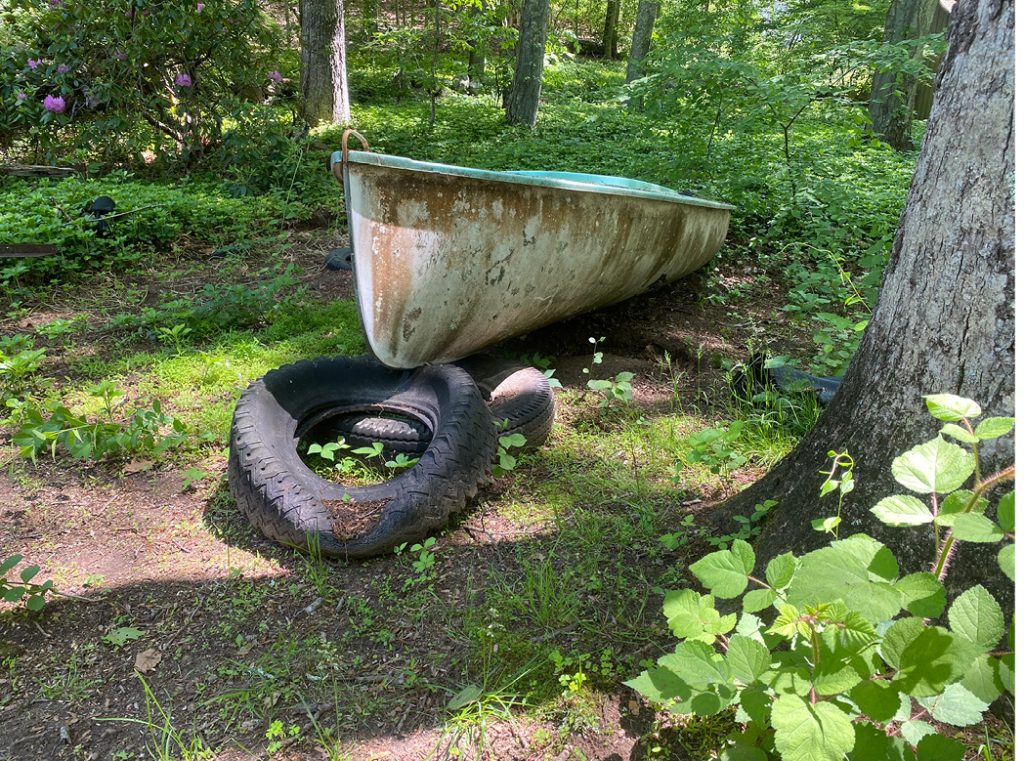 I built her a new rudder and tiller, reglued the old wooden mast, replaced the cockpit floor, repaired the flaking gelcoat, and found her another centerboard, which was provided at no charge by Andrew Pimental at Jibe Tech in Rhode Island. I communicated with Stephen Smeulders from the USA Finn Association and he encouraged me to bring her to a regatta at the Saratoga Lake Sailing Club in upstate New York at the end of July.
I agreed to do so as long as they didn't mind an old, uncompetitive Finn sailing with their newer, faster boats. Since they wanted to see what a 1962 Finn looked like with its original equipment, I repaired the basics and kept all the hardware as she was originally equipped. They were impressed with this old Finn, which is so much simpler than the newer, high-tech Finns. I named my good old Finn No Cents because I didn't pay anything for her, and it makes no sense for an older guy to sail such a fast boat.
The Saratoga Lake Regatta Finn sailors were so impressed that Stephen Smeulders, the Finn USA regional fleet captain, offered me a newer polymer North sail and Peter Frissell, the Finn USA president, offered me an older carbon mast. These were both provided at a very reasonable price – a couple hundred dollars. They also presented me with an award for bringing this old Finn back to life. I was very pleased with all they had done for me and had a great time at this regatta, even though No Cents and I came in last!
While accepting this award, I mentioned that I would like to get a fleet of old Finns sailing at Thames Yacht Club in New London, CT. They all thought that was a great idea and said they would do what they could to make this happen. A few weeks later, I got a call from Gus Miller in Rhode Island. He asked me to stop by the next time I was in the area. He had a surprise for me! It turns out that the Finn sailors on Cazenovia Lake, where there is a large Finn fleet, wanted me to have a Newport Finn that needed some work to begin building the Connecticut fleet. I have repaired this Finn and she is now a boat that I loan to anyone who wants to sail a Finn. In honor of her Cazenovia Lake roots, I have named her Cazzy.
Now that I had two functioning Finns, it only made sense to race them. So, we had the first ever Thames River Championship for Finns on Saturday, October 8, 2022 at Thames YC. We had four Finn sailors who brought their boats from as far away as Pennsylvania, and two TYC Force 5 sailors who sailed my two Finns. Four of the Finns were more than fifty years old and two were newer, more modern boats. I served on the Race Committee with three TYC colleagues. We had six races in winds that ranged from light to a fresh breeze of 20 mph. The overall winner is a TYC member who has been a national champion in the Force 5 class. He sailed Cazzy, the 1960s Newport Finn that was given to me by the Cazenovia Lake Finn people.
Other than the great sailing, the major outcome of the regatta was the realization that we enjoyed talking about older Finns and would like to have more events for these great old boats. Since a major challenge to doing this is communicating with people who would like to attend these events, I decided to start the Classic Finn Organization and its website.
I am a member of the U.S. Finn Association and fully support their Finn efforts. However, their focus is on serious Finn racing and ours is restoring and sailing classic Finns in local regattas and events. We now have five Finns at Thames YC, and look forward to expanding the number of Finn sailors and saving the many forlorn older Finns that need rejuvenating. Our plans for this season are to continue the Thames River Championship and have regattas at Ram Island Yacht Club in Noank, CT, Narragansett Bay, and possibly in Maine. There are older classic Finns in each of these areas.
At the current time, our new organization is focused on the area where we live. If Finn sailors in other areas of the country would like to join this effort and post their events, we would be happy to add them to our website, classicfinns.org. I would appreciate any feedback or ideas on how we can improve these efforts. ■
Dave Hemenway lives in Eastern Connecticut and sails out of Thames Yacht Club in New London. He's been sailing and messing about in boats for his whole life and has recreationally sailed Finns on and off since the 1970s. His primary cruising boat is a Dickerson 36 yawl that he has maintained and improved for 35 years. Since his retirement from higher education, he has worked at Cappy's Boat Shop where he reports to his dog, Cappy. Dave founded the Classic Finn Organization (classicfinns.org), which supports sailing and repairing older classic Finns. Thames YC now has a fleet of four classic Finns that have weekly fun races and a formal regatta each fall. He can be contacted at Dave@classicfinns.org.