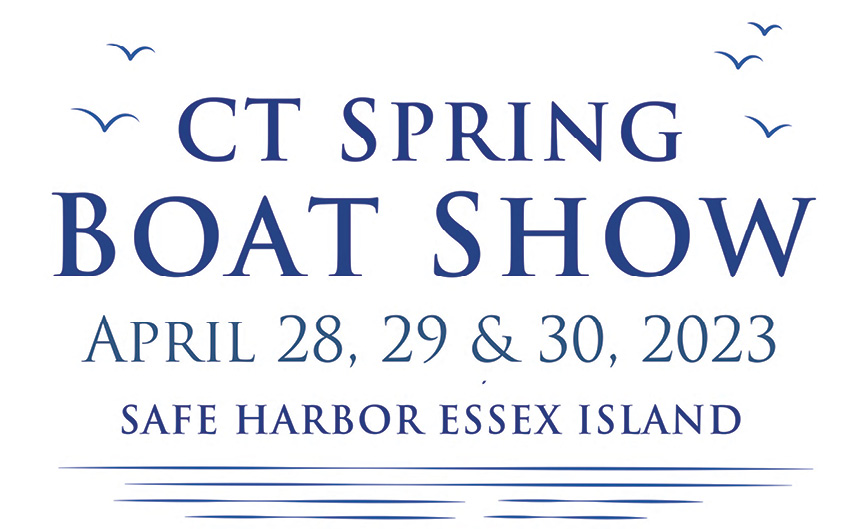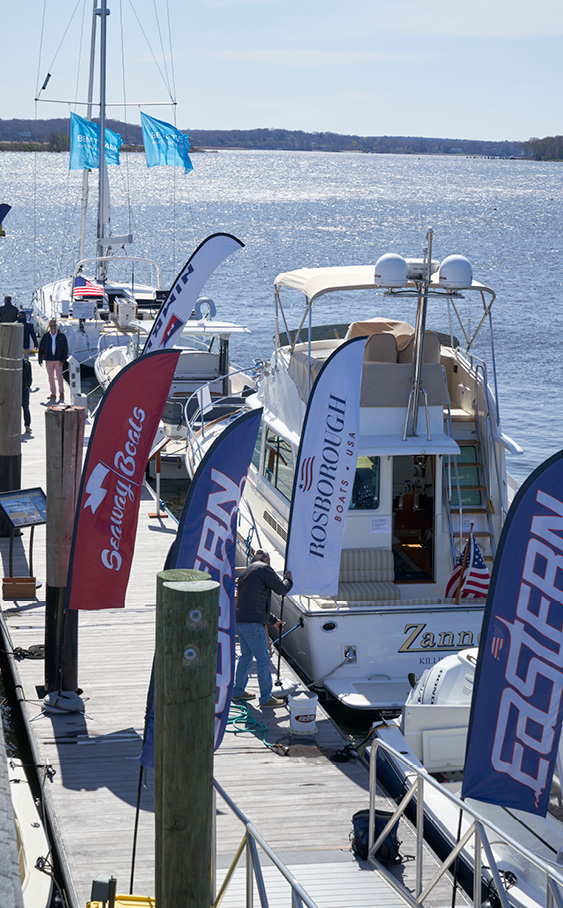 Welcome to the CT Spring Boat Show, 2023! Cat's Paw, LLC, and WindCheck Magazine are proud to manage this unique event for the participating Yacht Brokers and Exhibitors that serve the Boating Communities of Connecticut, Rhode Island and New York. They are the ones who are making this growing event one of the most interesting and fun ways to provide the experienced boater with high-quality products to view but also help less experienced, aspiring people to get involved and enjoy being on the water. 
A critical factor for this experience is the venue provided by Safe Harbor Marinas, on bucolic Essex Island. It is truly unique among boat shows. The Island and the town of Essex beautifully represent the best of historic coastal New England and why we love to be on and around the water in the northeast. We are working very hard with our Sponsors and Exhibitors to develop this show with a "something for everyone" approach while also encouraging a giving back mindset with our charity partner, SailsUp4Cancer. In 2018, with the help of the Essex Steam Train and Riverboat Co., we raised over $10,000.00 for SU4C. Since that year, we have steadily climbed the ladder to $23,000.00 in 2022. While this may not seem like a lot of money in this day and age, combined with the all-volunteer, negligible administration cost model which SU4C uses to do its good works for families impacted by cancer, these dollars have a real impact. On their behalf, we say thank you! 
We also think it is important to work with other relevant charitable organizations which enhance the Show. This year, those are the CT Fund for the Environment/Save The Sound, The Whale and Dolphin Conservation. 
Thanks for coming and see you on the Island! Buy Your Tickets Here
In Water Exhibitors
Bluenose Yachts bluenoseyachts.com 401-855-4355 
Brewer Yacht Sales halslateryachtbroker.com 860.919.9834 
Diamond Marine diamondmarine.net 203 466-5384 
East Coast Yacht Sales ecys.com 860-415-8282 
Eastern Boats Easternboats.com 603-303-8631 
Eastern Yacht Sales easternyachtsales.com 781-749-8600 
Essex Boat Works essexboatworks.com 860-767-8276 
Essex Marine Group essexmarinegroup.com 860-767-4999 
Essex Yacht Sales essexyachtsales.com 860-767-3013 
Louis Marine louismarine.com 860-399-5554 
Marine Max/Westbrook marinemax.com 860-399-5581 
Northrop Johnson northropandjohnson.com 401-848-5500 
Northstar Yacht Sales northstaryachtsales.com 401-683-9200 
Oyster Harbors Marine oysterharborsmarine.com 860-581-8067 
Petzold's Marine petzolds.com 860-342-1196 
Prestige Yacht Sales prestigeyachtsales.net 203-353-0373 
Rodgers Yacht Sales Rodgersyachtsales.com 860-536-7776 
Springline Yacht Sales secureyourdream.com 860-415-4810 
The Multihull Source themultihullsource.com 401-835-4437 
Tim Bassett Marine LLC timbassettmarine.com 860-669-0100 
Twin Hull Boats Twinhullboats.com 203-330-8946 
Wilde Yacht Sales wildeyachts.com 888-447-6944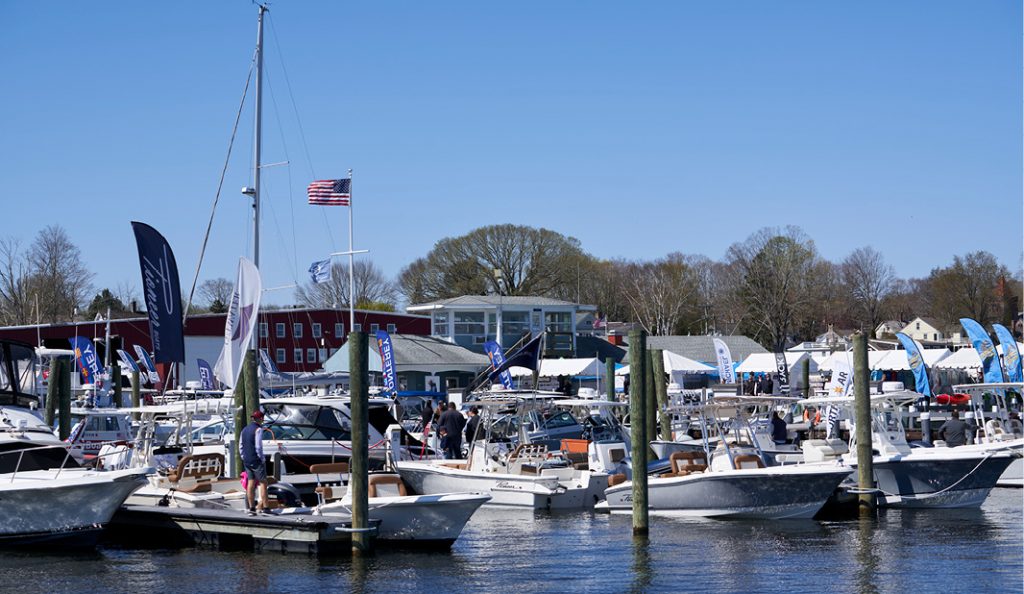 On Shore Exhibitors
Boat Thread BoatNameGear.com 860-249-1166
Boat Safe Connecticut boatsafeconnecticut.com 860-930-3183
Boatique USA Nautical Home Goods boatiqueusa.com 860-767-8765
CareFree Boat Club carefreeboats.com 866-826-2846
Brewer Yacht Sales breweryacht.com 860-399-6213
​Castaway Customs castawaycustoms.com 860-878-9191
SEADEK yacht and boat floorings
CT DEEP – Boating Division ct.gov/deep/boating 860-434-8638
Cote Customs, Pyography & Woodworking cotecustoms.com/ 413-348-0808
Deep River Roasters Deepriverroasters.com 860-876-3998
Dog Training Elite NewHaven@dogtrainingelite.com 203-915-2910
Electric Boats of CT Electricboatsct.com 860-980-3759
Essex Corinthian Yacht Club essexcorinthian.org 860-767-3239
Flier Outdoors, Fishing Pros 860-922-1403
Hooke'd Fishing Gear, Co Hookdgear.com 203-410-3595
Inn Seasons Resorts Innseason.com 508-957-1873
Freddy's Rockin Lemonade 518-763-3010
Freedom Boat Club freedomboatclub.com (203) 520-4472
FRNK Brands Frnkbrands.com 917-204-7373
Greg Gilmartin, Author greggilmartin.com
Hydrangea Blue Design 203-246-7656
J.J. Best Banc & Company jjbest.com/ 508-958-9140
Leaf Guard of CT leafguard.com (203)-450-1254
NESLSS, New England Slab Lifting Leak Sealing neslss.com/ 857-939-1671
Oceanum Vela oceanumvela.net/ melissa@oceanumvela.net
Renewal By Andersen 860-402-9984
Save The Sound savethesound.org 203-787-0646
Surfridge Brewing Company surfridgebrewery.com/connecticut
The Nautical School nauticalschool.com 631-226-7300
The Magnolia Agency 860-581-8445
Tide Hill tidehill.com/ 917-405-6803
Total Dollar Insurance totaldollar.com 860-985-3505
Whale and Dolphin Conservation (WDC) Visit whales.org to learn more
WindCheck Magazine windcheckmagazine.com 203-332-7639