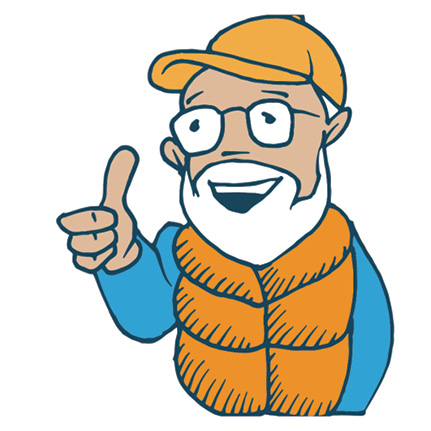 In these tempestuous times, our friends Julianna Barbieri & Hugh Piggin and their team at Manuka Sports Event Management in Newport, RI have had to cancel this year's edition of America's Class40 Grand Prix, The Atlantic Cup. As we noted in our April edition, however, they've shifted their Atlantic Cup Kids Program from hands-on learning in the host cities to online, at-home education.
Helming this popular program is Dave Rearick, the winner of the 2013 Atlantic Cup, a solo 'round-the-world sailor, and an 11th Hour Racing Ambassador. A very accomplished racer, Rearick started sailing his family's Sunfish on Lake Michigan at age 12. In previous editions of the race, Rearick (fondly known as Captain Dave) led the Atlantic Cup Kids Day presented by 11th Hour Racing events in Charleston, SC, Jersey City, NJ, and Portland, ME.
WindCheck: How did you get involved with Atlantic Cup Kids?
Captain Dave: I built a Class40 racing boat in Wellington, New Zealand, to enter the Global Ocean Race. In preparation for the GOR, I entered the new boat, Bodacious Dream, in the 2012 Atlantic Cup. That year my co-skipper, Matt Scharl, and I enjoyed showing students around the boat as much as we did the racing. The 2013 edition proved the same, and when I returned from my circumnavigation in 2014, Julianna and Hugh asked if I would take on and help manage the Kids Program. I immediately replied, Yes!
In 2014, I was also honored with an invitation to join 11th Hour Racing as an Ambassador. The collaboration between 11th Hour Racing as a sponsor and The Atlantic Cup has helped to make the Kids Program one of the great, enduring examples of sharing in the sailing community.
WC: What do you like about the program?

CD: It's just a great time hanging out with the young, inquisitive students. Much of this world of boats and the ocean is beyond their imagination. It feels good to share with them some of the cool stuff I've experienced in my life. Through the way we do it, they aren't really aware they are learning and rightfully so, 'cause I'm not really aware I'm teaching. In fact, all I'm doing is sharing what I know!
WC: Why is this important to you?

CD: I learned many years ago from some wise people that the world changes by generations. Taking time to share with young people the precious and amazing things I've learned about the ocean and our Earth in an investment in the future. These ideas will remain with them forever, and hopefully, as they grow, they will drive the effort toward good stewardship of our environment, ocean, and Earth.
As we all know, knowledge, if not passed along, has no value. The knowledge I hope to give to young students is not book knowledge, but an appreciation and understanding of the wonders of our entire Earth. This understanding augments their book knowledge and increases the relevance of both.
WC: How does Atlantic Cup Kids work?
CD: In years past, in April, I would visit the classrooms in the harbors where the Atlantic Cup would stop and talk with students about sustainability, ocean health, and taking care of our oceans. When the race arrived in their harbor in June, we would host the students at the docks to meet the sailors, explore the boats, and introduce them to the ocean world as seen through the sailor's eye. It's always a thrill for the students!
WC: With this year's Atlantic Cup canceled, how is the program changing?
CD: There's an old saying that sailors always adjust their sails to the changes in the wind. We're doing just that with the program this year. Since I'm unable to visit the classrooms in person, I'm encouraging teachers around the country to sign up for a virtual visit from Captain Dave. Through video conferencing platforms, this is easy to do. We also loaded up our online Kids Portal with a lot of content we've produced over the years, from worksheets and explorer guides to science notes and videos. Students can read the stories on their own or with parents, work out the problems, and learn about great subjects from geography, glaciers, and whales to weather, math, and navigation.
WC: What's the best way to access and use the online content?
CD: We have a website at atlanticcup.org/kids. To the lower right on that page, you enter your information, and if you want, we will keep you updated on new items as they arrive. If you're a teacher, it helps us a lot to let us know the grade level and the number of students you teach.
Once you've registered, this opens a portal to all of our content. Be sure to bookmark this page, so you don't have to register again to reenter. In the portal, you'll find our content. We break down the worksheets for various ages, but we find, even adults learn something. And intrinsically, each of the worksheets, explorer guides, and science notes involves reading.
We also have a Facebook page with video interviews loaded. And if the kids, their teachers or parents have questions, they can email them to me at dave@atlanticcup.org.
WC: How does your virtual learning class work?

CD: So many teachers are just getting used to this remote learning/teaching, and each of them has a different goal and style. I'm very flexible and will work toward their goals. To start, along with my sidekick Franklin (a soccer ball that traveled with me around the world), we talk about the ocean and sailing around the world and encourage them to ask questions.
WC: How can my school participate?
CD: Just send an email to either Julianna@manukasem.com or Dave@atlanticcup.org.
WC: What do you hope to achieve with the revamped program this year?

CD: We certainly hope we can provide some entertaining and engaging content to keep our young generation learning through this challenging time. I know kids are curious and want to learn, and we're hopeful our content will fill a gap in their lives. Hopefully our efforts will continue to resonate with students and teachers, and they will return for engaging content on our portal for years to come.
WC: Is there anything else you'd like to share?
CD: I wrote a book titled Spirit of a Dream about my solo circumnavigation. While this is a regular, adult book, I wrote it with young people in mind. I want them to experience what I have as early in life as they can. While it may be a bit hard for some young readers, this time in our world makes a perfect opportunity to sit down for a bit at the end of the day, read a chapter with your children, and talk about our beautiful, amazing Earth and universe and how we can be good stewards. ■
Special thanks to Julianna Barbieri at Manuka Sports Event Management for facilitating this interview.