The Five-Hundred-Year History of America's Hurricanes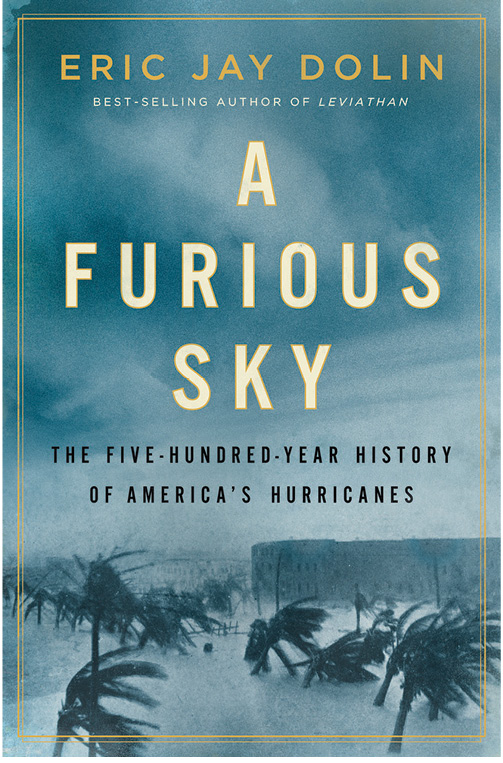 By Eric Jay Dolin
Published by Liveright Publishing Corporation, a division of W.W. Norton & Company   369 pages   hardcover   $29.95
The Atlantic hurricane season runs from June through November, with each one of the tropical cyclones that reaches the United States packing the energy of 10,000 nuclear bombs. Furthermore, these powerful storms have determined the course of American history. Over the past five centuries, hurricanes threatened the voyages of Columbus to the New World, prevented Spain from expanding its North American holdings beyond Florida, and turned the tide against the British during the American Revolution.
Particularly fascinating are author Eric Jay Dolin's vivid accounts of the Galveston Hurricane of 1900 (which claimed at least 6,000 lives, the highest death toll of any natural disaster in U.S history) and the Great Hurricane of 1938, a fast moving storm that came ashore on Long Island, Connecticut, Massachusetts and Rhode Island (sending a 20-foot storm surge northward on Narragansett Bay all the way to Providence) and claimed at least 680 lives.
As bad as the consequences of earlier hurricanes has been, future hurricanes are likely to unleash even greater fury as the result of a changing climate, says Dolin, who asserts that we must drastically reimagine mankind's relationship with the planet.
Eric Jay Dolin is an award-winning author and historian whose other books include Leviathan: The History of Whaling in America, Fur, Fortune, and Empire: The Epic History of the Fur Trade in America, When America First Met China: An Exotic History of Tea, Drugs, and Money in the Age of Sail, and Brilliant Beacons: A History of the American Lighthouse. His most recent book before A Furious Sky is Black Flags, Blue Waters: The Epic History of America's Most Notorious Pirates. A graduate of Brown, Yale, and MIT, where he earned his PhD in environmental policy, he lives Marblehead, MA with his family. You'll find more information including a list of Dolin's upcoming speaking engagements at ericjaydolin.com. ■