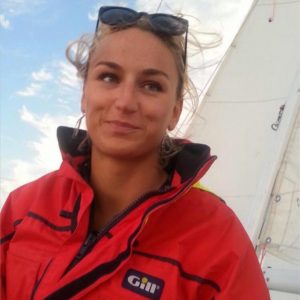 File under two degrees of separation. I met Trudy Robinson as a consequence of my time with Dr. Phil Haydon, he of Sail 4 Epilepsy. Dr. Phil kept his boat at Safe Harbor New England Boatworks in Portsmouth, RI. Trudy was the guardian of the front office and was taken by the branding on Phil's boat. It transpired she too has epilepsy. I spoke with her at Safe Harbor Newport Shipyard in July.
Coop: Thanks for coming down Trudy.
Trudy Robinson: No worries. Thank you for the invitation.
Coop: Was sailing "a thing" when you were a kid?
TR: Yup. I grew up sailing, from about age six, I think. We sailed in Mercury's. There were five or six of us and a coach/instructor – a role I ended up playing later on.
Coop: Where was that?
TR: Bristol Yacht Club. Then I went into Optis, Lasers, and 420s. We did the NBYA Junior sailing in the summers. One year I went to the Opti Nationals.
Coop: How was that?
TR: Chaotic! I mean, a hundred 8- to 12-year-olds with dollies all trying to get in the water at once… I did not really like it, but we did go to an amusement park. I was about 12, I think.
Coop: How did you do?
TR: I did pretty well in the White fleet, the youngest kids, but my brother was sailing too, and I was not going to beat him. And then I did 420s in high school at Providence Country Day and that was a lot of team racing. I sailed in the NESSA Women's Championship for the Rebecca Herreshoff Trophy, and I have a lot of friends from that regatta that I am still in touch with. I just saw one a couple of days ago, a girl from Rogers High School in Newport, that I used to sail against.
Coop: This is not a "formal" network then?
TR: No, not at all, just us girls from high school. We would see each other at regattas, and if we had either no wind or too much wind we would be waiting and talking, and it just grew, organically, out of those friendships.
Coop: That is cool. Then what…University?
TR: Well, I was all set to go to College of Charleston, but I had my first episode of epilepsy in my senor year of high school and it was all too much to handle. I ended up at URI, which was great. Again, more amazing friends – long termers. For instance, my college roommate during my freshman year is my roommate today.
Coop: Did you sail at URI?
TR: No, no sailing in college. I'd go sailing occasionally, but nothing consistent and regular. My first regular sailing again was on the schooner Madeline.
Coop: The daysailing charter boat in Newport?
TR: Exactly, and it was probably the most fun I have ever had on a sailing job, ever.
Coop: Why was that?
TR: We went out five times a day, and those schooners are just the coolest boats ever…
Coop: You're a closet woody?
TR: (Laughs) Yes. And you meet so many new and different people. People who have never seen the ocean and are just sooo ecstatic to be there. It was just super cool – and I got to go sailing every day. (throws a 1500 watt smile). And the whole crew, and the other schooners – Adirondack, Aquidneck – the crews were just super cool and so much fun…thick as thieves.
Coop: The head boat mafia.
TR: Yes, exactly…the head boat mafia. I like that.
Coop: What was your education, your degree?
TR: My Bachelors is in Psychology and my minor, what I spent most of my time on, was Nonviolence and Peace studies. That is not the most common minor out there. I found it when I was a sophomore, doing my Psych. courses, and the instructor was just the coolest guy ever and I was working with him a lot and then I was a TA for some of the classes. He was working in Central Falls (just north of Providence) with kindergarten kids, on how to behave and interact with other kids and be calm.
Coop: Well, psych and nonviolence might be tangentially related to the (boat) business. When the work on the boat is late…
TR: (Chuckles) Yes. "Dude, just chill out." …especially racing boats.
Coop: Let's just double back to your high school sailing. Were you a skipper or crew?
TR: Skipper.
Coop: How was that determined?
TR: Sort of merit-based. Rhode Island tends to breed very good sailors, but you're still in high school and so everyone is still sort of a novice, but I had been racing for heavens knows how long already, and I knew how it worked. The team racing was new to me, and it is a bit more vicious than "normal" racing.
Coop: Gotta put on your mean pants…
TR: It was so surprising how mean I could get (laughs). I'm a nice person and my poor crew…Grrrrr, but she was great.
Coop: So, did team racing drive the nonviolence interest? "Hello boat 9, I'm on starboard. Would you mind tacking, please?"
TR: (Laughs) Well yeah, maybe. The sash I wore at graduation said "Peace" on it, and anyone who saw my graduation photo thinks, "Her, peaceful?" But yes, that could have been a part of it.
Coop: What was your first "grown up" job, if there is such a thing for sailors?
TR: I worked in retail and at a summer camp, then on private charters, just working the Newport network, captains I know. If you can show your merit, it is easier to find work. Women, I think, can leverage the charm and smiley face better than men to find work. People want that at the 0600 call. I think there is more camaraderie with women, with the network. We women, all of us, are always pushing each other forward because sailing is still a male-driven industry.
Coop: That is the history, hopefully changing.
TR: Yup, but that's cool. That is the clientele, but I'm happy to see anyone going sailing. The first job I went to on a daily basis was Madeline. I did that for two years, then I worked on a few boats and with a buddy, also one of my crew, for her dad's maintenance company, detailing boats. Through that I got to know Andy Tyska who owns Bristol Marine and he hired me to run his cruising boat and sail with him. So, I started to learn about systems, the machines on boats. I don't know much about engines, something I would like to know more about, so I would just do my best but also try to teach myself.
Coop: Can we talk a bit more about your epilepsy?
TR: Yes. It was terrifying, and I did not know what was going to come of it. I had seen it on "Grey's Anatomy," but didn't know anything about it. The only thing I knew was bright lights at concerts, so it was super-scary. For about a year I went to all these doctors and had all these tests, and we were trying to figure it out. We finally did, I got on the right medications, and can sort of carry on with life as usual. I did have occasional seizures in college, but it's generally under control. Sometimes I get a bit shaky in the morning, but that is far better than the alternative.
And I found Phil Haydon and Sail 4 Epilepsy. There is not a huge epilepsy community around here, but I have done walks for epilepsy and a 5k run, and so on. But I never personally knew anyone who had dealt with it.
I had been traveling, to New Zealand and Australia, and that was how I got my delivery ride on Comanche. Nothing went wrong, but I was super-nervous the whole time. Epilepsy is directly connected to sleep patterns and of course at sea you're on and off for three hours at a time but you're up at all sorts of odd nighttime hours. Very nerve-wracking, but it worked out fine. It was probably the coolest thing I have ever done. Then we got into COVID, so I came home and wanted a bit of stability, to take a breather. I was looking for work in the industry and went to work at Safe Harbor New England Boatworks and I have just been promoted to Dockmaster. That suits me more than the inside desk job I started in. It's the first time I have "employees."
Coop: The Dockettes?
TR: Managing people is a great change for me, and they are a great group of kids. I like the steady work, boat yards are great fun, and you get to see new and cool stuff every day. It's great to have a schedule, to keep tabs on myself, and not worry too much.
Coop: Stability is a driver there?
TR: Yes, definitely. I have always done seasonal work. When I first started working in an office in summer it was weird being inside, but now with the promotion to Dockmaster, I'll be back outside and that is so great. And NEB is such a hub for boats: race boats and cruising boats from all over the world…it's always interesting.
Coop: How about some Words of Wisdom for female high school sailors?
TR: High school sailing is always in dinghies, but do not be afraid of big boats. They can be scary and have more people, but you will meet amazing people, it's a lot of fun, there's more of a team structure, and you will learn something new every day, which I love.
Take risks. I think every time I have succeeded, there has been risk. When I went to New Zealand, Australia and Tasmania then got on Comanche, I was absolutely terrified. New Zealand was the furthest place I had gone at the time.
Push yourself. Do not back down, "just" because you're a woman. Don't let the deckhands think they know more or are better if you are confident.
The male skippers I have worked for have been great. They have taught me so much. But don't be afraid to push back, politely, if you know you are right. Confidence is king…or queen.
Just say yes: Take the offers, to sail, to work, to be around boats, if you love it. If it feels right, say, "Yes!"
Coop: Great stuff, Trudy. Thank you so much. ■