Thirty-two sailors from across North America and the Caribbean, representing ten states and territories and three Canadian provinces, participated in the 20th Anniversary C. Thomas Clagett, Jr. Memorial Clinic and Regatta, hosted by Sail Newport in Newport, RI June 21 – 26.
Founded in 2003, the organization recently rebranded as Clagett Sailing honors the memory of Tom Clagett (1916-2001), a U.S. Navy World War II veteran who learned to sail on Chesapeake Bay. As a youngster he suffered temporary paralysis as the result of a bout of meningitis; an experience that left him with a deep respect for the accomplishments of people with disabilities. Adopting Tom Clagett's motto of "Reach for Success," which resonates with every Clagett sailor, Clagett Sailing has evolved into a multifaceted organization with a mission "to assist sailors in realizing their potential on the water by providing them both the knowledge and tools to improve their skills and the opportunity to use these skills in competition."
The 20-boat singlehanded 2.4mR class was lead from start to finish by Julio Reguero (San Juan, PR), who notched four bullets in ten races. A Paralympian who competed in the 2008 and 2012 Games, Reguero, is sailing a 2.4mR he received from the Clagett Boat Grant Program. "I'm looking forward to learning match racing skills at the Clagett/Oakcliff Match Racing Clinic and Regatta in September," said Reguero. "I'm very proud to be selected as part of Team Clagett, who will represent Clagett Sailing at the 2.4mR Worlds in Tampa, FL in November."
Finishing second was Tony Pocklington (Ft. Meyers, FL), with Canadian Peter Wood, who has traveled from Ottawa for numerous Clagett Regattas, rounding out the podium.
Victory in the 6-boat doublehanded Martin 16 class went to defending trophy holder Carwile LeRoy of California, who was sailing with Tannis Hall from Mont Tremblant, Canada for the last three days. LeRoy won this class in 2019 and 2021, and now for a hat trick. "I found something magic in Newport," said LeRoy. It was fantastic to sail with Tannis. Our coach Dave Dellenbaugh complimented me by saying, 'I'm a lot like the tortoise than the hare. Something happens on the course and I just keep going.'"
Runners-up in the Martin 16 were Patrick LoDuca (Chicago, IL) and Jeff Long (Newport), who sailed a Martin 16 for the first time on Wednesday. LoDuca has attended six Clagett Regattas, the first five in the triplehanded Sonar. Long competed in the very first Clagett Regatta twenty years ago when he sailed with Steve Anderson.
Joining Reguero on Team Clagett are fellow 2.4mR sailors Charlie Rosenfield (Woodstock, CT), Peter Eager (Toronto, ON) Delani Hulme-Lawrence (Saint Paul, Alberta, CN), and the alternate team member is Chris Childers (San Francisco, CA). Team Clagett comprises the top three scoring 2.4 mR competitors with a disability, plus the next highest scoring 2.4mR Clagett Boat Grant Program recipient competitor.  The team will be managed by Clagett alumni sailor Brad Johnson, himself a Paralympian in multiple sports.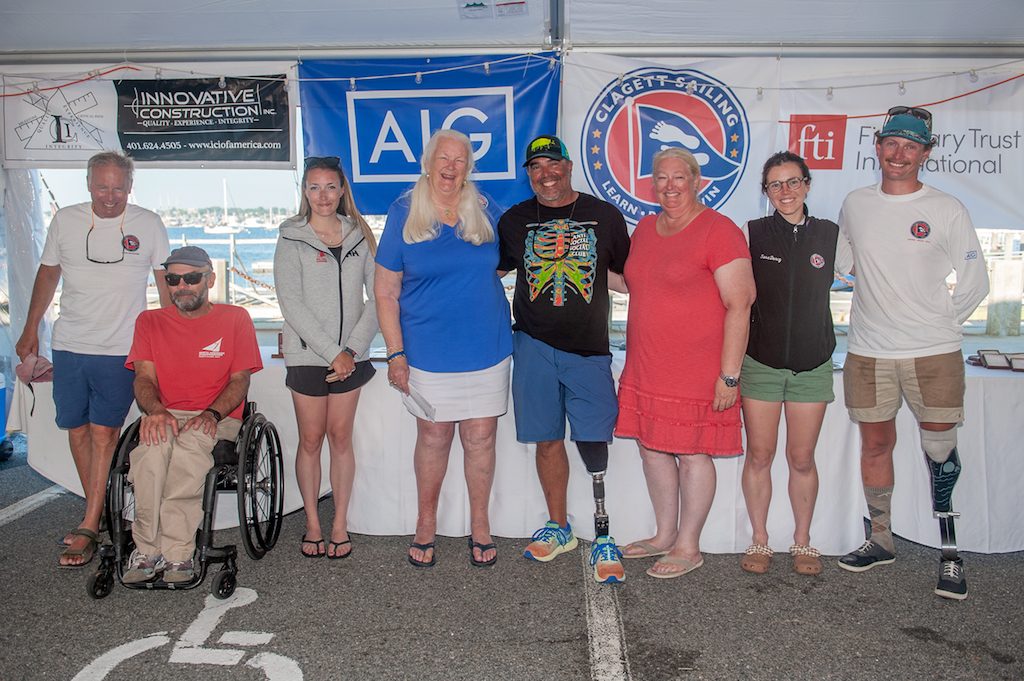 Team Clagett: (l – r) Peter Eager, Charlie Rosenfield, Delani Hulme-Lawrence, Judy McLennan, Julio Reguero, Stephanie McLennan, Sara Darcy Klik, Chris Childers   © Clagett Sailing/Andes Visual
"In this, the Clagett's 20th Anniversary year, I have so many people to thank," said Clagett President and Co-Founder Judy Clagett McLennan. "Our amazing sponsors Fiduciary Trust International, AIG, Gustave White Sotheby's, One 80 Intermediaries, Innovative Construction, the Kimball Foundation, and Aukai Spirit along with all the fabulous in kind sponsors, the volunteers both returning and new who have traveled from across the world to be here this week we thank you for your time and dedication to the sailors, to our world class-coaches and race management teams, thank you for providing the very best for the sailors here this week. A special thank you to our bosun, Gene Hinkle, who's been at every Clagett Regatta. At this regatta we have present twelve people who were here at Sail Newport twenty years ago when we had five boats racing at the very first Clagett Regatta."
For more information about Clagett Sailing, visit clagettsailing.org. ■
2022 Clagett Trophy Winners
C. Thomas Clagett, Jr. Trophy – Julio Reguero
Susan B Johnson – Sportsmanship Award – Tony Pocklington
Larry Gadsby – Most Improved Award – Chris Childers
Nick Scandone – Spirit Award – Shan McAdoo
Robie Pierce and Gene Hinkle – Seamanship Award – John Seepe on a tiebreaker (was tied with Andrew Parish)
Sam Crichton contributed to this report.