WindCheck Magazine is proud to manage this unique event for the participating Yacht Brokers and Exhibitors that serve the Boating Community of Connecticut, Rhode Island and New York. It is a bit of an honor for us to run one of the first in-person events as we come out of a very trying year. With new sponsors, BMW and Gowrie Group, joining Essex Boat Works, the Essex Steam Train & Riverboat and the Association of Yacht Brokers of America (celebrating their 100th anniversary), we hope you enjoy our efforts.
A critical factor for this experience is the venue provided by our hosts, Safe Harbor Marinas, on bucolic Essex Island. It is truly unique amongst boat shows. The Island and the town of Essex beautifully represent the best of historic coastal New England and why we love to be on and around the water in the Northeast.
Another key component is our commitment to Sails Up 4 Cancer. In 2019, with the help of the Essex Steam Train & Riverboat Co., we raised over $15,000.00 for SU4C.  Combined with the all-volunteer, zero administration cost model which SU4C uses to do its good works for families impacted by cancer, these dollars have a real impact. On their behalf, we say thank you!
Thanks for coming and see you on the Island!
---
Shoreside Exhibitors:
BoatiqueUSA • boatiqueusa.com • 860-767-8765
Lovingly crafted by Essex, Connecticut's own Jane & Fred Heine, BoatiqueUSA offers custom bedding that's made to order for your boat's berths, including fitted sheets, mattress pads, mattress toppers, and more.
---
Brewer Yacht Sales • breweryacht.com • 860-399-6213
As the Northeast's Largest Yacht Brokerage, Brewer Yacht Sales is now your East Coast Connection from New England to South Florida, with sales offices at a Safe Harbor Marina near you!
---
Candock Modular Docks/Suzuki Marine • threebellesmarina.com • 860-739-6264
Candock offers a superior quality modular floating dock system that is simple to install, flexible, and durable. It's an ideal solution for residential and commercial (marina) docks.
---
Captain Morgan's Boat Training & Charters, LLC • fun-boat-rides.com • 860-416-0200
Captain Morgan's provides exceptional hands-on boat training and fun boat rides throughout Connecticut and the New England area through the use of a network consisting of reputable and verified USCG licensed boat captains. We offer sailing adventures, sunset cruises, day trips and more.
---
Castaway Customs CT • castawaycustoms.com • 860-878-9191
We're a mobile service that will come to your boat whether it's at a marina, in a garage or behind your house, in the water or on a lift. We are armed with the equipment necessary to precisely capture the patterns and intricate details of your vessel to install a beautiful new SeaDek flooring system.
---
Chester Point Marina • chesterpointmarina.com • 860-526-1661
We love boating. We love the culture, the experience, and the pride that comes with maintaining a boat. When you are a part of Chester Point Marina you are one of the family. This is why we offer services to make sure your needs are taken care of including year round solutions for slips, storage, and service.
---
Chestnut Health Navigation • karen@mhm.solutions • 914-450-6315
At Chestnut Health Navigation, we provide professional consulting on how to provide for your loved one's care as they age.
---
Conversations with Classic Boats™ • conversationswithclassicboats.com • tcd4sail2@gmail.com
We have profiled classic boats from the Herreshoff Alerion to the famous Finisterre, Carlton Mitchell's three-time Bermuda Race winner. Visit us at the website, conversationswithclassicboats.com and subscribe there or wherever you get your podcasts. Listen, visit our Gallery with vintage historic photos, and email us to tell us what classic boats you would like to hear about.
---
Current Boating Education • currentboatingeducation.com • 860-966-3873
With more than 75 combined years of boating instruction experience, Current Boating Education is Connecticut's premier boating education company. Learn from professional, industry leading boat instructors who not only teach professional first responders in Police, Fire and EMS at the state and federal level, but who also work in these industries. Classroom courses are taught both in-person and online, in either English or Spanish.
---
Caryn B. Davis
Caryn B. Davis is a writer and an award-winning photographer whose images and articles have been featured in The New York Times, Condé Nast Traveler, Travel + Leisure, Lonely Planet, Islands, and others. Caryn's first commissioned photography book, A Connecticut Christmas: Celebrating the Holiday in Classic New England Style, garnered high accolades nationwide.
Her second book, Connecticut Waters, is a tribute to the Constitution State's maritime roots, both past and present. The book takes readers on a nautical journey exploring the many ways Nutmeggers use our waterways and shores for industry, education, and recreation and how it has shaped our culture as a state.
---
Eastern Yacht Sales • easternyachtsales.com • 781-749-8600
As a CPYB Endorsed Brokerage, we subscribe to a stringent Code of Ethics and Broker Practices. We use industry standard forms that protect both buyer and seller. We will work for you, with over three decades of professional brokerage experience, to provide the information and guidance you need to set the proper sales price and market strategy. An established client base will have instant access to your listing, a service that few companies in our industry can match.
---
Essex Corinthian Yacht Club • essexcorinthian.org • 860-767-3239
We are located on the waterfront in Essex, Connecticut, overlooking the beautiful Connecticut River. Our clubhouse is only six miles up river from the Old Saybrook Light on Long Island Sound, and a short cruise to beautiful Hamburg Cove.
---
Hook'd Fishing Gear Co. • hookdgear.com • 203-410-3595
Established in 2011, Hook'd Fishing Gear is an outdoor apparel company specifically designed with the fisherman, as well as the avid outdoor enthusiast, in mind. Our passion to be on the water inspires our design. We cater to both the saltwater and freshwater lovers. Whether you are out fighting fish, jumping waves at the beach or relaxing at the lake, we can get you Hook'd Up!
---
Hydrangea Blue Design • hydrangeabluedesign.com • 203-246-7656
A home should feel collected, not decorated. Every piece should have a story or a special memory. Hydrangea Blue Design takes your outdated pieces and vintage finds and makes them new again so they will have a special place in your home. Whether you live by the sea or just wish you did, our style is chic and airy with fresh, organic elements. Our coastal-inspired palate includes un-bleached whites, cranberry bog reds, seagrass greens, sunny yellows, and, of course, beautiful hydrangea blues.
---
Ipswich River Craft • ipswichrivercraft.com • 917-864-2762
The person who has everything doesn't have one of these! Custom-made international nautical code flag signs that spell out last names, initials, towns, boat names, dog names and inspiring words like love, home, family, gratitude and more – make awesome gifts!
---
McMichael Yacht Brokers, Ltd. • mcmichaelyachtbrokers.com • 914-381-5900
McMichael Yacht Brokers and Yacht Yards employs over 35 people that continue to "provide good service in a friendly manner." Our service yards are widely recognized as one of the top choices in the East for laminate repair and offshore race outfitting. Our brokerage office is staffed by some of the most experienced and respected brokers and administration in the industry.
---
Nautical Circuits • nauticalcircuits.com • 860-305-3939
Serving Connecticut, Massachusetts, Rhode Island and New York, Nautical Circuits provides a wide range of Marine Electrician services including, Electonic Installations, Boat Electrical Repairs, Complete Rewires, and more.
---
Renewal by Andersen of Southern New England • renewalbyandersen.com • 702-903-5463
Renewal by Andersen was named Highest in Customer Satisfaction with BOTH Window and Patio Door Retailers AND Manufacturers in 2020.
---
Sails Up 4 Cancer • Su4c.org
Sails Up 4 Cancer, Inc. is a non-profit organization dedicated to funding research in the education, prevention, care and cure for all types of cancer through the art and enjoyment of sailing. Sails Up 4 Cancer runs multiple events throughout the year, with the Annual Regatta and Canvases for a Cause Art Show among the most prominent. Sails Up 4 Cancer has partnered with many local and national organizations to help raise awareness and facilitate our fundraising efforts.
---
Yelena Talamelli Designs • ytalamelli@yahoo.com • 203-910-6001
Yelena Talamelli creates beautiful pieces for home decor out of natural materials.
---
In-Water Exhibitors:
Bluenose Yacht Sales • bluenoseyachts.com • 401-855-4355
Excess 12
The Excess 12 adopts a marked chine and a pronounced deck sheer, creating unique lines. Her twin helm stations, located aft, offer a maximum of sensations and create a more seamanlike concept that brings us closer to the sea. The light and precise helm and the opening bimini are reminiscent of the pleasures of helming a monohull.
The cockpit of this boat is bathed in light thanks to its opening roof. On the outside there is the usual trampoline between the hulls, great for sunbathing, as well as the large exterior table. The hulls have a large volume with the option of a three double cabin or four double cabin version.
With her completely new lines for the coachroof, a short nacelle and the taller Pulse Line rig, the Excess 12 brings a breath of fresh air to the world of cruising catamarans.
---
Brewer Yacht Sales • breweryacht.com • 860-395-8181
Nord Star 25 Sport Boat, 2021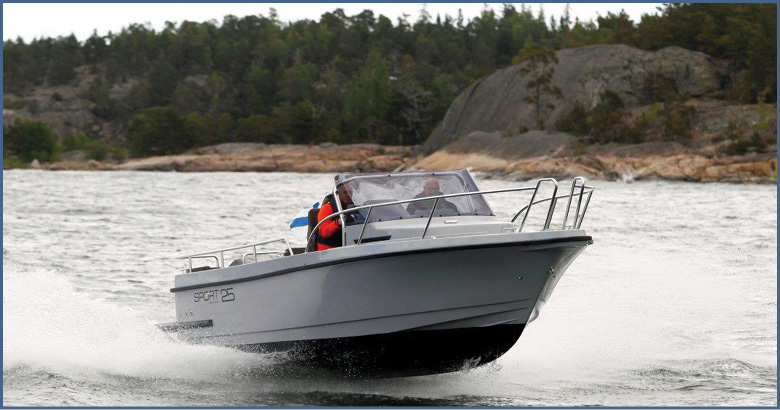 The Nord Star Sport 25 is a soft running cuddy / day cruiser equipped with a 300 HP Mercury Outboard that runs flawlessly on days that sea conditions are not calm. The walk around decks ensures unobstructed and safe passage without compromising safety, reliability or durability. The NS 25 Sport can be tailored just the way you like it with an extensive accessory list. You can choose a sporty open model to the T – Top version.
Nord Star 34, 2014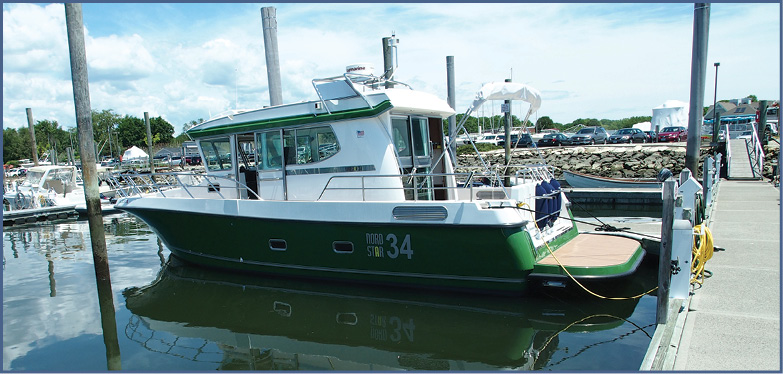 NordStar 34 IB V Drive Model with Twin 330 HP Volvo Penta Diesel Inboards, cruises at 24 knots and has a top speed 30+ Knots. With spacious saloon a galley, with wide walk around deck she is ideal for family cruising and fishing, rain or shine.
---
Destino Yachts • 860-395-9682
Destino 20
Designed and built by renowned master boatbuilder Ole Nielsen, this custom classic mahogany runabout is constructed to uncompromising standards with a fit and finish second to none. Powered by a Volvo Penta 220 HP diesel and a Hamilton Jet Drive, she'll attain speeds up to 43 MPH with handling that is unsurpassed. The Destino 20 is also the WindCheck Editor-in-Chief's Choice as "Prettiest Boat in the Show."
---
Eastern Boats • easternboats.com • 603-652-9213
22' Sisu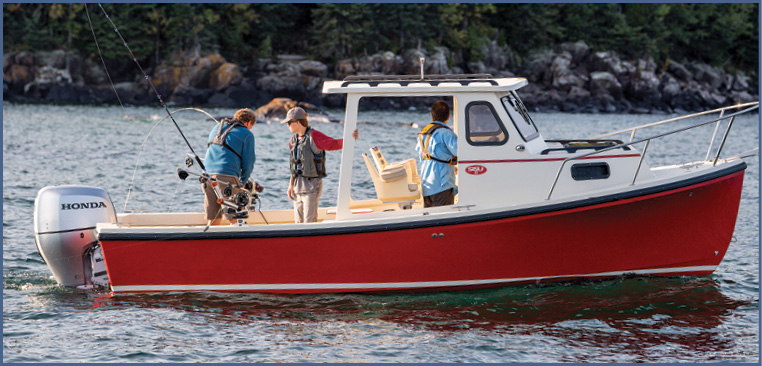 The 22' Sisu is legendary among Downeast hulls with the traditional framed "bassboat" windshield with bimini top at the helm. Modern composite materials plus a couple design tweaks have transformed the Sisu into something better. Performance is strong with a 115-HP four-stroke outboard. The outboard bracket bolted to the transom frees up andoutrageous amount of space in the cockpit. This vessel has been in continuous production for more than thirty years, and to say the least the 22' Sisu is an overachiever.
27' Tournament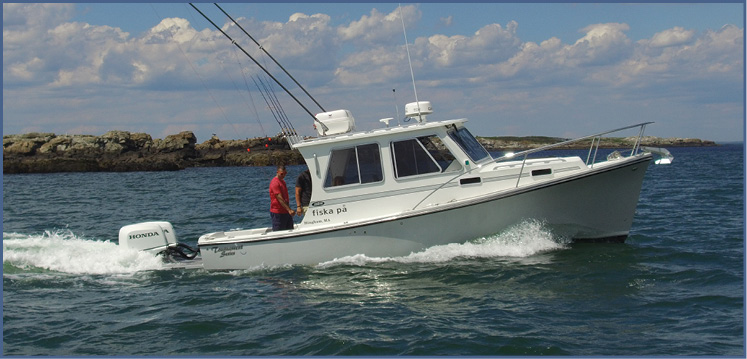 The 27' Tournament offers a forward v-berth with space for overhead rod racks. An enclosed head and a mid-berth under the helm deck give additional sleeping capacity. Fishing is the specialty of this vessel making the dry, soft ride valuable with offshore runs. Performance is strong with twin 150-HP outboards or a single 250-300-HP mounted on bracket. A tackle station with sink and cutting board lies aft of the helm seat to make rigging easy as well as an optional anchor windlass to make precise boat positioning a snap.
---
Electric Boats of Connecticut • electricboatsct.com • 860-980-3759
Duffy Snug Harbor, 2021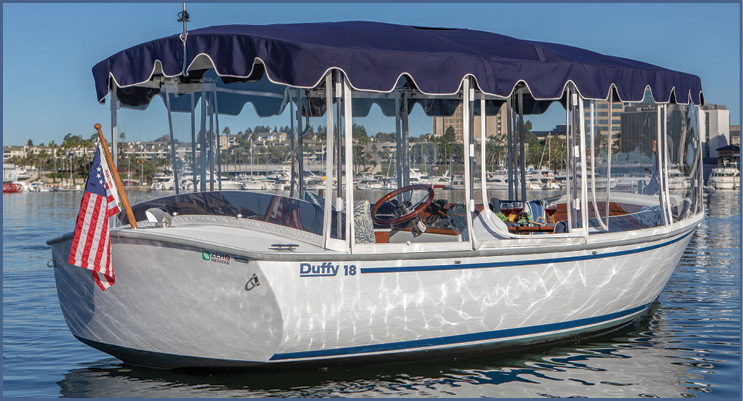 Electric Boats of Connecticut is not just selling the Duffy lifestyle. We are helping you live it! We are your regional source for the sales and service of the one-of-a-kind "Duffy Electric Boat." Unplug, Untie and Unwind with the original, zero-emissions, luxury electric boat and experience the carefree Duffy lifestyle with your friends and family.
---
Essex Boat Works • essexboatworks.com • 860-767-8276
Burger, 64 FB Cruiser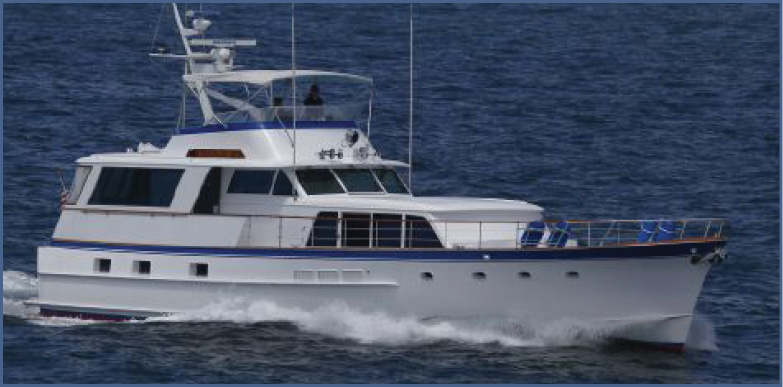 "MERCATOR" is the last of Burger's proud line of 64' Aluminum Cruisers built throughout the 70's. She has a flying bridge equipped with a duplicate set of steering and engine con­trols similar to those installed in the pilot­ house, VIP guest stateroom, full beam mas­ter stateroom aft with additional guest cabin for­ward. Designed by Sparkman & Stephens she is remarkably well engineered and built to the highest standards by Burger Yachts. She remains today a very capable and seaworthy classic motor yacht that presently is in full operational condition and ready to cruise near or far.
---
Essex Yacht Sales • essexyachtsales.com • 860-767-3013
Grand Banks, Eastbay 38, 1998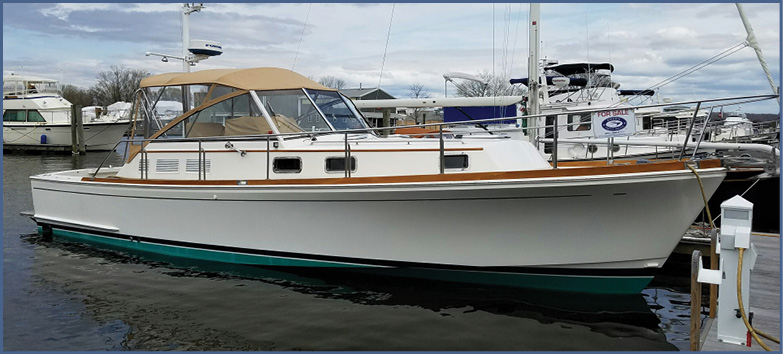 A classic design by C. Raymond Hunt, Eagle is well equipped and lightly cruised in Northern waters. CAT 375s (1,426 hr), 6kW Generator (275hr), Inverter, Two 16,000 BTU Heat and A/C, Furuno Color Chartplotter/GPS (2014), Brightwork (2021), New Bimini & Enclosure (2016), New Helmdeck & Exterior Cushions (2016), Yard maintained. Ready for her next owner to enjoy!
---
Harborside Marina & Yacht Sales • harborside-marina.com • 860-575-7602
Chris Craft Catalina 30 Pilot House, 2021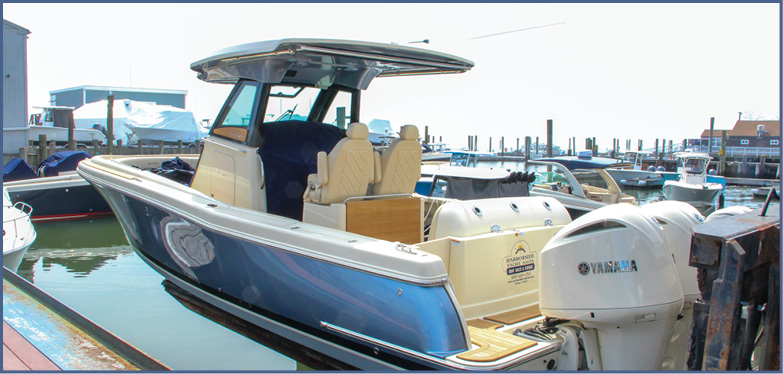 Both a sporting boat and a luxurious weekend cruiser, every inch of the versatile Catalina 30 Pilot House exudes premium Chris Craft quality. The essence of quality and comfort, its elegant profile with a deep-v hull and a wide flaring bow provide exceptional stability, generous deck space, and a protected dry ride for everyone aboard. And with plenty of space for 12 passengers, it's an entertainer's dream too!
Sea Hunt Gamefish 27 Forward Seating, 2021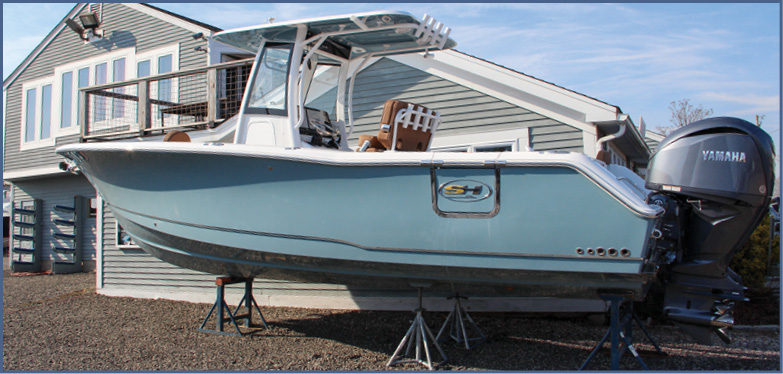 The Sea Hunt Gamefish Series delivers exactly what serious fishermen demand in a sportfishing center-console boat. These boats come ready to fish with standard features such as multiple insulated fish boxes and livewells, cockpit and bow bolsters, all stainless hardware and Yamaha Digital Command Link Gauges as well as a side entry door, recessed trim tabs, and hydraulic steering as standard equipment. The cockpit is designed with abundant room for 360° of fishing as well as forward seating to satisfy the whole family. The Gamefish 27 hull delivers soft dry rides second to none!
---
Louis Marine • louismarine.com • 860-399-5554
Jeanneau NC 895 Weekender and the
Jeanneau Leader 7.5 CC
---
Maritime Boat Sales • maritimeboatsales.net • 860-554-0903
Jupiter 30 Center Console, 2021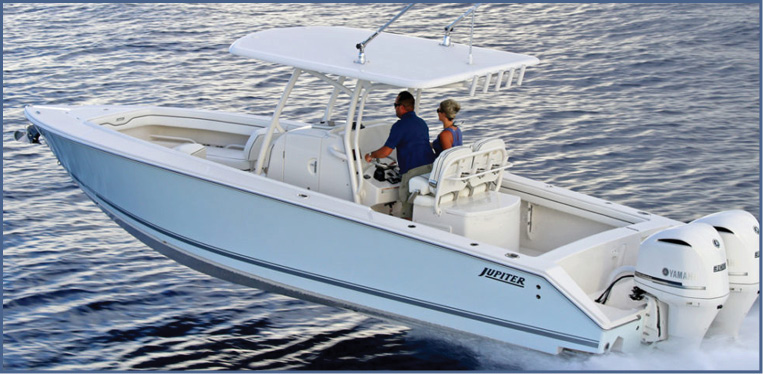 If you're in the market for a consummate do-everything boat, welcome aboard. From offshore fishing to waterfront dining, from secluded beaches to parties at the yacht club, the sleek and powerful Jupiter 30 – outfitted with a boatload of features and seating options – masters it all with unmistakable panache.
---
Northstar Yacht Sales • northstaryachtsales.com • 401-683-9200
Ocean Master 31 Express, 2007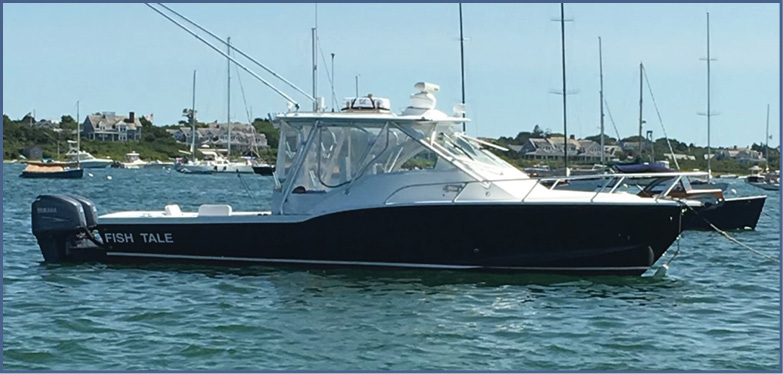 Originally launched in 1975, the Ocean Master 31 Express is built to fish the canyons and compete with much larger sportfishermen. And today she does the job even better. She has been called a nearly perfect design and her 40-year production run stands as real-world proof. Fish Tale is ready to fish this season.
USMI 11 Meter Naval Special Warfare RIB, 1998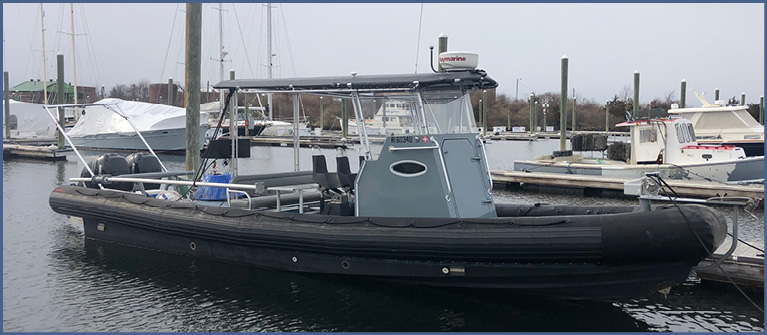 According to the builder, USMI, "This lightweight rigid hull inflatable Naval Special Warfare boat is fast, durable, and relied upon by Tier 1 Special Operations Forces all over the globe. These boats brand new cost close to a million dollars to produce." This boat was refit in 2018 with new twin Mercury 300 hp outboards, custom T-top and center console, wiring, electronics, fuel tanks, and batteries. Comes on a 2016 triple-axle Load Rite trailer.
---
Prestige Yacht Sales • prestigeyachtsales.net • 203-353-0373
Southport 30, 2021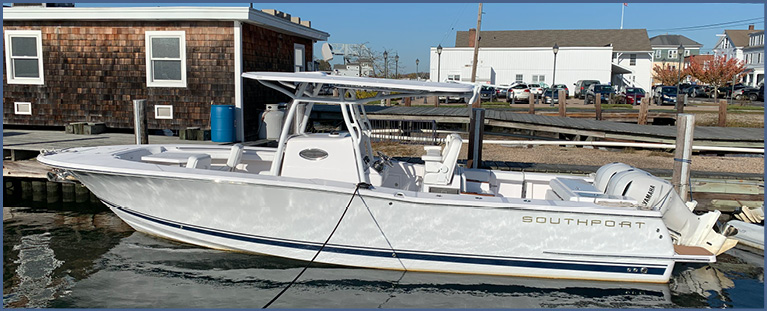 The Southport 30 represents a new step forward in the design and layout of the mid-sized member of the Southport center console lineup. The new design increases space on deck and adds modern touches to the layout. The 30 offers increased aft and forward cockpit space for fishing and entertaining, with some all new features including insulated transom fishbox (in addition to the classic floor boxes), newly designed mezzanine seating, rear swim decks, and an even more comfortable console interior.
The 30 FE provides the dual-purpose functionality that makes the boat so desirable as a fishing platform on Saturday and a family entertainer on Sunday.
Beneteau Oceanis 30.1, 2021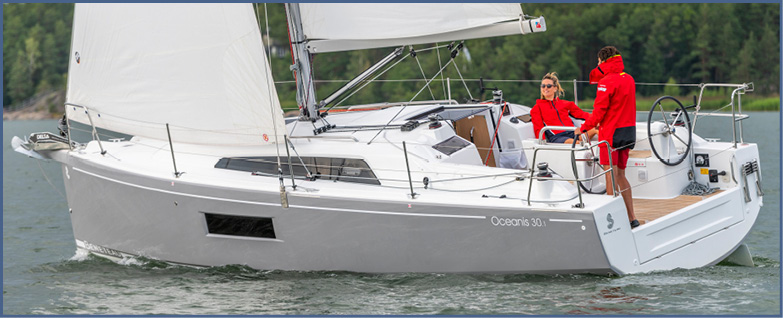 The Oceanis 30.1 is easy to sail yet lively to helm, and promises new experiences and thrills. With a few extra inches in strategic places, the Oceanis 30.1 differs from other boats, thanks to 6.5 feet of headroom. Two sizable double cabins each have berths running lengthwise. A pair of benches in the salon provide an additional place for two extra berths. The large shower room is divided into a marine toilet on one side and shower and washbasin on the other. The L-shaped galley has ample storage, a 20 US Gal refrigerator and stove/oven. With unbeatable living space for its size and a focus on simplicity of use, the smallest model of Beneteau's cruising range is nevertheless stylish and fast, with a highly competitive, ready-to-sail price.
Beneteau Oceanis 35.1, 2021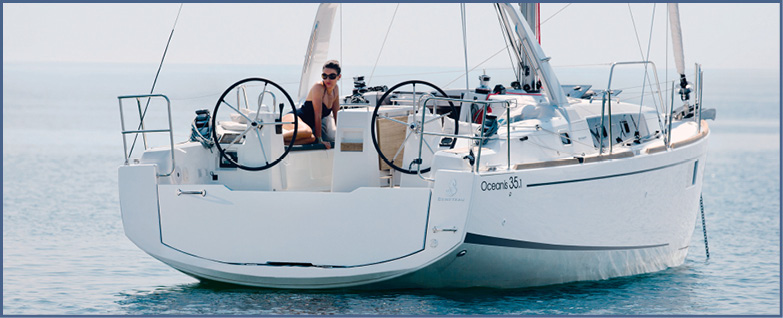 The Oceanis 35.1 combines performance and comfort at sea. The interiors have been rethought and their exteriors redesigned, delivering significant developments and offering a choice of four versions in all. The chined hull designed by Finot-Conq delivers comfort and good balance under sail, making a particularly noteworthy entry into the market for this size of boat. With twin rudders, a mast positioned further aft and optimized sailplans, the hull delivers excellent performance and offers incredible stability underway. The L-shaped galley makes a facing seat salon arrangement possible. The space has been well optimized to allow eight people to sit around the table.
---
Springline Yacht Sales • secureyourdream.com • 860-415-4810
Island Packet 349, 2020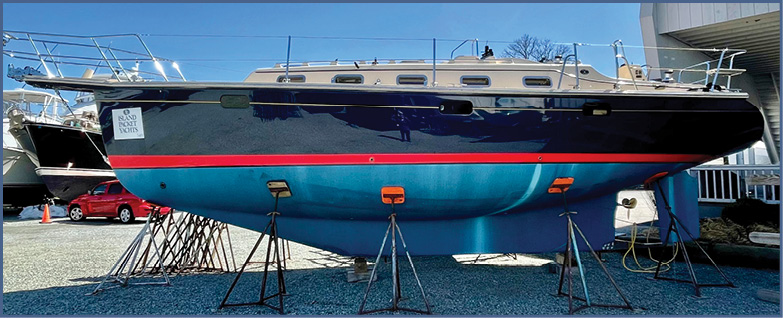 The New Island Packet 349 showcases an unparalleled combination of features that further Island Packet's unwavering commitment to meeting the needs and desires of the cruising sailor. The renowned Island Packet reputation of superb seakeeping and safety, exceptional comfort and livability, outstanding build quality, award-winning value and customer satisfaction remain well intact. In addition, this NEXT GENERATION Island Packet offers today's discerning buyer innovation, higher product standards and customization options not available in past models.
---
Oyster Harbors Marine of CT • C: 516-547-2063 • brittany@oysterharborsmarine.com
Viking 44 Convertible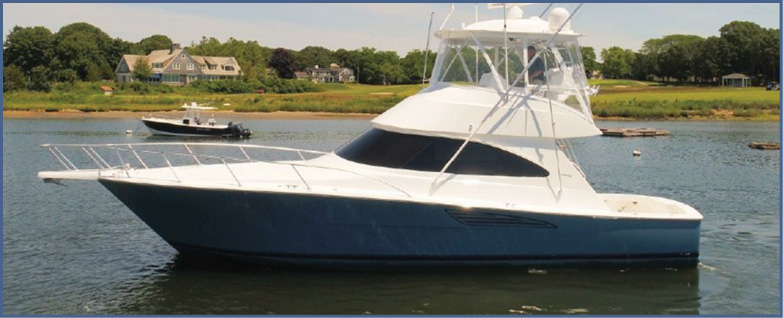 The 44 C carries a fierce aerodynamic profile, with a raked bow, sloping sheer and swept-back deckhouse with black-masked windshield. With nearly 6 feet of freeboard, the 44 C's bow shoulders aside the seas with ease and throws down spray with authority. The boat's wave-slicing entry gradually flattens moving aft where the deadrise provides lift and support for exceptional performance. The chines and strakes knock down spray, but also contribute to lift and stability.
Everglades 335 Center Console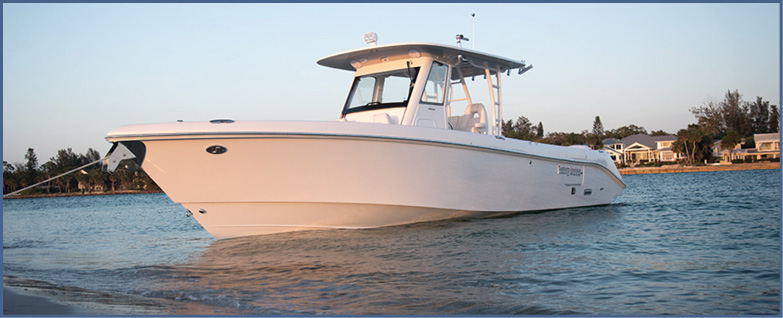 The 335cc's refined layout allows for improved seating throughout. Anglers and their families will find enhanced luxurious bow seating – including removable forward-facing bow backrests.
Everglades 253 Center Console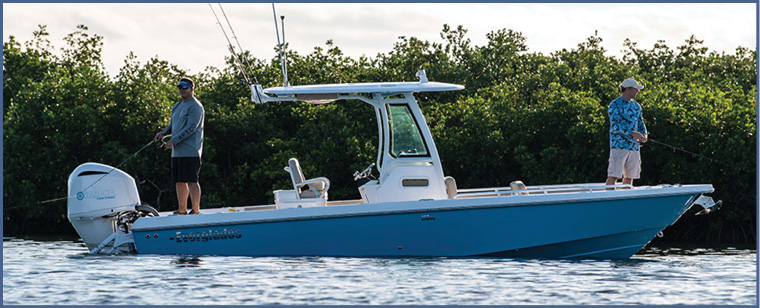 This completely redesigned hybrid bay/offshore boat includes the best features of Everglades' favorites, the 243cc and the 273cc, with some additional attributes to boast about. Newly powered with a single Mercury 400 Verado, this boat is a must-see.
Limestone 200 Center Console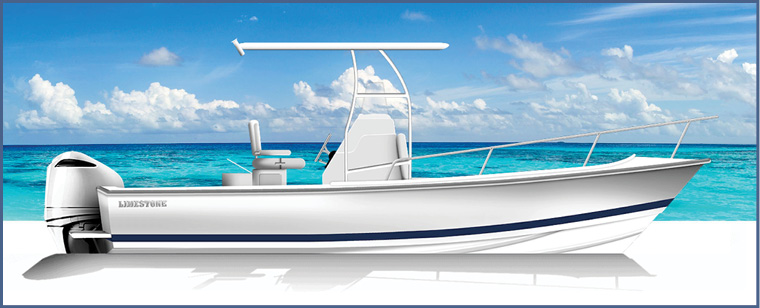 This 20-footer will get you and your crew out to your favorite spot and back in style. Available with a standard 200 HP outboard, or optional 250 HP, it has the power and reliability you expect. There's ample storage for rods and gear throughout, as well as comfortable seating. For protection from the elements, we offer an optional bimini top or a powder coated hardtop T-top w/ rod holders (4), LED spreader light and LED recessed lights. And you can even color match the underside of your hardtop T-top to your hull color choice as an added optional feature.
---
Yachts New England • 860 662-0272 • yachtsnewengland.com
Wasque 26, 1974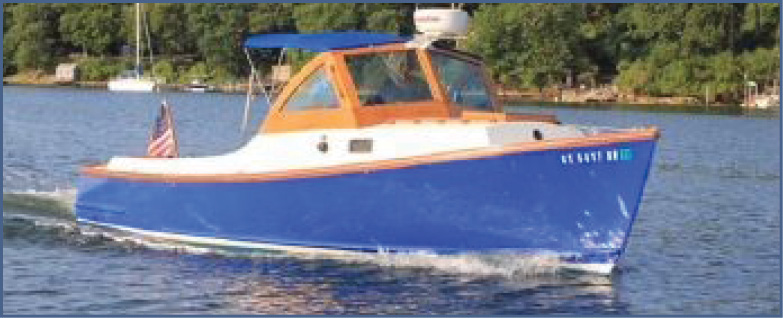 Her fine entry turns into a flat run aft, providing a full keel semi-displacement hull capable of good speed but with no pounding. She is a maneuverable, agile, no-nonsense boat with offshore capability…and darn good to look at! John Alden Company saw to that! This classic beauty is a rare find on the brokerage market, especially with such low hours. Her beautiful lines will never go out of style. Aquarius is a very fine example of the Wasque 26 built by Vineyard Yachts on Martha's Vineyard. With her seaworthy semi-displacement hull, efficient single inboard power and large cockpit, this Wasque 26 makes for a superb day boat or overnighter. ■