By John Vrolyk

Quarantine, social distancing, the duration, a new normal—these were the words most often on our lips last summer. They describe what began in March and stretched forward into the unknowable future, a procession of days, each subtly but perceptibly worse than the one before, a lethargic slide into melancholy, paralleling the slow-motion tragedy of the global pandemic.
From this paralytic existence, escape is the ultimate privilege. Last summer, it was granted to me—an unearned gift I desperately wanted but by no means deserved. A close friend with a small sailboat but without time to sail loaned me his boat from late July through Labor Day. And so for the second half of the summer, my girlfriend and I found ourselves aboard Patito. She is a 36-foot fiberglass sailboat, built in Irvine, California, in 1980, with a dark burgundy hull and white decks. She maintains some level of notoriety because many years before she was owned, beloved, occasionally abused, and publicly bidden goodbye to—in self-conscious foreshadowing of his own mortality—by none other than William F. Buckley, Jr.
Aboard, Buckley's lasting influence is apparent in the carpet's pattern—cheetah print—and the allocation of shelving space—chiefly liquor and books. One of the latter is a well-loved copy of Robert Duncan's Cruising Guide to the New England Coast. Despite twelve rounds of revisions, the guide has again fallen behind, its last update dating to 2002. The accumulated inaccuracies are sometimes insignificant (the tidal rush through the holes in the Elizabeth Islands has changed little since the end of the last ice age), often amusing (we think this GPS thing is going to be big if it works like they say it will!), and only occasionally frustrating (the marina was shuttered ten-plus years ago, the channel is no longer dredged).
Nonetheless, we relied on the guide throughout our trip, less for sailing instructions or navigation than to inspire and guide the process of half-planning, half-dreaming on which the best adventures—those intentionally only partly planned—are predicated.
It was thus we (or at least I, my girlfriend being of much more practical and sounder mind) were engaged on an August evening after dinner. We were anchored off Cuttyhunk in the outer harbor, the boat tacking lazily on its rode in a dying southwesterly breeze, the western sky lit up pink and gold, the glassy ripples on the water a funhouse mirror of the celestial drama.
I intended to plan the next day's sail. From Cuttyhunk, at least a dozen anchorages and ports of call are within a pleasant afternoon's sail with a favorable forecast. Padanaram, Hadley Harbor, Woods Hole, Hyannis, Menemsha, Vineyard Haven, Edgartown, even Tuckernuck and Nantucket are possible with an early start and a strong southwesterly.
Despite my practical intent, I made little progress in selecting or even narrowing the list of next destinations. The guide encourages the sort of eyes-half-closed dreaming that had me ghosting into desolate coves in Maine in a thick fog, listening to the rhythmic gong of an unseen buoy. Moments later I was doing mental arithmetic on whether morning departure would be early enough to make it to Branford, Connecticut, in time for Tuesday night racing at the college sailing site I once called home. I could hear the horns of the starting sequence carrying across the almost-still Long Island Sound water. Then I was on the wide green lawn of Larchmont Yacht Club, face sunburned, my left hand closed around the improbably alcoholic rum concoction known as a Monte-Sano, cold droplets of condensation from the August humidity soaking my fingers.
That's how I found myself reading the guide's introduction rather than any of the chapters that actually speak to specific destinations. The introduction is unchanged from the first edition published in 1961, when the title was Block Island to Nantucket. It's not labeled an introduction or a prologue, but rather an apologia pro sua vita. The Latin translates literally as "a defense of one's life." The specific phrase, however, is linked to John Henry Newman, who in 1864 published under a similar title a defense of his decision to quit his position as the Anglican vicar of St. Mary's, Oxford, and convert to Catholicism. The guide takes on its subject matter with similar gravitas—it is billed by its publisher, W.W. Norton & Company, as nothing less than "the bible for Eastern sailors and powerboaters for more than half a century." The apologia concludes with these two sentences:
"To those who like it, the sea and cruising thereon offer adventure close at hand—a taste of romance—the thrill of discovery—and occasional battle with the elements on something like equal terms. I know of no quicker way to catapult oneself, like the hero of 'Berkeley Square,' back into the seventeenth century than to get on a small boat without an engine and cruise off the New England Coast."
Cruising is usually an exceedingly pleasant way to pass time, full of quiet mornings, unharried days, gentle breezes, slow afternoons swimming that melt softly into golden sunsets, easy sleep rocking under a canopy of uncountable millions of stars. Yet these moments are made for the sailor sweeter, vivid, and worthy of savoir by the real presence of "adventure close at hand."
Adventure is scarce today. Most of our day-to-day existences are persistently and almost unavoidably comfortable. The impositions of nature have been tamed—in a recent article in the New Yorker, Jon Lee Anderson noted that even in his childhood, 50-odd years ago, "nature had been made frivolous, turned into roadside scenery."
Even when we explicitly seek novel or dangerous experiences, we rarely succeed in being genuinely uncomfortable, much less genuinely stretching the liability-lawsuit-induced confines of safety consciousness. We arrive at the edge of Conrad's empire as triumphant adventurers, only to find ourselves consuming prepackaged adventures in the company of similarly minded fellows with whom we discomfitingly share at least national origin and socioeconomic class, if not home zip code and mutual friends. In 1982, Paul Fussell, cultural critic and cultural curmudgeon par excellence, declared travel dead—"I am assuming that travel is now impossible and that tourism is all we have left"—and wrote its eulogy. Fussell quotes a previous curmudgeon, Frederic Hanson, who had already pronounced a time of death for travel—"we go abroad but we travel no longer"—in 1887. Real adventure, it seems, is dead and buried.
Yet the craving remains. It is acute among the young, who still grow up on a diet of adventure stories and frontier literature even while the neighborhood playground switches back and forth between impact mats and wood chips to stay in tune with the most recent research on risk abatement. It ought to be no surprise that the young disproportionately seek out the uncomfortable and dangerous on escaping from the nest, feeling the shared but unspoken need to be initiated. These adventures range from the obviously gratuitous (the X Games or anything else sponsored by an energy drink manufacturer) to the seemingly noble (military or missionary service, the Peace Corps), in an ironic reflection of the diversity of our society and values. But we are all infected to a degree—whether disease or gift, it is endemic to the human condition.
The economist Sam Peltzman called it out in 1975 when he claimed—a bit overzealously, as it turns out—that risk compensation by drivers had entirely negated the expected impact of two decades of car safety regulations on the highway fatality rate. Seven years later, a psychologist named Gerald Wilde suggested that each of us seek a "target level of risk" to balance our internal system, maintaining a desired "risk homeostasis," which no amount of safety equipment is sufficient to dislodge.
Which brings us back to the unique capacity of a small sailboat on the vast ocean to launch one back to a time when the terms of the battle were something like equal.
Here we have to pause, though. It is at least tactless, if not hopelessly insensitive, to talk about seeking out risk for pleasure amidst a global pandemic. No one asks our country's essential workers—disproportionately those without other job options—how much risk they prefer (of drowning by pneumonia or succumbing to the nebulous depredations of a cytokine storm) to add "texture" to their otherwise monotonous work-a-day routines.
The point is well taken. The important battles—with disease, poverty, enemies foreign or domestic, climate change— are those of necessity, not choice. These important battles are appropriately characterized in Clausewitz's language of "primordial violence, hatred and enmity," friction, death, and confusion, in which courage is the paramount and sole remedy against the implacable possibility of calamity. We should not cast the warrior and the sportsman in equivalent light.
The contest between the sailor and the sea is not and does not pretend to be an important battle. It is not a contest of opposing wills but a voluntary test of the single will against an elemental power. The scouring nor'easter blowing hard is neither malevolent nor targeted. Greek mythology notwithstanding, it defies personification or a capacity for intent. It does not sneak into position to lure unsuspecting small craft out, waiting to trigger its ambush until escape from the kill zone has become impossible. The sea—its breezes and calms, storms and doldrums, swells and tides, lee shores and reefs— simply is. It was there in the 17th century, it is here today, and it will outlive us all for generations hence, predictably unpredictable, holding the promise of adventure, a taste of romance, the thrill of discovery, a chance for sailors to seek balance on its broad and shifting back.
John F. Kennedy—Navy veteran and lifelong sailor—is often quoted as saying that "all of us have in our veins the exact same percentage of salt in our blood that exists in the ocean, and therefore, we have salt in our blood, in our sweat, in our tears. We are tied to the ocean. And when we go back to the sea—whether it is to sail or to watch it—we are going back to whence we came." Kennedy was wrong on the facts, as it turns out—seawater is a bit less than four times as salty as our blood—but right where it counts. We are tied to the ocean, tied to its promise, captivated by its uncertainty, enthralled by the limitless possibilities its waves integrate.
Karen Blixen, better known by her pen name Isak Dinesen, believed the ocean was the curative power of last resort—"I know of a cure for everything: saltwater, in one way or another. Sweat, tears, or the salt sea." She spent the last years of her life in a small coastal town north of Copenhagen, dying from a cocktail of malnutrition, syphilis, and poisonous early-20th-century medicine, faith in the cure unshaken by her own mortality.
To my knowledge, no one has tested Atlantic seawater or Nantucket Sound fog or the icy Alaska current as possible cures for the coronavirus. Everyone knows that would be silly, superstitious, unscientific. The last thing we need at this point in this catastrophe is more distracting posturing about potential silver bullets and instant cures.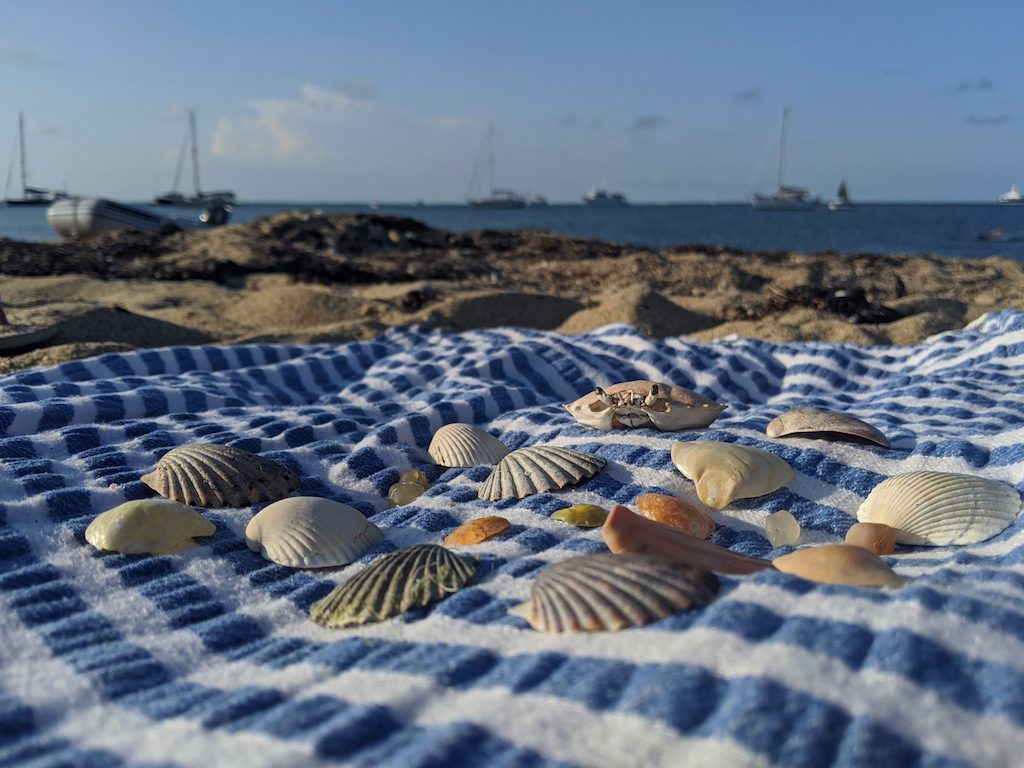 It's the little things.
But when you're at the helm of a small boat—headed out to sea, air thick with salt, afternoon southwesterly building, bow rising to meet the ocean swell—you might well be forgiven for wondering, just wondering, if maybe Blixen was onto something. ■
John Vrolyk first went offshore at age 3, when his family departed California en route New Zealand aboard the 65-foot ketch Saga. Since then, he's sailed dinghies competitively, delivered a boat home from Hawaii, raced to Bermuda twice, and cruised the west coast of Central America from Mexico to Costa Rica. He lives in Washington, D.C. with his girlfriend, Katherine Ash, where they both work in public policy.
Editor's note: This article was originally published in the 2021 edition of Voyages, the Cruising Club of America's (CCA) annual publication, and is reprinted with permission. Special thanks to CCA Commodore J. W. Robert Medland and Voyages Editors Zdenka & Jack Griswold.
The Cruising Club of America comprises more than 1,300 accomplished ocean sailors who willingly share their cruising expertise through books, articles, blogs, and onboard opportunities. Together with the Royal Bermuda Yacht Club, the CCA organizes the legendary Newport Bermuda Race. With active involvement and support from its 14 stations and posts around the United States, Canada and Bermuda, the club focuses significant national and international outreach efforts on ocean safety and seamanship training through hands-on seminars. The CCA's Bonnell Cove Foundation makes grants to non-profit organizations for projects in safety at sea and environmental protection. For more information, visit cruisingclub.org.