The Story of a Great Yacht and an Unsung Herreshoff Hero in the Golden Age of Yachting
By Charles Axel Poekel Jr.
Published by Sheridan House, an imprint of The Rowman & Littlefield Publishing Group, Inc.   271 pages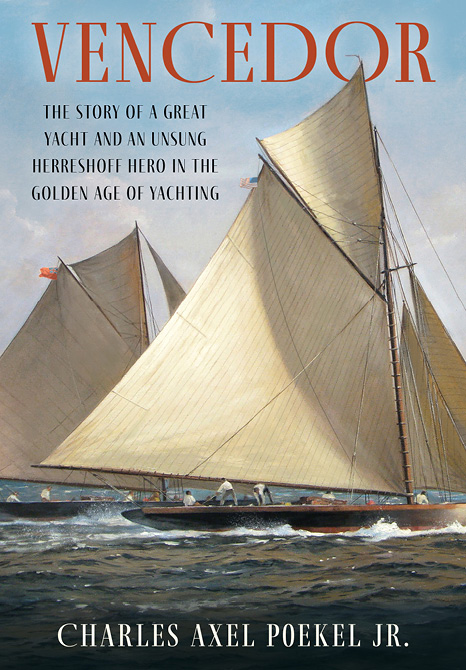 In the 1890s, a young Danish-American naval engineer named Thorvald Julius Schougaard Poekel was the chief draftsman at the Herreshoff Manufacturing Company in Bristol, Rhode Island. At that time HMCo was designing and building the fastest racing sailboats in the world, most notably a string of America's Cup defenders. Taking notice of Poekel's talent, the Racine Boat Manufacturing Company in Racine, Wisconsin hired him away from Herreshoff to become their chief engineer and superintendent.
In the winter of 1895-96, members of the Lincoln Park Yacht Club in Chicago issued a challenge to the Royal Canadian Yacht Club of Toronto for a series of races to determine who would hold yachting supremacy on "that great unsalted sea" – the Great Lakes. The boat Poekel designed for the Lincoln Park YC syndicate was a 63-foot sloop named Vencedor, the Spanish word for conqueror.
This story has a fascinating subtext that author Charles Axel Poekel Jr., great-grandson of Thorvald Poekel, had long wondered about. Almost every plan produced at HMCo was signed by the Wizard of Bristol himself, Nathanael Greene Herreshoff. Several plans, however, bear the signature "T.S. Poekel." Stories published in The Chicago Tribune and newspapers in Racine reported that Poekel was in fact the real designer of fabled HMCo America's Cup defenders Vigilant (1893) and Defender (1895). Meticulously researched, colorfully narrated and beautifully produced by our friends at Sheridan House in Guilford, Connecticut, Vencedor examines the question: Did he or didn't he?
A graduate of the George Washington University and Washington College of Law of American University, Charles Axel Poekel Jr. is the chairman of the Elisha Kent Kane Historical Society of New York City. He is a member of the Maritime Society of America and the Association of Yachting Historians. His other books are West Essex and Babe & the Kid: The Legendary Story of Babe Ruth and Johnny Sylvester. He and his wife Lynn and their flame-pointed Himalayan Mr. Whiskers spend time between New York City, Marion, Massachusetts and Palm Beach, Florida. ■