By Emma Janson, Sailors for the Sea Skipper
The actions and voices of young people across the globe are providing hope for the future of our oceans and waterways. Through Sailors for the Sea's Clean Regattas program, youth sailors have stepped up to become leaders for environmental stewardship in their local communities. Emma Janson, a volunteer Skipper for Sailors for the Sea, shares her take on why every youth regatta should become a Clean Regatta. As a youth sailing coach, Emma is passionate about integrating sustainability.

1. Clean Regattas make sustainability FUN.
Regattas have a bit of fanfare that you can't mimic in practice; they're inherently exciting! By running youth events as Clean Regattas, sustainability is woven into the regatta and all the fun that comes with it. Clean Regattas emphasize to young sailors that small changes, like washing down boats with just water or using reef safe sunscreen, can make a significant difference in protecting our waterways, and doesn't take a huge effort. Implementing Clean Regatta best practices in the context of a regatta, while sailing and having a good time, makes them seem less like a chore and more like fun! Clean Regattas normalize sustainability efforts to protect our oceans by incorporating these impactful changes as just another part of the event.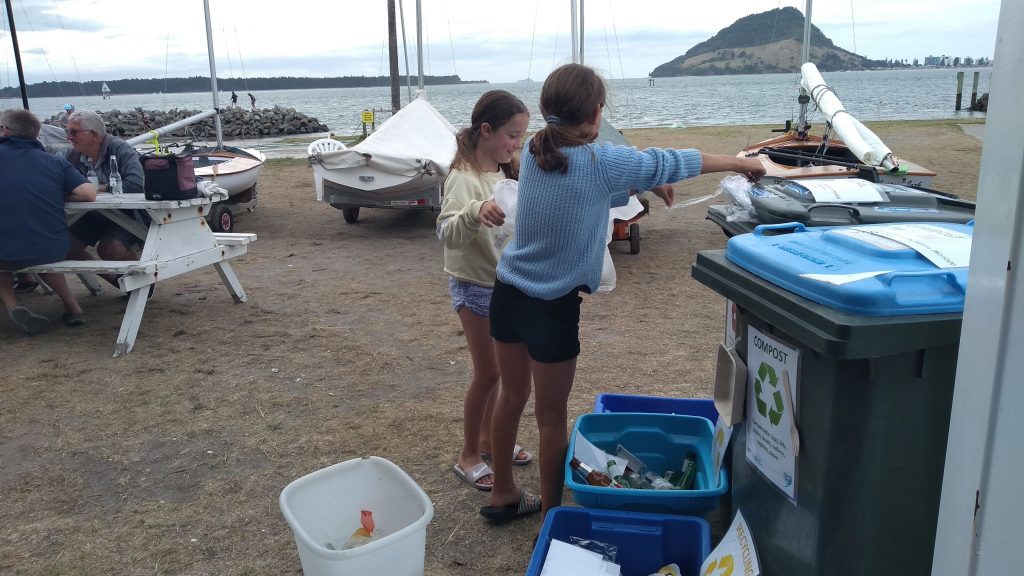 2. Clean Regattas emphasize the connection between sailors and healthy waterways.
One of my favorite parts of youth sailing was jumping out of my boat and going for a swim. As an Opti coach for the past six years, I can tell you that this tradition is still going strong. Hosting a Clean Regatta acknowledges that sailing, the sport we all love so dearly, is deeply connected to the environment. It highlights the need to protect the bodies of water we use. Having a youth event as a Clean Regatta emphasizes this connection and teaches youth that water, especially clean water, is integral to sailing and is not something to be taken for granted. No one wants to sail in an ocean with plastic debris or a lake filled with toxic runoff.
3. Clean Regattas set standards for what comes after the youth circuit.
If every regatta that sailors attended in their youth was a Clean Regatta, sustainability efforts such as water bottle refill stations, paperless sailing instructions, upcycled trophies, composting, and beach clean-ups would be the norm. It would be strange to attend an event and have these best practices be absent. Consistently running youth events as Clean Regattas has the power to set the standard for what comes after the youth circuit. If sailors grow up with sustainability practices intertwined with their regatta experience, not only will they expect a focus on the environment at the events they attend as adults, but they will likely bring these initiatives with them and be well-positioned to lead the implementation of such changes themselves!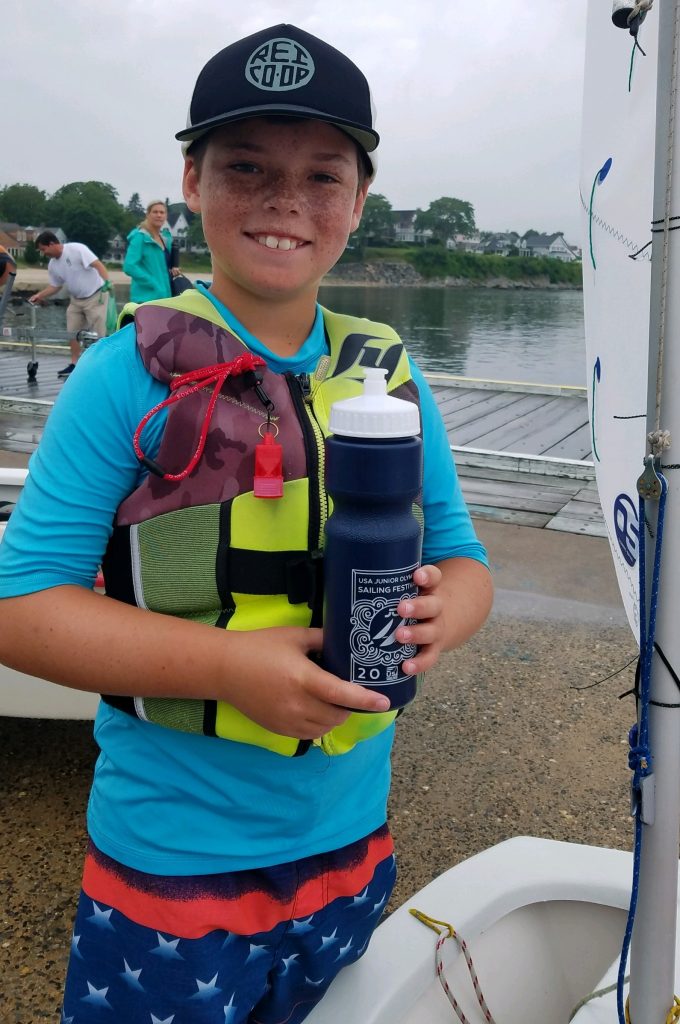 4. Clean Regattas provide opportunities to build and strengthen community.
Clean Regattas present a unique opportunity for parents, kids and coaches to work together to help protect their environment. Having a common goal that spans generations can build and strengthen the sailing community in ways that sailing alone cannot. This collective sense of environmental stewardship, working together to protect their playground, can empower large groups of people to affect real change. Allowing youth voices to shine amongst parents and coaches provides a fresh and powerful take on why healthy oceans and waterways are important. To kids, nothing else makes sense ("Why would anyone litter?!"). Additionally, when sailors see their role models using sailing as a tool to advocate for the environment, they are likely inspired to do the same.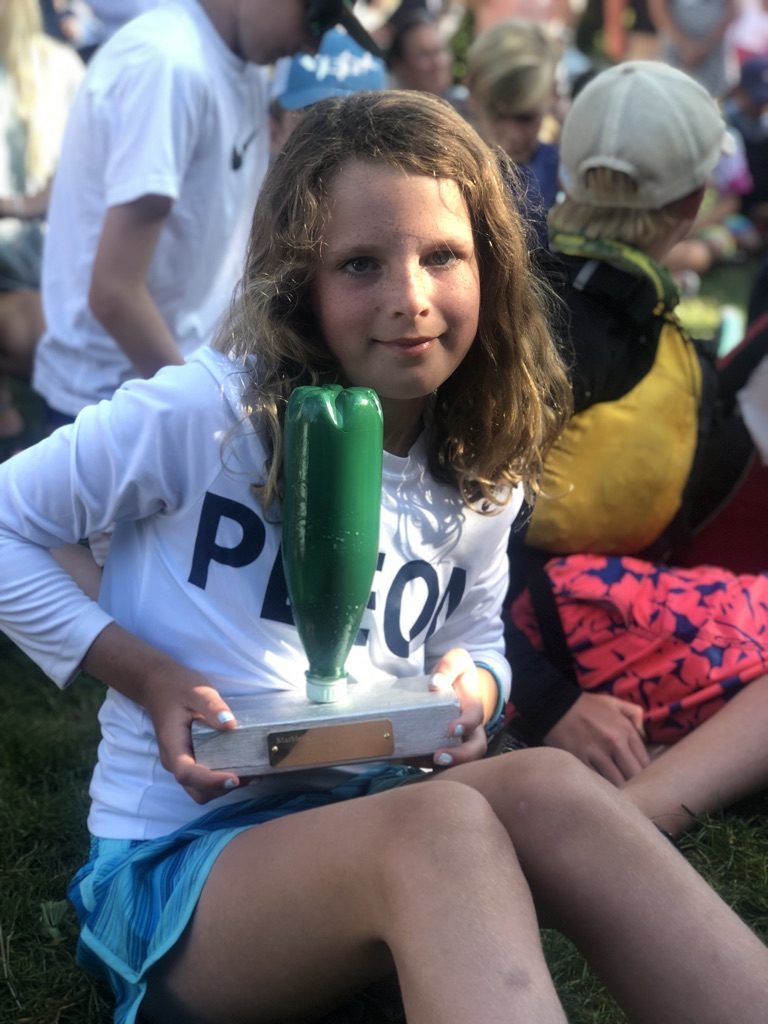 5. Clean Regattas highlights there's more to sailing than winning!
When youth events are run as Clean Regattas, the event emphasizes more than just the scoreboard at the end of the day. Having waterway and ocean health be a focus of the event allows kids who perhaps didn't place or do well in the scores feel accomplished in other ways. Consider integrating environmental awards into the ceremony for sailors who excel at KELP (Kids Environmental Lesson Plans) activities or pick up the most litter. Doing so presents an opportunity for kids to love sailing for more than just the competition, turning them into lifelong sailors and environmental stewards. ■
Emma Janson earned a degree in Wildlife and Fisheries Biology at the University of Vermont. This fall, she's joining the Master of Arts in Marine Affairs program at the University of Rhode Island.
This Ocean Watch Essay was originally posted on the Sailors for the Sea Powered by Oceana blog, and is reprinted with permission. If you'd like to join the Clean Regattas community, you can learn more about the program and register your event at sailorsforthesea.org/programs/clean-regattas.