For the dear reader with a long memory or nothing better to do on a snowy February evening, I bring your attention to a previous Corner column, "Bresting the Ribbon," on the ugly duckling of human diseases, Epilepsy (windcheckmagazine.com/article/bresting-the-ribbon/). Extra credit for remembering the name Phil Haydon, Ph.D., Neuroscientist extraordinaire and founder of Sail 4 Epilepsy (S4E; sailforepilepsy.org).
I met Phil through the Bermuda One-Two Yacht Race community at one of their not infrequent gatherings at Newport Yacht Club. As happens, we got yarning about what he was planning on with that style of sailing and shared common histories of being raised in the British (Commonwealth in my case) society. The Goon Show and Monty Python come to mind.
Sometime later, I received a call from Phil asking for some guidance on upgrading a boat he had purchased more suitable to such sailing than his then current Catalina 350. The upshot was that Phil and I spent a lot of time noodling over the finer details of preparing a boat for offshore sailing, universally solo and doublehanded. Doubly difficult since the (20-year-old) boat's previous history was daysailing on Narragansett Bay. This was late 2018, preparing for the 2019 1-2. Fast forward to 17 June 2021.
This date finds your intrepid Dr. Haydon and crew, your own correspondent, starting the DH leg of this classic race on the harbor of St. Georges in Bermuda. Yes, we get to race OUT through that cut…and sail back to Newport.
It should be mentioned Phil had been sailing for about ten years, whereas I have been sailing for a bit longer. Phil's day job is neuroscience research, one area of which is Epilepsy – a condition he himself has, though he's managed these past forty years with medication. My day job is messing around in boats. During our formative hours together, I got a fast-paced history on Epilepsy. Somewhere in there, the tireless Dr. Phil founded Sail 4 Epilepsy, the mission of which is to raise awareness of this disease and to connect those afflicted in a meaningful way. This race to and from Bermuda has accomplished this part of the mission with a vengeance.
Phil's Quest 33S Cepheus has, apart from the sailing systems and all the usual requirements for going to sea, been outfitted with an industrial strength IMOCA-style satellite comms set-up. This allows transmission, off the boat, of video, sent and received in the same week.
This passage back from Bermuda was memorable, for the sunsets and sunrises and the relatively benign weather. Mainly 10-20 knots with a couple 35-knot squalls. Modest, by the standards of that track in June.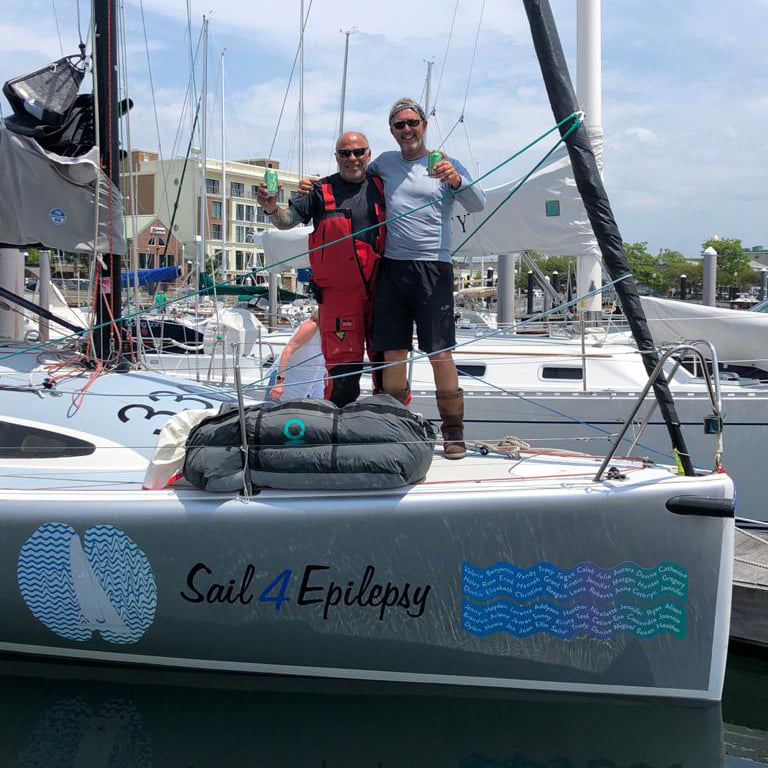 Cepheus crossed the finish line of the double-handed leg of the Bermuda 1-2 on June 22, 2021 at 10:26 EDT after 4 days, 23 hours, and 16 minutes and 715 miles sailed, with much of the last 48+ hours steered by hand.  © sail4epilepsy
Also memorable was Phil's daily transmission of video snippets including communication with S4E's Virtual Shipmates. These are sufferers who have signed on as "virtual crew." Cepheus is adorned with graphics on her bow (in the same "waves" motif as the S4E logo) comprising the Virtual Shipmates' names. Phil's daily (S4E) routine included making three-minute video clips about where we were, what was going on, and reference to one or another of the Virtual Shipmates. I would often record Phil recording these with my phone and we would send the lot to Lauren Darby Zike, Marketing & Communications Director par excellence, for massaging into content on the website and social media.
One particular episode concerned a young'un in South Africa. Turns out he is keen on the drums and is taking lessons. Phil picked up on this and inquired how it was all going. These are not two-way interview-style videos; rather monologues going each way. Turns out this kid and family were totally taken with the notion that there is nothing "wrong" with the nipper and Epilepsy is a condition a lot of people have (one in twenty-six will contract in their lifetimes) and it is manageable. The tagline for S4E is "One More Step" and the premise that everything is manageable; we just need to take one more step to deal with it and live a fuller life. That is Phil's challenge for Epilepsy sufferers: Take One More Step.
This kid's mum was so enthusiastic about the video exchanges that she did one, reporting on how much impact Phil's transmission had on her and her son, and how grateful they were that this condition was finally getting some airtime. Towards the end of her video, it is obvious this entire exchange has had a huge and moving impact on her. I cannot watch it without being brought to, if not tears, moist eyes.
The other terribly moving episode was in Bermuda. Phil was invited to speak before the St. George's Rotary Club weekly meeting and dinner. The contact for this was a young woman with Epilepsy who had kept it buried, quiet about it, for her whole young life. Can you imagine hushing up such a condition, in a country of some 70,000 souls…and one neurologist with a three-month wait list?
This young woman basically "came out" at the dinner, opening up about her condition and speaking to the work she was doing to break out from the fear. As she spoke, this fear was writ large on her face and was equally humbling to behold. This is something a lot of the people following S4E all have in common. Frankly, being around Phil in these encounters is a huge eye-opener.
Meanwhile back on the western North Atlantic, the intrepid duo made tracks for Newport. As happens one deals with all the foibles of such a passage, more or less as they occur. As a neuroscientist, Phil is basically an electrician with a Ph.D. This was brought home to me when the wind instruments quit. I was hand steering at the time and hollered down to Phil, who was below this minor detail. Some back and forth followed, leading to Phil working on the connections and a few other likely culprits. Somewhere along the line we switched off watches and I went below. Rummaging in my kit bag, I noticed a professional grade multi-meter on the berth.
After a couple of beats I thought, "Well, he is an electrician. Why would he not bring such a tool on the boat?" My next thought was about the stuff we bring sailing and how it fits the role we have on the boat. Me, I bring seamanship stuff. The kids doing the bow bring shackle spikes and multi-tools, climbing harnesses and carabiners. The grinders bring water bottles; the tailers, gloves; and the navigators, computers. I'm not sure if the owners bring the checkbooks or leave them ashore. I have never had the nerve to ask. Although I do remember one mighty fine owner who replied, when asked about his role on the boat, "Keeping the checkbook dry."
Later over dinner, that highlight of the offshore sailor's day, Mountain View freeze-dried beans and rice, I commented on this "what we bring on the boat" idea to Phil while observing, "I bring sailor stuff and you bring electrical stuff including enough bits to rewire a nuclear sub, in a morning." Phil cracked up at this notion (well, we were running on 90-minute sleep cycles at this point). Phil is, no surprise, an aficionado of Circadian Rhythms, having studied same as it relates to Epilepsy. Lack of sleep is recognized as a trigger to seizures. And this led us down some rabbit hole of sailor personalities.
One of the fundamentals of sailing and racing – especially offshore – is that the crew needs to get on with each other. It is not unlikely that a crew with such disparate sailing backgrounds as Phil and me rarely sail together. He started sailing only a decade ago, had no small boat sailing experience and no real racing history, his racing being centered around the 1-2, while I am at the other end of the sailing spectrum. Yet there we were banging along in the Gulf Stream, trying to avoid a trawler, attempting to conjure up a favorable current boost, and generally doing offshore racing things. Steer, sleep, eat, navigate, trim or change sails, repeat. OK, add downloading GRIB files too. Another area where Phil's non-sailing electrical skills shone.
He had set up the boat's comms kit with a Sat phone computer wired with Wi-Fi, the routing software on his iPad, and phone, a bag of miscellaneous computer, phone and iPad connectors, and a lav mike (connects to your lapel for making videos with decent sound). Me, I brought some twine, needles, and a palm…Play to your strengths personified, I guess.
Anyone can, more or less, set up a boat and sail to and from Bermuda. Compared to the daily work of Dr. Phil Haydon, that is easy. What's impressive is the passion he brings to the arena of Epilepsy engagement and awareness raising, and the energy behind it. And of course, being a scientist, he is the only guy you could imagine bringing a Milwaukee Tools portable battery-operated 2-gallon wet/dry vacuum aboard to use as a roaming bilge pump. ■