By Dick Holliday
Photos by Clay Burkhalter
Editor's note: This article is the sixth in a series we're publishing throughout 2021, showcasing iconic Herreshoff fleets and their owners as important stewards of Herreshoff boats, originals and replicas alike. Our friends at the Herreshoff Marine Museum in Bristol, Rhode Island are celebrating their Golden Jubilee year – the 50th anniversary of the museum's founding, and WindCheck is honored to be the official Jubilee Media Partner.
The Herreshoff Marine Museum is located on the grounds of the former Herreshoff Manufacturing Company where more than 2,000 yachts were built over more than six decades, including eight consecutive America's Cup defenses between 1893 and 1934. The Herreshoff Jubilee encompasses a yearlong calendar of fresh content and compelling events (both virtual and in-person, regulations permitting). To learn more, log onto herreshoff.org.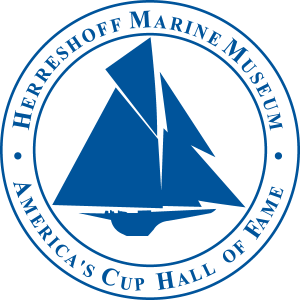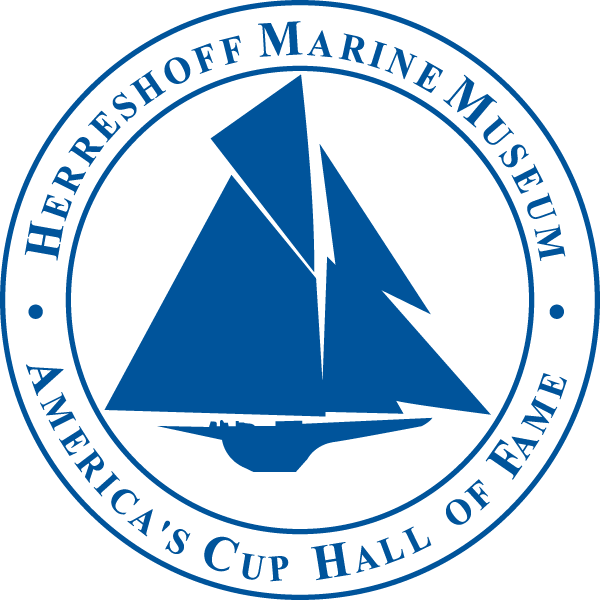 WindCheck readers may recall that we featured Watch Hill Yacht Club's Herreshoff fleet in 2019. At that time, the club in Westerly, Rhode Island and its active Herreshoff sailors were preparing to celebrate the 50th anniversary of their fiberglass fleet. Following that article the celebration came to an exciting conclusion, with twenty-four of the twenty-five boats in the fiberglass fleet racing in company with two of the original eleven Watch Hill Herreshoffs, built in 1923.
The history of the Watch Hill fleet is interesting, all the more this year as the Herreshoff Marine Museum & America's Cup Hall of Fame (HMM) in Bristol, Rhode Island celebrates its Golden Jubilee. Each of the upwards of fifteen local Herreshoff fleets Maine to Florida is being recognized and presented a commemorative plaque sponsored by the HMM and produced by Jim Reinick and Andy Giblin. These presentations will be made following fleet races this summer.
The Ocean House in Watch Hill is a presenting sponsor of the Herreshoff Golden Jubilee, and one of the finest examples of historic preservation in Rhode Island. On Monday, August 12, The Ocean House and the HMM will host a special celebration commemorating the Watch Hill YC Herreshoff fleet and honor two of Watch Hill's eminent sailors for their support of sailing and the museum.
The late James M. "Ding" Schoonmaker, who crossed the bar in January at 87, grew up sailing one of the original 1923 Herreshoffs (HMC #883) and winning his first race in 1944 at age 11. Ding represented the U.S. in two Olympic Games in the Star, and won the Star World Championship in 1975. A Rolex Yachtsman of the Year and U.S. Sailing Hall of Fame inductee, he's a recipient of US Sailing's highest honor, the Nathanael Greene Herreshoff Award. Notable among Ding's many contributions to the sport are his creation of the U.S. Sailing Center in Miami. To help the museum preserve the legacy of Watch Hill 15 for public appreciation, Ding sponsored the restoration of Firefly, ex-Josephine (HMC #880). Firefly was donated to the museum in 1997 by the family of Herman Meunchinger, her proud owner. Ding's HMM award will be accepted by his widow, Treecie (Patrice).
John J. "Hap" Fauth is a summer resident of Weekapaug and a member of Watch Hill Yacht Club. As the owner/driver of Belle Mente Racing, he's won multiple Maxi 72 World Championships. Hap recently served as Principal & CEO for the New York Yacht Club American Magic challenge for the 36th America's Cup. In 2020, Hap became an early supporter of the museum's Resolute Syndicate, a 100th anniversary initiative to recognize Capt. Nat Herreshoff's last America's Cup defender and a special fund to strengthen the museum during COVID-19.
The brothers Herreshoff, famed designer Nathanael and his brother John Brown, built their "one design" boats for speed and performance with little expectation that they would be maintained and raced for more than a century. Not only have the original Herreshoff one-designs provided sailors and clubs beautiful daysailing and racing opportunities for upwards of 125 years, they have enabled and supported enduring club racing programs. So enjoyed and loved were the original Watch Hill Herreshoffs from 1923 that in 1968 Watch Hill YC members formed a syndicate to replicate the 24' 7" hull (waterline of 15') in fiberglass and take advantage of a more modern, taller fractional rig. Here's a bit of that story.
Sparked by Avard Fuller and Hubbard Phelps, past commodores of Watch Hill Yacht Club, a small group secured permission to "wood" the original 1923 Watch Hill Herreshoff (HMC #880) and produce a mold and two prototypes with a Sparkman & Stephens rig design. It should be noted that HMC #880 itself was a near virtual copy of Nathanael Herreshoff's 1899 Buzzards Bay 15 design, with what was then a "modern" Marconi rig replacing the traditional gaff rig.
The first two of these boats, WH-15 #1 Glass Slipper and #2 Hussy, earned a reputation around Fishers Island Sound for their beauty and sailing ability. They handled well in breezes up to 20 knots, and could ghost along in zephyrs when competitors could not move.
When Hussy was launched in August 1969, Avard Fuller invited me to crew on her for Fishers Island Yacht Club and Thames Yacht Club races. Two years later he asked me to campaign her, and I bought her at the end of that 1971 season. I owned her until 2006 when she was transferred to my son, Carter. Hussy has always been our family boat and likely will remain so long after my days.
That original Watch Hill Herreshoff was meticulously restored by Ding Schoonmaker, working with Andy Giblin of McClave, Philbrick & Giblin (MP&G, LLC; mpgboats.com), and has been on display at the T. F. Green International Airport in Warwick for a number of years.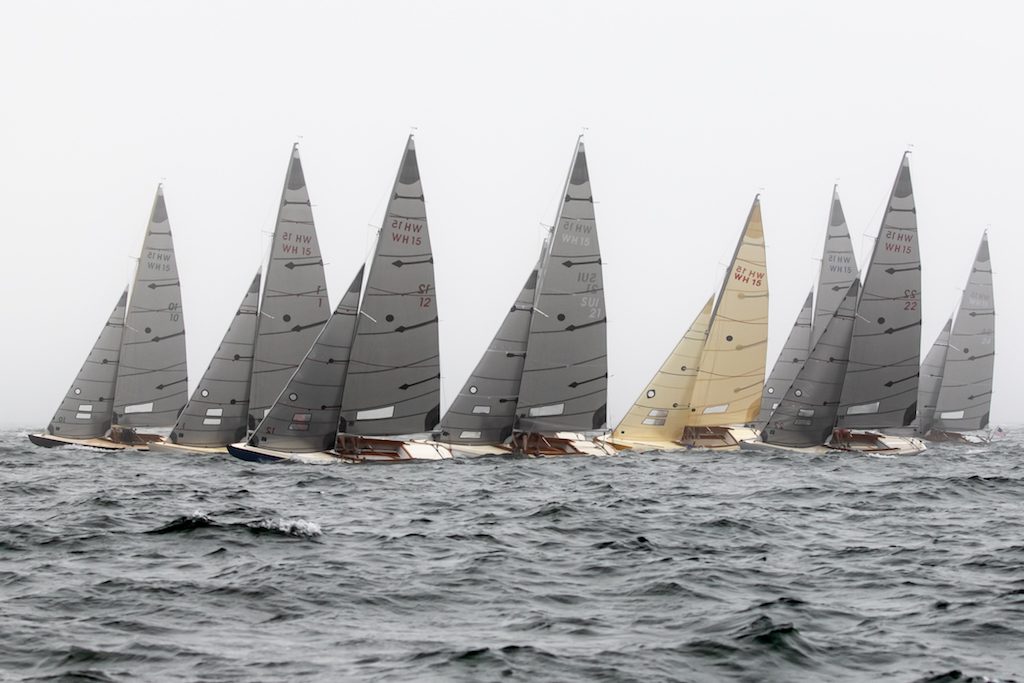 Eight of the twenty-four boats sailing in the WH-15 50th Anniversary Regatta, in the Watch Hill Bight off Napatree Point
© Clay Burkhalter/burkhalterphotos.com
It's a tribute to Nathanael Herreshoff, the Wizard of Bristol, and the 1968 WHYC syndicate that those two "glass fleet" prototypes have provided so much enjoyment to their Watch Hill crews that twenty-three successors followed, becoming the mainstay of the club's active racing fleet with approximately seventy races from May to October ■
Dick Holliday learned to sail as an adult in the mid-1960s in Little Narragansett Bay and Fishers Island Sound. He's served in many roles at Watch Hill Yacht Club, including Commodore in 1975 and '76. He's an active member of the Cruising Club of America and has served as Rear Commodore of the Essex Station. In 2010, he joined the Bermuda Race Organizing Committee (BROC) and served as Participation Chairman from 2012-18. He currently serves as BROC Head Ambassador, connecting experienced mentors with first-time Newport Bermuda Race skippers. He also serves as Chairman of the Newport Bermuda Race Gulf Stream Society, which recognizes skippers and crew who have sailed five or more Newport Bermuda Races.