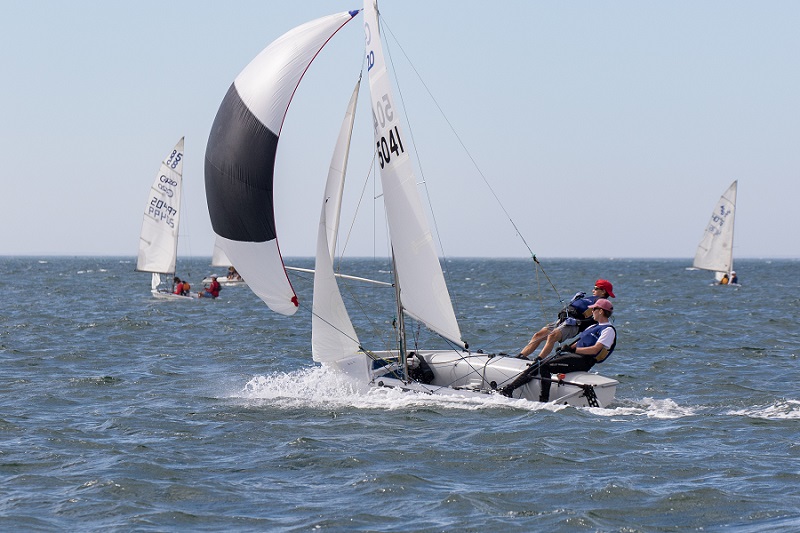 Now in its second year, the Secor Volvo Fishers Island Sound Race is giving sailors between the ages of 12 and 18 an experience normally reserved for world-class racers. Sponsored by Secor Volvo in New London, CT, this unique event for 420 sailors is a challenging, club-to-club race around Fishers Island Sound.
Team MudRatz sailors Zach Champney (helm) and Peter Cronin won the Secor Volvo Fishers Island Sound Race for the second consecutive year. © Clay Burkhalter/burkhalterphotos.com
Event founder and chairman Brandon Flack modeled this one-of-a-kind event after the Volvo Ocean Race. Like that race, this "circumnavigation" of the Sound features live-streaming video footage shot by drones, online access to real-time GPS race tracking, a VIP spectators boat and, of course, top-notch sailing. "These kids are going to have a day that many of us could only dream of," said Flack before the start.
Activities began Tuesday, August 16 with the Volvo Skipper Meeting and the Dime Bank Eastern Connecticut Sailing Association "Celebrate the Sailing" Awards Banquet and DJ Dance at the Wadawanuck Club in Stonington. The next day, 30 teams from 15 clubs in Connecticut and Rhode Island participated in the Sailors Parade before embarking on the first of four legs comprising the 10-mile course along the shores of three states. Teams made "stopovers" at Mason's Island Yacht Club, Ram Island Yacht Club, Groton Long Point Club and Fishers Island Yacht Club.
Sixteen-year-olds Zach Champney and Peter Cronin of Team MudRatz scored a repeat victory this year, and recorded the event's top speed of 13.8 knots (each boat carried a GPS unit provided by RaceQs, who offered live race tracking for spectators). "What made this race so special for my skipper and I was just how different it is from other 420 regattas," said Cronin. "Every leg asks something different from the sailors. Navigation, race tactics, and reading the current all came into play. I loved the fact that this race had so much variety and asked us to show lots of different skills. Without a doubt, this is my favorite regatta."
"The kids had a blast," said Nick Ewenson, Assistant Sailing Director at the New England Science & Sailing Foundation in Stonington. "It truly was a scaled-down version of 'the bigger Volvo,' and there were plenty of lessons learned and problems to solve. The competitors' meeting was not one to skip and the sailing instructions were not to be skimmed. There was homework to do and Fishers Island Sound and its harbors' entrances have plenty of hazards to avoid, funky water movement, and patchy spots."
The Secor Volvo Fishers Island Sound Race was held in partnership with Sailors for the Sea to educate racers about the importance of implementing the organization's Clean Regattas program. "We really improved this event from a lot of angles this year," Flack noted. "Next year, with a better date, I think we can easily get participation up to over 100 boats and make this a signature sailing event for the area." Results are posted at ittybittyurl.com/secorvolvofinal.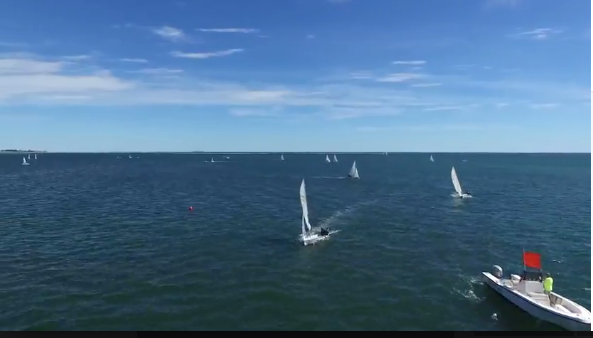 To see leg videos, stopover interviews, and photos, visit facebook.com/mudratzracing. 
James Rincon, Marketing Coordinator at Dime Bank, contributed to this report.