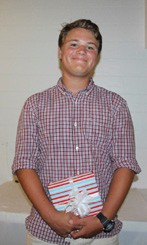 The Eastern Connecticut Sailing Association (ECSA) has created a new perpetual trophy as a memorial to a man who did more to make junior sailing better – and safer – than anyone we know. Paul  W Risseeuw (1943 – 2015) served as the ECSA's Junior Chairman for 23 years. A resident of Ivoryton, CT, he was a Past Commodore of Pettipaug YC in Essex, where he pioneered one of the first hands-on powerboat instruction programs in the country.    
Ian Hurley was presented the inaugural Paul W Risseeuw Sportsmanship Award © Julia Cronin
At the ECSA awards dinner, Risseeuw's widow Mary and his brother Dean described the perpetual trophy (which is being constructed), and presented the inaugural Paul W Risseeuw Sportsmanship Award to Ian Hurley of Pettipaug YC.    
"Based on nominations and comments from fellow sailors, it was clear to the selection committee that Ian is well respected by parents, instructors and his peers," said ECSA Treasurer Bob Cashman. "Ian proved to be giving of his time, knowledge, and good humor to help others everywhere he went, and through many actions. In addition to always looking for 'the right thing to do' and treating people well, he is very careful with his boat and equipment, maintaining everything in a shipshape manner." The complete list of award winners can be found at ecsa.net/2016-junior-awards.