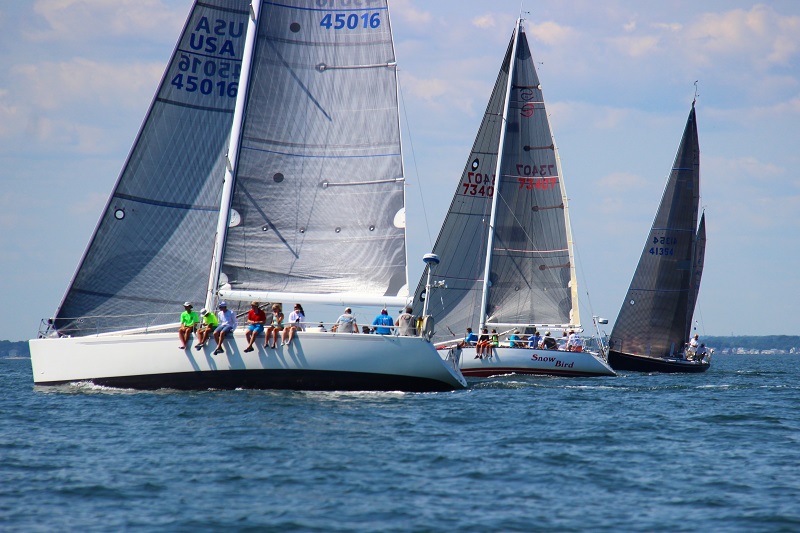 The 2016 ECSA Leukemia Cup Regatta weekend was held on Friday, August 26th and Saturday, August 27th hosted by North Cove Yacht Club (NCYC), Duck Island Yacht Club (DIYC), Essex Corinthian Yacht Club (ECYC) and Pilots Point Marina (PPM). The charitable fundraising event for The Leukemia & Lymphoma Society (LLS) combined social and racing activities for all, including a pot-luck appetizers/cocktail party and auction on Friday night at NCYC and exciting offshore PHRF and One- Design racing on Saturday. The weekend culminated in a post-race party at Pilot's Point Marina Saturday evening with race awards, live music, and food and drinks from sponsors including: Saldamarco's, Cindy's Wine and Spirits, Two Roads Brewing Company, Gosling's Rum, Hartford Flavor, Flour Foods, and Seaflour Foods.
This year, the Leukemia Cup Regatta weekend raised more than $65,000 for LLS and welcomed over 300 attendees for the two days' events. Friday night's auction and cocktail party were one of the highlights of the weekend. The silent auction was packed with donated items from local businesses, and again we auctioned off North Sails pro sailor and longtime LLS supporter, Jack Orr, to the highest bidder. Hank Tessier won Jack's coaching skills for a day of racing and in one of the most emotionally moving moments of the weekend, Hank donated Jack to Honored Skipper, Fund Raiser and NCYC member, Jim Lawless who is a Chronic Lymphocytic Leukemia (CLL) survivor.
Saturday began as a floater with a cat in the hat flying for almost 90 minutes giving crews time to cool off by swimming off the back of their boats, eventually the southerly filled in and made for a beautiful day of racing. Racing included windward leeward courses of 5 and 10 miles near Crane's Reef for the Spinnaker Class and a long around the buoys race for the canvas classes run by the DIYC race committee. The building 6 to 8 knot southerly helped all four classes get off to a good start and around the top mark near Long Sand Shoal and on to their next marks. Spinnaker boats sailed two windward leeward races and the canvas boats sailed one race around the weather mark and a reach down the sound to the east end of Long Sand Shoal then back to a leeward drop mark and an exciting beat to the finish.
In race one, the 9 boat spinnaker class, Dire Wolf an IMX 45 owned by Larry Hennessy and Deb Whitehead captured 1st, Brian Prinz's, J 125 Spectre was second and Skip Young's J 109 Dragonfly flew to 3rd.  In the 7 boat fast canvas Class 2, Mark Salerno's Tripp 37, Fusion came in first, Gemini, a C&C 35-2 sailed by Jeremy Sholovitz came in 2nd and Dave Gilmore's Hanse 400 Avalon came in 3rd. Mark Kondracky aboard Mentor, a Pearson 26, won canvas Class 3, Hot Fudge a Sadler 34 sailed by Rich Glassman followed with a sweet 2nd and Reepicheep, a Ranger 22, sailed by Peter Floyd finished third. The Nonsuch Class was led by Bob Cornell on Halcyon, then Dan Ferrier showing his strut on Stray Cat came in 2nd and NCYC Commodore, Joe Carroll on board Judith Marie came in 3rd.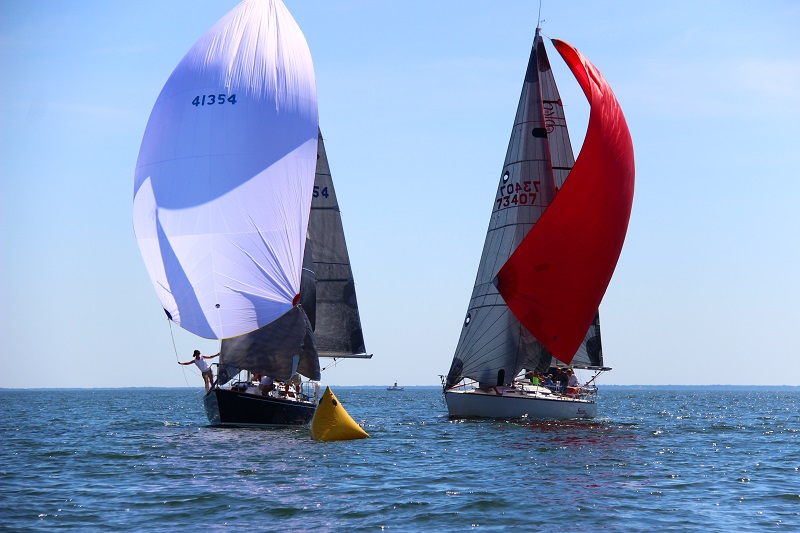 A second windward leeward race was held for the spinnaker class, Dire Wolf was fearsome again with 1st and 1st for the day, Spectre took a shot at 2nd and 2nd for the day and Dave and Kathy Nauber's Frers 33 Wolverine finished 3rd to gain a podium with 3rd overall after winning the tie breaker with Dragonfly. Results can be found at http://www.leukemiacup.org/ctwhv/localchapter/ecsadetails
The highlight of the evening was the speech and video by Leukemia Cup Honored Skipper Jim Lawless, DVM. Jim used his medical background to clearly explain how he beat CLL using a combination therapy including standard infusion and Imbruvica in a clinical trial at Dana Farber Cancer Institute. His spirit and determination were very motivating and he was extremely grateful to his outstanding team of Leukemia specialists who helped him through the experimental therapy and allowed him to race again. Additionally the Leukemia Cup racers were blessed by the special appearance of America's Cup Sailor and ESPN Commentator Gary Jobson, National Leukemia Cup Regatta Chairman. Just back from the Rio Summer Olympics, Gary made the day trip from Maryland to share his latest movie and Olympic racing stories with the captivated crowd. This year the Leukemia Cup Trophy, a perpetual award, was given to Peter and Ruth Emblin (Leukemia Cup Co-Chair) aboard Tartuca; Team Tartuca raised $13,500 for the Leukemia Cup Regatta and LLS.  
Overall NCYC, DIYC, ECYC and PPM have surpassed the $550,000 mark in raising funds for LLS. Nationwide the Leukemia Cup Regatta has raised over $52 million, with 85% of all donations going right back to help fund blood cancer research, education and support to help patients and their families manage through the difficult times.
I would like to thank all the participants, fundraisers, volunteers and committee members who helped during the Leukemia Cup Regatta. Together we are making a difference fighting blood cancers and I hope all our participants feel as good as I do about helping The Leukemia & Lymphoma Society raise money for this great charity. Your continued support is critical to our success. A Special Thank You to our Local Captain Sponsors: Essex Wellness Center, Chapco Inc., Sound Rigging Services and Saldamarco's Italian Deli.
We had a great weekend and it was because of all our participants and sponsors! Thank you and see you on the water!
Cheers,
Roger Bauman
Co-Chair ECSA Leukemia Cup Regatta 2016