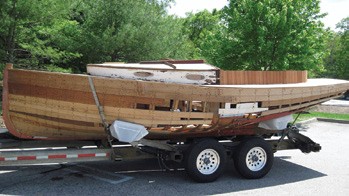 Budget-minded boat owners looking for hard-to-find parts for a refit or restoration project have a new online resource. Created by Doug McQuilken, who is restoring a vintage wooden catboat, boatusedpartsearch.com (aka BUPS) has helped thousands of boat owners locate parts.
This catboat restoration project inspired Doug McQuilken to launch boatusedpartsearch.com.
BUPS maintains active inventory from hundreds of websites, and sends daily email (text in the future) alerts for "fresh" listings meeting user-defined criteria.
"I needed a lot of hard-to-find parts for my catboat restoration project and these are often one-of-a-kind parts where timing is everything in making a purchase decision," said McQuilken. "Searching with BUPS is simple because the listings are limited, as much as possible, to used, consignment, re-manufactured, clearance and closeout boat parts. For example, enter "anchor" into BUPS and you'll find boat anchors. Try that same search on Google and at the top of the list you'll find "Anchor Hocking,""Anchor Sign" and "Anchor Brewing," among 227,000,000 other results."
"While BUPS is targeted at buyers, sellers have not been ignored," said McQuilken. "In reviewing over 1,000 boat part websites, I have made a number of specific recommendations to improve their web presence. Inventory continues to grow as at least one site is added per week, and a smartphone app is on the drawing board to improve the user interface."
Whether you're a buyer or seller, seeking set of sail rings for a Sunfish or a spinnaker for a Swan, try boatusedpartsearch.com.