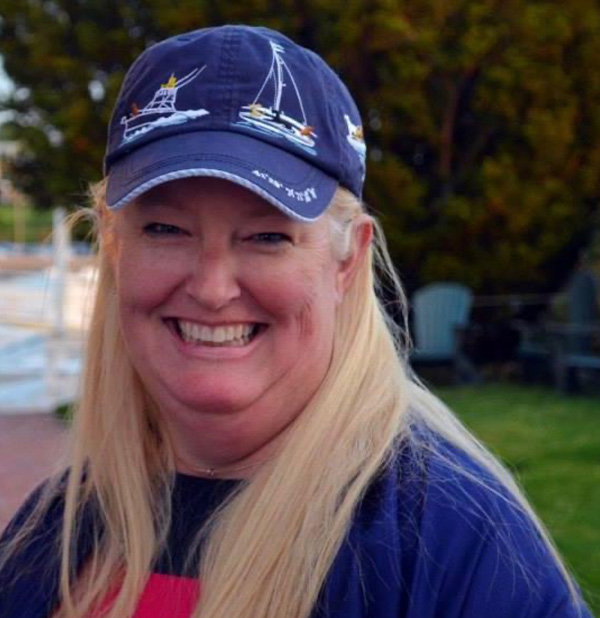 If someone told you they were born in the shadow of the Mont Tremblant ski resort in Quebec, and in the next breath said they were in Newport, Rhode Island the following year watching the America's Cup, you might scratch your head a bit. Stephanie McLennan was not properly "watching" the regatta, but she was there with her grandparents. There is a picture taken by her grandfather of Stephanie in a state of infant repose on the fantail of the boat he'd chartered for the 1970 series. This is the way it went for one of Newport's Great Ladies of the Water.
It's pretty hard to escape the vortex of sailing when your grandmother was a champion in 8 Metres. Women in the 1930s were generally getting short shrift in almost every arena, but "Ga," she was tough. Stephanie recounts her grandfather's tale of one race when they (Tom & Nancy [Leiter] Clagett) were winning. Tom lost his footing and was within an ace of going in the drink, saved only by hanging onto the boom. Nancy chastised him and, rather than giving up the helm and hauling his backside back on board, she hollered, "Hang on! We're on the layline and nearly finished." After they – he – hung on, literally, to win, Tom grumbled, "I'm not racing with you again. You're too tough!"
Stephanie, brother Travis and mum Judy moved to Washington, DC after Judy's divorce. For someone so close to sailing today, Stephanie did not do much competitive sailing in high school or college. Swimming and skiing were her sports. The major component of her youthful sailing was a very colorful Laser (with a three-digit sail number) that she sailed and drifted around backwaters of the Chesapeake. Equally colorful but infinitely more memorable were trips to Newport during Cup years.
Stephanie recounts the house her family lived in during the 1977 series. The Clagetts had the third floor with a view over the Enterprise dock. Bernadette & Steve Lirakis, of Lirakis Harness fame and bowman on Independence, were on the first floor and the cast of characters associated with Enterprise wandering to and from were introduced to 7-year-old Stephanie as Uncle Andy (MacGowan), Uncle Steve (Lirakis), and so on. Grampa Tom ("Bubba") was part of the Enterprise syndicate, so Stephanie the Nipper was allowed out on the tender on occasion. She remembers meeting Mister Cunningham. Equally memorable is the swim she had after being tossed into the drink off Enterprise after Lowell North's crew had been excused from further efforts and thanked by the NYYC Defender Committee.
That dunking was perhaps less terrifying since Stephanie, like her mum, had been taking sailing lessons at Ida Lewis Yacht Club. Judy had learned in the club's junior program, which was started by her mum, Nancy Leiter. "My kids are not going to be beach kids," Ga had declared. "They're going to learn to sail!" Well, Stephanie did say Nancy Leiter was tough…
Nancy Leiter Clagett crossed the bar in 1977. Christmas that year was spent in the BVI aboard the Clagett yacht, Anore, a 72-foot Bob Derecktor-built ketch with plenty of room for family and mates. Cruising in company with the Hoyt family, likely a font of more America's Cup stories, the Clagett clan sailed around the USVI and Tortola.
In 1979, Tom donated six Lasers to Ida Lewis YC in recognition of the efforts Nancy had put into developing junior sailing there. The idea was to offer a chance for young women to compete, be nurtured as sailors with access to high level coaching, and develop the sportsmanship for which Nancy was such an advocate…except for almost-overboard crews. Originally the Ida Lewis Trophy, this event became the U.S. Women's Singlehanded Championship. Nancy's name is engraved on the cup, dedicated by Tom in 1980 as the Leiter Trophy. This event for young women ages 13-18 is sailed in Laser Radials, and a glance at historical results shows fleets of 50-60, with familiar names from around the country.
Stephanie's grandfather is well known, certainly in adaptive sailing circles, as the namesake of the C. Thomas Clagett, Jr. Memorial Clinic and Regatta. After Tom's passing in 2001, Judy and Stephanie gathered a few mates and brainstormed ways to celebrate their father/grandfather's memory and generosity. Tom was paralyzed by meningitis for about six months in his youth, an experience that informed his respect for the disabled and the determination to live their lives to the fullest, regardless. This familial gene, dedicated to giving back to the sport, is present in both Stephanie and Judy.
The Clagett Regatta is the pinnacle event for sailors with disabilities. Stephanie is visibly proud as she recites a list of Clagett sailors from the U.S., Canada, Ireland, Israel and Norway who've had great success in the Paralympics and various world championships, as well as Rolex Yachtswoman of the Year Jen French.
Newport is chock full of sailors and sailing events. Many visiting sailors are likely unaware of the strong undercurrent of sailors that, largely through volunteering, make it all happen. For any of us, it would be time well spent reading up on Nancy & Tom Clagett and how they brought their love of sailing to so many. Spend time with Stephanie and you'll see what sailing means to this family – not in the collection of trophies, but the joy of bringing sailing to others.
Stephanie lives a ten-minute walk from Howard's Wharf. It's unrecognizable as the working waterfront of her childhood, but squinting through the gaps in the condos one can glimpse sunlight reflecting off the water. One cannot help but muse on the notion of each sparkle being someone the Clagett Clan have had an impact on. To learn more, visit clagettregatta.org or better yet, volunteer for The Clagett Regatta Newport, scheduled for 24-29 August. There's a reason I referred to Stephanie as one of the Great Ladies of the Water. The foregoing is just scratching the surface. ■