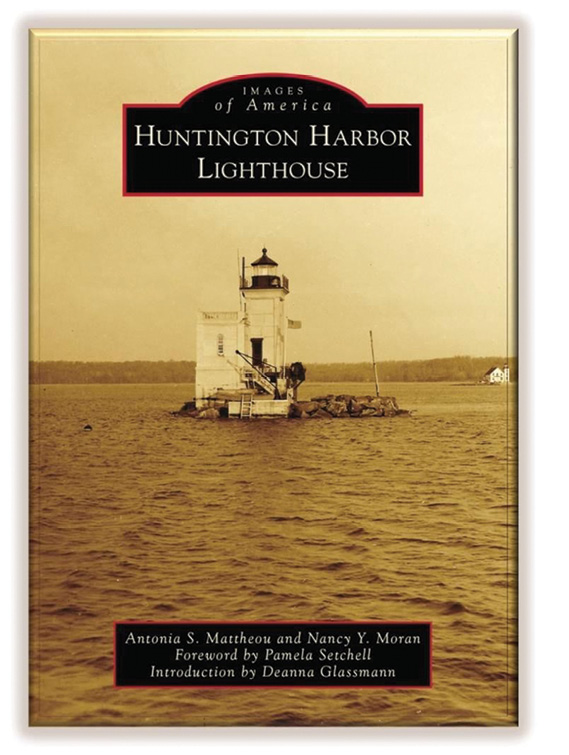 By Antonia S. Mattheou and Nancy Y. Moran
Foreword by Pamela Setchell, Introduction by Deanna Glassman
Published by Arcadia Publishing 127 pages paperback $21.99
If you've done any boating on western Long Island Sound, you've seen the Venetian Renaissance-style lighthouse at the entrance to Huntington Harbor, New York. Completed in 1912, the structure resembles a small castle.
By 1985, the deterioration of the Huntington Harbor Lighthouse had become so great that the U.S Coast Guard was ready to destroy it and erect a steel tower on the ruins. They relented when a group of concern citizens led by Janis Harrington, with the help of her father-in-law, Dr. Douglas Harrington, organized the non-profit group, Save Huntington's Lighthouse Inc. whose stated goal was to save and restore the lighthouse. Added to the National Register for Historic Buildings in 1988, the Huntington Lighthouse is owned by the Huntington Lighthouse Preservation Society (formerly Save Huntington Lighthouse Inc.) and is an active aid to navigation.
Part of Arcadia Publishing's popular "Images of America" series, this fascinating book relates true stories of breaking boundaries and achievements beyond expectations, and it's full of archival images and historic documents, many of which have never seen or published before. Pamela Setchell, President of the Huntington Lighthouse Preservation Society, wrote the foreword, and Preservation Society Vice President Deanna Glassman wrote the introduction.
The archivist of the Town of Huntington, Antonia S. Mattheou also works as an instructor for the New York Education Department, a grant reviewer for the New York State Archives, and a consulting archivist for various organizations on Long Island. Nancy Y. Moran, RN, MS has resided in Huntington for more than twenty years. As an avid boater, wife and mother of fishing enthusiasts, her appreciation of excursions beyond the Huntington Harbor Lighthouse inspired her to write about its history and renovation.
Proceeds from the sale of this excellent book will help fund the Huntington Lighthouse Preservation Society's ongoing
efforts to restore, preserve and maintain the historic beacon. To order a copy, visit huntingtonlighthouse.org/book. ■