Plum Island Off the Auction Block
By Chris Cryder, Save the Sound Land Campaign Manager
Sailors who cruise around Plum Island, New York, fisherfolk who ply Plum Gut and enjoy the island's wild beauty, and history buffs who admire its handsome buildings can all take now take a deep breath of relief—the island has been taken off the auction block!
The federal fiscal year 2021 budget package, passed and signed in December, includes language repealing 2009 and 2012 bills associated with the plan to relocate the animal disease research facility on Plum Island to Manhattan, Kansas. This action restores the normal disposal procedure for federal property instead of selling it to the highest bidder, which could have brought damaging development to Plum Island's many wildlife habitats, historic resources, and pristine waters. Next steps now include ensuring the island is conserved and transferred to another federal agency, state, or other body, a process that may take several years.
"We're closer than we've ever been to saving Plum Island," said Curt Johnson, President of Save the Sound. "Senator Schumer's negotiating power, Senators Murphy and Blumenthal's networking, and the persistent, bi-partisan support of the entire Long Island Sound Congressional delegation, have brought us this far. The normal process for dealing with federally owned property is re-opened and a path to permanent conservation is within our sights. Save the Sound will be there every step of that path."
The Preserve Plum Island Coalition (PPIC), an alliance of 116 organizations across New York, Connecticut and Rhode Island, has been fighting to save Plum Island for a decade. Save the Sound coordinates the Coalition, leads the outreach and advocacy effort, and has been the primary plaintiff in a lawsuit against the Department of Homeland Security and General Services Administration, arguing the agencies' plan to sell the island bypassed certain environmental laws.
As John Turner, spokesperson for the Preserve Plum Island Coalition, put it, "It is rare in conservation to get a second chance. All too often, a species becomes irretrievably lost to extinction or a forest is irreparably destroyed by development. But Congress, through repeal of the mandate directing the sale of Plum Island, is giving the island a second chance. But this second chance is really a first step. The Coalition calls on all those who care about Plum Island to stand by as we look to the next steps in keeping it forever in public ownership."
Plum Island, located at the eastern end of Long Island Sound, is home to lands traditionally used by Indigenous nations; a historic, decommissioned Army post; and more than 500 plant and animal species, 111 of which are species of conservation concern. In 2019, Save the Sound commissioned a first-ever scientific dive of the marine waters surrounding Plum Island, and the scientists found "every centimeter" of the rocky bottom covered with covered with life, including coral, anemones, eelgrass meadows, kelp, and more.
The usual disposal process for federal properties entails offering the property first to other federal agencies, then to the state of jurisdiction, followed by the county and municipalities, then nongovernmental organizations. This opens the path to ownership and management by a federal agency or the state of New York, or a partnership of such bodies, to safeguard all these cultural and ecological resources long-term.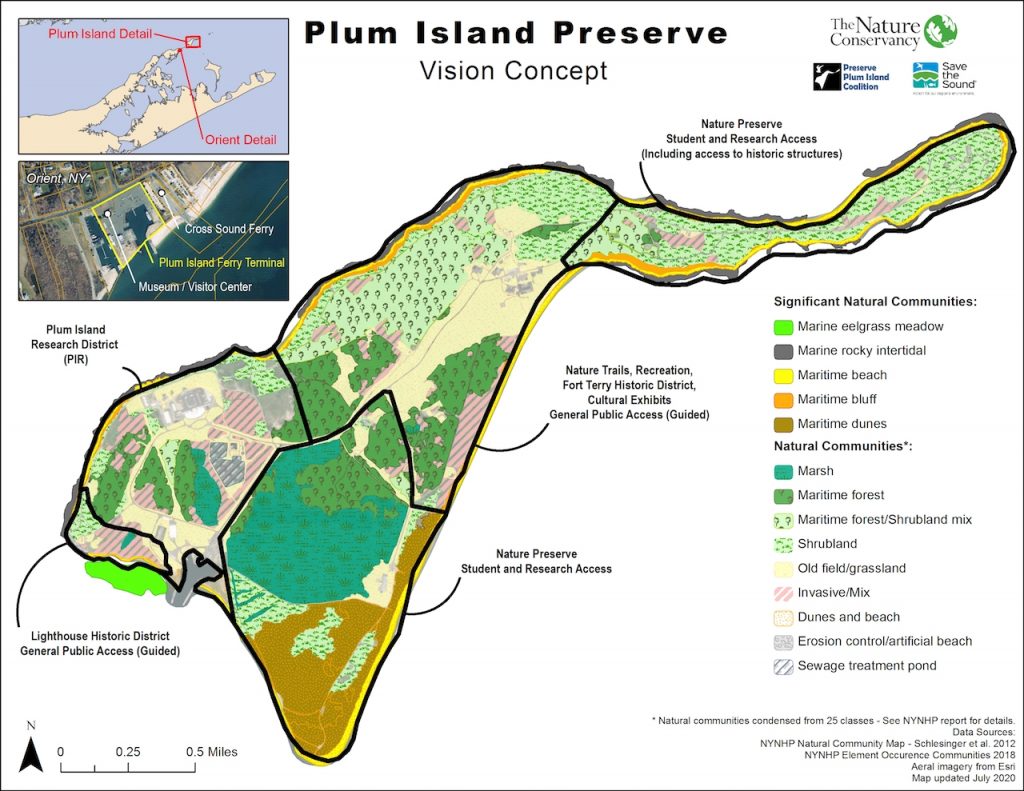 Last July, The Nature Conservancy and Save the Sound briefed congressional staff on Envision Plum Island, a report developed with a large group of diverse stakeholders that outlines detailed options for ownership and management (options which can now be explored in earnest!) and a holistic vision for use of the island and ferry parcel. This includes conservation of over 600 acres for wildlife, carefully managed ecotourism, preservation of historic Fort Terry and the Plum Island Lighthouse, reuse of existing buildings and generation of research jobs, and a small museum highlighting the island's natural resources and cultural resources.
Despite the hardships of 2020 and early 2021, passage of legislation blocking Plum Island's sale was truly a welcomed gift during the holiday season, and we are thankful to everyone who worked hard to make it happen. Stay tuned to learn more about the exciting future of Plum Island! ■