By Matthieu Riou, Grain de Sail US Wines & Spirits Director
The world's only commercial exporter of fine wines by modern cargo sailboat, Grain de Sail, delivered its first load of wines on December 16 to the New York Market after crossing the Atlantic from France for 28 days. After a three-week resting period, the wines are officially available in selected wine bars, wine shops and restaurants that you will be able to find on
graindesailwines.com.
Powered by more than 350 square meters of sail area, with seven sails – mainsail, foremast, staysail, working jib, solent, genoa and asymmetric spinnaker – the 72-foot aluminum schooner can manage an average speed of 8 knots upwind. She has a 50-ton capacity, and the hull is designed to welcome 26 U.S. pallets holding 15,000 wine bottles. Once loaded through deck hatches, the cargo is secured and preserved in a cargo hold stabilized in temperature and hygrometry to make it the world's first floating wine cellar under sail.
Consistent with its environmentally friendly mission, the vessel is self-sufficient in energy thanks to wind turbines, photovoltaic panels, and hydro generators. The vessel also has a very modest 115 hp auxiliary engine for in-port maneuvers. Fitted with two single cabins and a double cabin and a furnished galley, the cargo sailboat is merchant navy approved and registered with the International French Register (RIF). She's a real cargo ship in the sense of equipment and safety but she's only moving thanks to the wind, which makes her perfectly unique.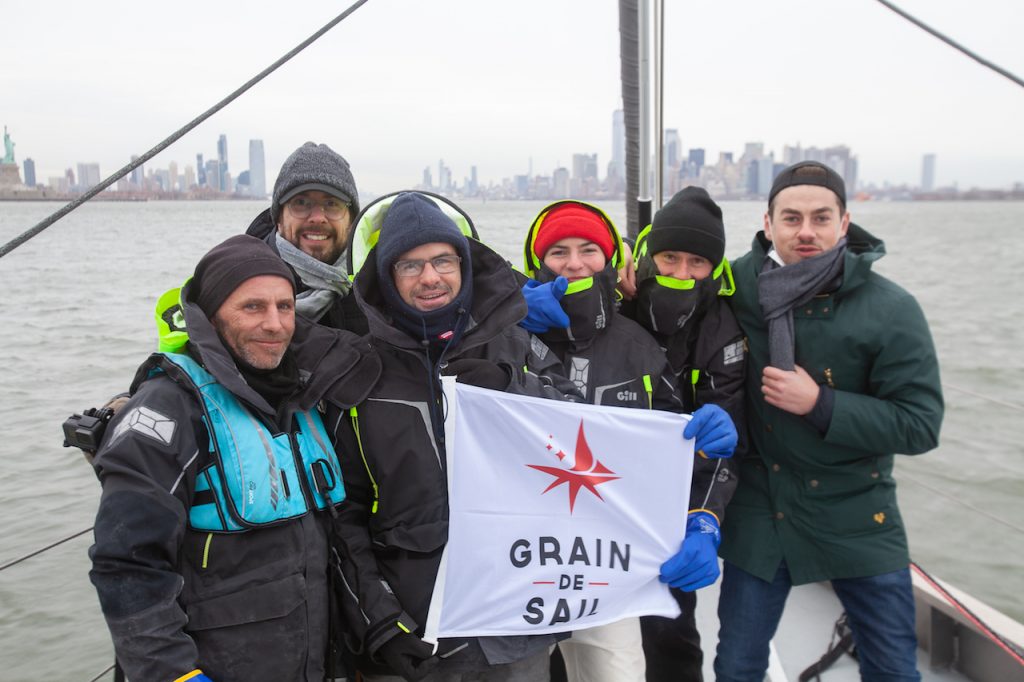 The Gran de Sail crew is composed of Loïc Briand, Master; Faustine Langevin, chief mate; Goulven Josse, deck officer; and François le Naourès, sailor and mediaman. To taste the wines that sail, visit graindesailwines.com. ■