By Joe Cooper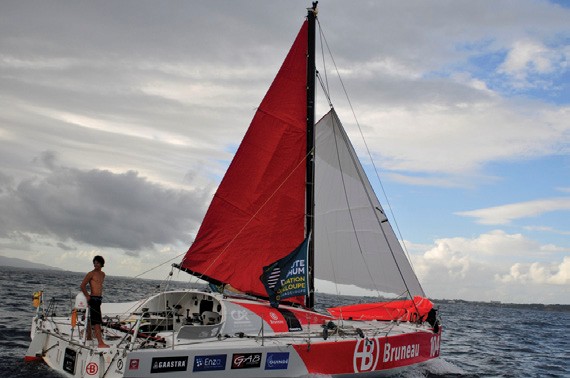 Years ago, I attended a presentation at which Buddy Melges was the speaker. He had just come off winning the America's Cup and was full of that hearty Midwest "Aw, shucks" that is part of his persona. His opening statement was his classic: "Ya know, Zenda is not at the end of the world, but you can see it from there." I was reminded of this vision in late November when it seems all the sailing world, and a reasonable portion of the non-sailing world, was watching the results of the Team Vestas Wind guys plowing into a
True Grit: Nineteen-year-old French skipper Paul Hignard, sailing his Class40 Bruneau singlehanded in the Route du Rhum, completed the 3,542 nautical mile race under jury rig after his mast broke 370 miles from the finish.   © Pen Duick
reef, seemingly at the end of the world, or at least within sight of it. During breaks from watching this mini-drama unfold and wondering what happened, I clicked over to the Route du Rhum site to see what was going on with the tail-enders in this solo Transatlantic race. As it happened, the news that moment was a Class40 with a broken mast was closing in on the finish. That got my attention.
It is rare today that one hears anything about sailors effecting jury-rigs after an equipment failure at sea and making it to land under their own steam. I wandered back through the sailing I had been watching over the past few years and could think of only one episode. The PUMA guys dropping the rig in the South Atlantic during the previous Volvo Ocean Race and getting to Tristan da Cunha, another vantage point for studying the end of the world.
Opposite my desk is a bookshelf with about 15 feet of books on all aspects of sailing. I had a browse through the titles on the spines of my old shipmates, many from "the old days." One of the most fascinating and telling tales is from Humphrey Barton, a Brit, a marine surveyor by trade and partner in the design firm of Laurent Giles, the go-to yacht designers in the UK in the early post-war days. Vertue 35 is a great yarn about Barton's 1950 passage from Lymington to City Island, NY, with one crew, aboard a 25-foot boat his firm had designed in the 1930s.
Today, a transatlantic passage is still nothing to be sneezed at, requiring the same level of preparedness and seamanship that Barton and Kevin O'Riordan used in undertaking their voyage. Barton was a highly skilled sailor and seaman, yet actually writes about his own doubts of actually getting to the U.S., a remarkable fact coming from a stoic Brit. Regardless, they set of across the Western Ocean and I recommend reading Vertue 35 as a great sea story with lots of insights into how it was done back in the day. But the part that I find most fascinating is his account of weathering a hurricane while hove-to in the Gulf Stream. They were knocked over by a wave, the largish cabin windows were smashed, water poured in and the main hatch was jammed on its fittings, rendering them captive in their little boat, knee-deep in water in the midst of a storm. Barton, realizing the pressing need to do something to address the situation, crawled out through the smashed window (he was a small bloke), got the hatch sorted out and the boat stern to the waves again, and they begin to fix up the wreckage. All of which is a pretty sound bit of work, to say the least.
You just do not see this kind of seamanship today. Viewed from the perspective of today's cozy and warm bubble that we all live in, this was a remarkable achievement. Consider this 25-foot wooden boat with cotton sails, wooden spars, a towed log, no wind meters, no VHF, GPS, SSB, sat phone, flares, EPIRB, raft or fridge, and with a kerosene stove and kerosene lamps inside and out. Navigation was by sextant and DR and communication with passing ships was by Morse code using an Aldis lamp. Weather forecasting was, after they sailed out of range of BBC forecasts, by barometer and study of the clouds. Anyway, they cobbled the wreckage together and managed to finish the voyage, sailing up New York Harbor and into City Island. The little boat had no engine either.
It would not surprise me to hear of someone attempting such a journey today and equipped in such a basic fashion being restrained by the Coasties for attempting a manifestly unsafe voyage.
There are dozens of fairly similar stories of, mainly guys but a few women, making, in small boats, what today would be thought of as sheer suicidal voyages but which were undertaken with a type of seamanship and attitude that seems to be vanishing if not completely gone. Consider: John Guzzwell: around the world in a 20-foot boat; Hiscock: 30 feet; Bob Nance: another Vertue, doubling Cape Horn; Patrick Ellam and Colin Mudie: 19 feet; Jean Lecombe: 18 feet in the first OSTAR, upwind across the Atlantic. The list is much longer than these few examples. The rigors of the sea have not changed, so what has? One fairly regularly reads of people being plucked off their yachts for what to us ashore seem to be fairly small problems. Certainly, like the Vestas guys, if you were not there you cannot damn the actions or requests undertaken, but many of the incident reports certainly seem pretty sketchy.
So back to the fellow on his Class40: He dropped his rig 370 miles from the finish in Guadeloupe. The press reports said that he had secured his boat, was preparing a jury rig and that "he made it clear he was not seeking assistance." This was after about three weeks of sailing, including a punishing first week out of St. Malo that took about a third of the Class40 fleet out of the game. He managed to wash in to the finish and was not last. OK, he was second to last, but still pretty impressive in these days of calling 911 when you run out of brie. Apart from the fact he is French and they have a monopoly on solo racing, there was one other detail that gives me hope that the Humphrey Barton School of Seamanship is not dead. Paul Hignard is 19.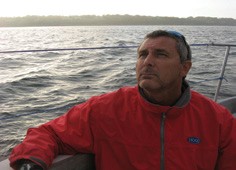 Australian born, Joe 'Coop' Cooper stayed in the US after the 1980 America's Cup where he was the boat captain and sailed as Grinder/Sewer-man on Australia. His whole career has focused on sailing, especially the short-handed aspects of it. He lives in Middletown, RI where he coaches, consults and writes on his blog, joecoopersailing.com, when not paying attention to his wife, teenage son, dog, two cats and several, mainly small, boats.