Restoring Fish Passage on the Naugatuck River
By Karina Krul, Save the Sound Member Communications Specialist
Despite millions of dollars invested in restoration efforts, the Naugatuck River in western Connecticut remains mostly inaccessible to downstream native and migratory fish species. The Kinneytown Dam, as the first geographic barrier to migratory fish along the river, is negating several large-scale habitat improvement efforts made upstream, including a $6.3M investment in a bypass in Seymour, and rendering 32 miles of spawning habitat practically inaccessible.
The Naugatuck River has rich historical significance for the communities around it, and once played a critical role in the human economies of our region. The pre-industrial Naugatuck River supported runs of Atlantic salmon, shad, alewife, blueback herring, American eel, sea lamprey and many other species of fish and wildlife. Unfortunately, dam construction from the mid-1700s to the mid-1900s disrupted or eliminated these runs even as riverside development, sewage, and manufacturing discharges further reduced water quality. By the 1950s, surveys revealed very little life left in the river. The Naugatuck River was so polluted that it actually caught fire in 1943.
Residents used to know what was being manufactured upstream on any given day based on the color of the river, but great strides have been made in restoring the Naugatuck River over the last several decades. Thanks to the Clean Water Act and the dedication of local groups and residents, it is now home to trophy trout fishing, numerous osprey nests, and a bald eagle nest. While there is still a long way to go and much work to do, water quality improvements have been a significant success story. Progress on removing barriers and reopening the river came in a burst of activity around the turn of the millennium, but now faces its most significant challenge yet: Kinneytown Dam.
Dam removal is the best alternative to restore our rivers to a natural free-flowing state. Fish passage alternatives, including fishways, are installed when dam removal is infeasible and can be a successful and important means of reconnecting migratory fish runs for a select number of species. To mitigate some of the effects of run-of-river dams on fish and wildlife, the Federal Energy Regulatory Commission (FERC) requires hydropower dam operators to provide safe, timely and effective fish passage.
Kinneytown Dam, which is a FERC-licensed hydropower dam, does feature a fish ladder. If effective, this fish ladder would allow passage for select species of fish. However, due to a lack of maintenance, poor operation of the dam and its power works, and likely issues with the design and construction of the passage structure itself, very few fish—and for some species, no fish—are able to pass the dam en route to their historic spawning grounds upstream.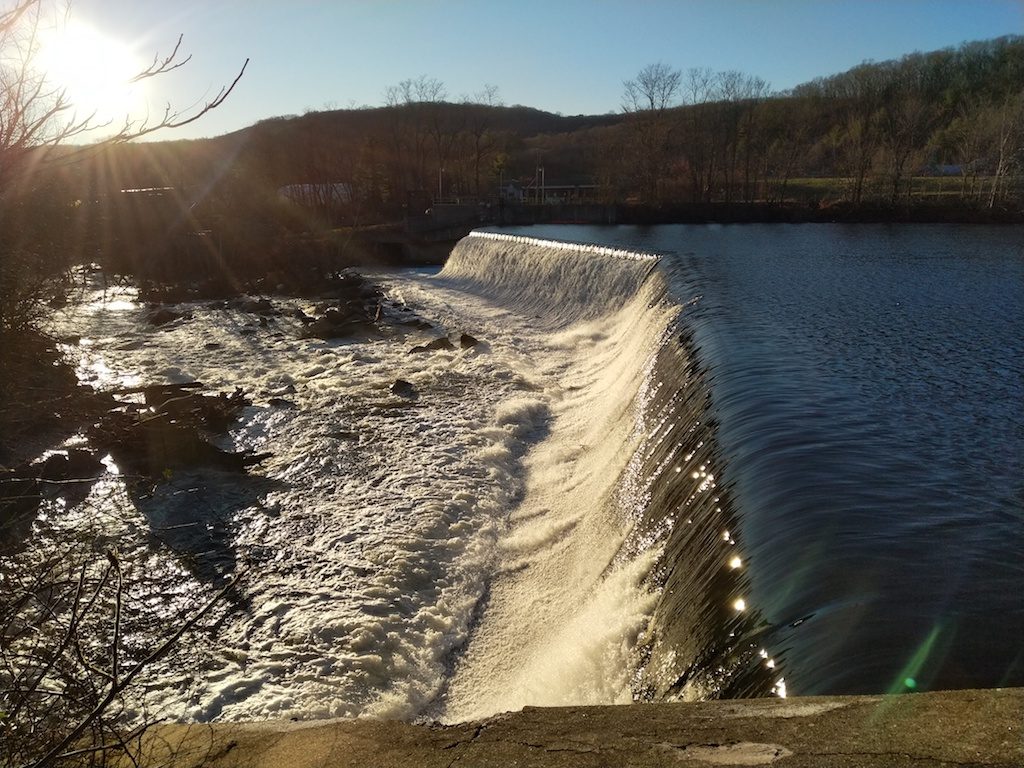 Without efficient fish passage at Kinneytown, the now clean, free-flowing Naugatuck will never realize the restoration potential of healthy fish runs that benefit many other species of wildlife and our human economies.
Last year, Save the Sound joined with the Naugatuck River Revival Group, 19 municipalities represented by the Naugatuck Valley Council of Governments, and other community partners to form the Naugatuck River Restoration Coalition (NRRC) and work to restore access to this critical habitat.
The coalition is working with the Connecticut Department of Energy and Environmental Protection and the U.S. Fish and Wildlife Service to ensure that the dam owner is held to their legal requirement by ensuring safe, timely, and effective fish passage at the site.
The potential of the Naugatuck River is vast. If fully restored, it could support an annual run of around 50,000 shad and river herring, plus sea run trout, eels, and striped bass.
From 2014 to 2019, only 25 individuals from all these species combined were counted passing the fish ladder at Kinneytown Dam. With an average of five fish per year passing the dam, compared to a target of over 50,000 per year, it is obvious that we have a long way to go.
Learn more about how you can help free the Naugatuck River at savethesound.org/Kinneytown-Dam. ■