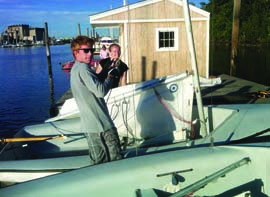 New Foundation is Taking Young Sailors to the Next Level
The first collegiate sailing regatta in this country was held in the waters off the Southport section of Fairfield, CT, but neither of the two schools in that shoreside town, Fairfield University and Sacred Heart University, has ever been a strong presence on the college sailing scene. The SAIL BLACK ROCK Foundation, headquartered at Captain's Cove Seaport in nearby Black Rock Harbor, aims to change that with high-level race training for collegiate and high school sailors.
Sacred Heart University team captain Brian Reilly and Jess Ainsley rig an FJ on the Island Dock at Captain's Cove Seaport. © Dave White
"SAIL BLACK ROCK is modeled after Sail Newport in Newport, RI, with many different entities sharing one facility, and the foundation's mission is to add to the overall growth of the sailing program at SAIL BLACK ROCK," said Program Director Dave White of Stamford, CT, a foundation co-founder. "We have more than 40 sailors from the two schools, and we're sharing boats, docks, coaches, classrooms, storage facilities and chase boats. The SAIL BLACK ROCK branding allows us to market more effectively. Many passionate sailors have stepped forward and offered donations, coaching assistance, use of their yachts and promotional assistance."
"Part of my 'bucket list' was to become a college sailing coach – it was something I wanted to do as a give-back," said White. "I started sailing in the Stamford Yacht Club junior program and raced on a lot of big boats when I was in high school. I sailed at the University of Connecticut team and became the team captain, and then Commodore in my senior year. UConn is too far away from where I live and work, so I looked around locally. It was surprising that Sacred Heart didn't have a sailing team, so we started one from scratch. Fairfield U has had a team for a long time but they had stopped racing and become a recreational club, so I suggested that we revamp it. One of the points I promoted was that the first intercollegiate sailing race in the United States was sailed out of Pequot Yacht Club in 1928, and both schools became interested in having competitive intercollegiate teams."
"Bruce Williams, the owner of Captain's Cove Seaport, is the President of the SAIL BLACK ROCK Foundation," said White. "The Williams family has been remarkable in giving us this facility to use. We have wet storage for 20 boats, dry storage for 30 boats and two slips on the main dock for our chase boats, and they've been very supportive with hauling boats and everything else we've required. Our other founders are Russell Jinishian, who runs the J. Russell Jinishian Gallery in Fairfield, the largest marine art gallery in the United States, and Bill Gladstone, who is the Director of North U. in Madison, CT."
"Ginny Perry Worcester is our Race Training Director," said White. "Ginny, who lives in Fairfield, was an Olympic contender in the Laser and she's a match racing champion. There are a lot of sailors who have the skill but they can't convey it, but Ginny is a professional educator. She gives wonderful chalk talks, she knows how to deliver the information in a way that's compelling and exciting for the sailors, and she knows how to motivate them.
"Being a professional educator helps me be able to organize my time efficiently, set goals and design my lessons," said Worcester. "We have a small chunk of time to be together – about two hours. I have to maximize that time to include a chalk talk on what I am trying to accomplish with drills on the water and a good de-brief session at the end, also allowing time to get dressed, socialized, get out to the boats, rig and de-rig. Being a teacher also helps me become attuned to my sailors' individual strengths and needs. I design my practices accordingly, and having good communication and interpersonal skills allows me to be able to give feedback, break down a lesson into its component parts and impart my knowledge and expertise effectively, both on and off the water."
"Jim White (no relation), who lives in Black Rock, is another of our coaches," said White. "Jim does a lot of things including running the chase boat, and he's raised money for us. Our other coach is Jamie Fales, who is a recent graduate of UConn. Jamie has a background in the marina industry, and he ran the UConn sailing team last year. Beth and Doug Wright, the owners of Sailaway Sailing School, were very gracious in allowing us to use their facility at Captain's Cove. They use the facility in June, July and August and we have it the rest of the year. The classroom seats 25 students and has cleats and winches to practice on, and the building also has changing rooms, bathrooms and showers. We do a short chalk talk before each practice, go out and sail, and then have a quick de-brief."
"Our fleet is growing. We have 14 matching FJs, and the sails are all just one year old. We have a 1972 Laser that we discovered in a barn in Fairfield last winter. It had been sitting untouched for 26 years, and for a boat of its age it's a '9.' We bought a new sail for it, and we hope to get another Laser so we can do match racing. We have a Rhodes 19 that we use for beginner training, and we have a Tripp 37, David Otterbein's Breakaway, at our disposal. This fall, we hope to race that boat in the Storm Trysail Foundation's Intercollegiate Offshore Regatta. We also have two chase boats."
"Our partnership with North U. is exciting. We're working with them to develop an elite-level summer sailing camp. Serious high school sailors will be able to come here at the end of August. Sacred Heart will provide room and board, and they'll train with 'name' coaches who will get them ready for collegiate sailing. We'll have intense, eight-or ten-hours a day of sail training for five or six days."
Captain's Cove is also home to the Bridgeport Regional Aquaculture Science & Technology Education Center, a public high school. "The Aquaculture School has six JY 15s and a Boston Whaler chase boat, and we volunteered to help them launch a sailing team to compete in the Fairfield County Sailing League," said White. "Their team will start practicing this fall with our coaches providing support, although it will be separate from the collegiate program."
"We're partnering with Stamford Yacht Club to promote getting youth sailors on yachts for the Vineyard Race. Last year, we placed seven college teams on various yachts for the race. The Princeton team captain called me the day before the race but I had to tell him, 'It's too late. The race is tomorrow.' Two hours later, the owner of the 80-foot maxi Kialoa V called and said, 'I need more crew. Can you give me some college sailors?' I put them together and the Princeton sailors had a blast!"
The SAIL BLACK ROCK Foundation's future plans include hosting intercollegiate, interscholastic and Junior Olympic regattas, promoting youth team racing, match racing and catamaran racing, and sponsoring underserved sailors and Olympic candidates from the region. "Both Fairfield U. and Sacred Heart are very enthusiastic, and their administration has been great to deal with," said White. "For Sacred Heart in particular, sailing is a recruiting tool. Three or four students have said they would not have come to SHU if it didn't have a sailing program. The number 1 interscholastic sailor in New York, Austin Hulse from The Stony Brook School, is joining the Sacred Heart team this fall, as well as a couple other highly competitive high school sailors. Our goal is to have both the Sacred Heart and Fairfield teams in the top ten percent in the United States within five years. There are over 260 intercollegiate sailing teams in the country, and we'd like to be in the top 25."
"SAIL BLACK ROCK allows these two universities the opportunity to practice together in a collegial, fun atmosphere where students are learning, growing, and developing skills and friendships," said Worcester. "SAIL BLACK ROCK offers sailors an opportunity to participate in a fun, healthy sport, out in the elements, using the wind for power. In addition, it gives them the chance to meet and compete against other intercollegiate sailors from New England, seeing new places and forging new friendships. Finally, it introduces them to a sport which they can have fun doing for a lifetime."
To make a donation to the SAIL BLACK ROCK Foundation or to volunteer, contact DaveWhite atdave@dhwhiterealestate.com.