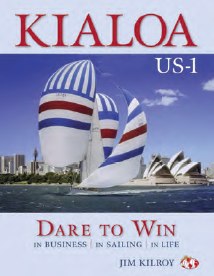 By Jim Kilroy
Published by Seapoint Books   447 pages   hardcover   $50
To be awarded the sail number US-1 by US Sailing, a racing yacht must be special indeed. Not only must she be well-designed, strongly built and fast, she must be sailed by a talented, motivated and enthusiastic crew under the leadership of a driven, determined owner and skipper. KIALOA US-1: Dare To Win, the autobiography of legendary yachtsman Jim Kilroy, recounts the adventures of the crews that raced a series of five Maxi race boats named KIALOA with great success in ocean races worldwide. KIALOA II, III, IV and V each won world championships in the 1970s and '80s, and KIALOA III is arguably the winningest yacht in the history of the sport.
KIALOA US-1: Dare To Win is about much more than sailboat racing. Throughout the book, Kilroy, who celebrated his 90th birthday in May, provides object lessons in business and life. His "rags to riches" journey brought him from Alaska to Los Angeles where, as the son of a single mother, his strong entrepreneurial spirit helped his family weather the Great Depression. In the early 1950s, as Kilroy began building one of the most impressive commercial real estate empires in Southern California, he developed an interest in sailing:
"I had surfed, both body boarding and board surfing, before World War II, and had learned to fly during and after the war. Surfing, flying and sailing had something in common: All three pursuits involved fluid dynamics, aerodynamics and hydrodynamics. I was enchanted by the combination, absolutely hooked."
In his foreword, Herb McCormick, the former Editor-in-Chief of Cruising World magazine and yachting correspondent for The New York Times, writes,
"To declare that Jim Kilroy has lived a full, challenging, interesting and accomplished life is to traffic in understatement. It's like saying Alaska is a large state or the Pacific a wide ocean. It diminishes the adjectives. It's also inaccurate. For Jim Kilroy has actually experienced a wide range of different but equally successful existences: family man, veteran, developer, businessman, athlete, civic leader, political insider, adventurer, and yachtsman." About the KIALOA sailors, McCormick writes, "In sailing circles, the best sailors are often referred to as 'rock stars.' I think the first real rock stars, the origins of the species, if you will, were the crews of KIALOA."
KIALOA US-1: Dare to Win is published by Seapoint Books, an imprint of Smith/Kerr Associates. It's available at Barnes & Noble bookstores, and online at Amazon.com, BarnesandNoble.com and smithkerr.com. All proceeds from the sale of the book will go to the John B. and Nelly Llanos Kilroy Foundation to support the advancement of youth sailing and education.
Several passages in this beautifully illustrated book were written by KIALOA crewmembers who provide memoirs from Transatlantic Races, Transpacs, Sydney-Hobarts and Fastnet Races, to name a few. The book also has an online companion that can be found at kialoa-us1.com. This interactive website has an amazingly long list of KIALOA crew, and sailors are invited to contribute their own KIALOA stories. "When I wrote Dare to Win I didn't intend to leave it a one-way conversation," Kilroy writes. "I'm more interested in a dialogue about life, ocean racing sailing, economics and business."
Jim Kilroy and his wife Nelly enjoy an endless summer by living in California eight months out of the year and in Punta del Este, Uruguay for the other four. His genuine humility is apparent in these pages, as is a strong sense of Irish pride. KIALOA US-1: Dare to Win is captivating, entertaining and inspiring. If you're looking for a sure-to-please holiday gift for any sailor, this is it.