You won't meet a person more strongly connected to Black Rock Harbor than Kaye Williams, nor anyone as passionate about the history – and future – of Bridgeport, Connecticut. The founder and owner of Captain's Cove Seaport, a popular tourist attraction and full-service marina in Black Rock, Kaye grew up in a cottage on Fayerweather Island at the mouth of the harbor.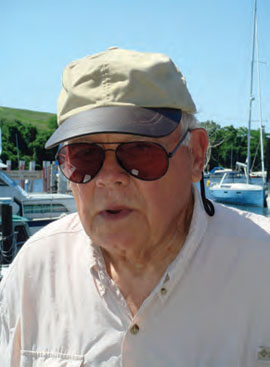 "I'm proud to have been brought up in Black Rock Harbor," says Kaye. "What a great life that was. I remember porpoises going all the way up the harbor to the railroad dock. I spent the '38 hurricane on the island when I was 9 years old. Nobody could get to me and I was basically trapped there. I remember looking out through the shutters and seeing cottages go 'Boom, boom!' I thought, 'Wow!' not realizing that I was in one of those cottages!"
"My first boat was a 12-foot kayak. I was 11, and my mom took me downtown to buy an outfit for Easter Sunday. I saw a kayak kit in Sears & Roebuck. I think it was about 10 or 12 bucks. My mom said, 'Well, do you want a suit for Easter or do you want a kayak?' That kayak was my first build. A few years later, a beautiful Herreshoff with a wineglass transom and a Bridgeport 'make-and-break' engine pulled up on the beach. The owner said, 'Hey, kid! You want a boat?' He was going into the Army. He said, 'She's yours,' shook my hand and walked away…I wish I still had her!"
"I always made my living from the harbor, whether it was eeling or lobstering, and the waters were loaded with weakfish," says Kaye, who opened Captain's Cove Seaport in 1982. "The Cove" has slips for 350 boats and transient docks, and the crew at The Boat Shop can handle any type of boat repair. Also on-site are a restaurant, a nightclub with live bands most nights during boating season (a 40-foot model of the Titanic is suspended over the bar, itself a replica of a tugboat pilothouse), a museum and a boardwalk lined with unique shops. Kaye built much of the décor at Captain's Cove himself, including flags, hand-painted signs and whimsical boards behind which visitors can pose for photos.
Captain's Cove has always been a family-run business. "Our saying here is, 'The family that works together stays together,'" Kaye explains. "I couldn't ask for better kids than Bruce, Jan and Jill, and my sons-in-law Robbie Burlinson and Davey Toth are just fabulous." Jan Williams, Rob Burlinson's wife, lost her battle with cancer in 2009.
For 15 years, Captain's Cove was the homeport of the HMS Rose, a 179-foot replica of an 18th century Royal Navy frigate that subsequently appeared in the film Master and Commander. "A lot of people don't realize how much of a project the Rose was," Kaye asserts. "The Pride of Baltimore has 15 people in their office and a
$5 million a year budget. Here, Jan handled the whole Rose project and she did a yeoman's job."
"I constantly think back on all the great things that have happened through the Rose," says Kaye. "I met with the President, and the Bill of Rights and the Magna Carta have been here. I had to go against Stamford and Yale University to get the Magna Carta here, in the West End of Bridgeport! The Nina, Pinta and Santa Maria have all been here, as well as the HMS Bounty and the Amistad, and Pete Seeger's Clearwater is coming this summer. The Rose kept me broke, but it didn't matter because the bottom line with me is always the project."
Captain's Cove is also the finish line of St. Vincent's Medical Center's SWIM Across the Sound, a 17.5-mile swim marathon that starts in Port Jefferson, NY. SWIM Across the Sound is Connecticut's largest cancer charity, and the 25th Annual SWIM Marathon takes place on Saturday, July 28. "SWIM Across the Sound is one of our premier events and I'm always excited about it," says Kaye. "The people at SWIM Across the Sound are all great and their dedication is unreal. We're going to have a SWIM helium balloon in this year's Barnum Festival Parade. It will be the SWIM's "swimmer" logo and it'll be 50 feet long – it's going to need 27 line handlers! I'm also the treasurer of Connecticut Hospice in Branford and I started the Connecticut Hospice Regatta."
Kaye's son Bruce hosts guided tours of historic Black Rock Harbor aboard the Chief, Captain's Cove's 40-foot Navy launch. "Bruce gives a complete oral history of Black Rock…what heroes we had here!" he exclaims with an ever-present cigar in hand. "Whether it's Sam Smedley [a privateer during the Revolutionary War], Caleb Brewster [a member of the Culper Spy Ring and a "Whaleboat Navy" commander in the Revolution] or Isaac Chauncey [a Naval officer in the War of 1812]. We're having a plaque made for Chauncey's home on Seabright Avenue. He built four frigates, two schooners, and a camel to get over the bar to get the British on Lake Ontario! He later became the head of the Brooklyn Navy Yard and Commodore of the United States Navy. We have a big event coming up next year to honor Catherine Moore, and a 185-foot ship is being built in Louisiana in her name." Moore, the keeper of Fayerweather Island Lighthouse for 62 years, is credited with saving 21 lives.
Kaye even remains enthusiastic about those projects that did not come to fruition, such as making Captain's Cove the homeport of the HMS Bounty and bringing a Le Mans-style sports car race to Bridgeport's South End. "The cars would've run down Seaview Avenue, around Pleasure Beach and back again," he says.
"God made more water than land," says Kaye, who has a beautiful home on his beloved harbor, "so we're supposed to spend more time on the water!"