By Dave White, Sail Black Rock Program Director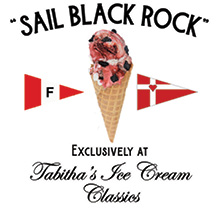 The ice cream shop on the boardwalk at Captain's Cove Seaport in Bridgeport, CT has slowly woven itself into the fabric of Sail Black Rock, whose sailing classroom building is directly opposite. Fairfield University and Sacred Heart University sailing team members would often line up before and after FJ practices for delicious cones, thick shakes and occasionally, the classic, cherry-topped banana split. After a hot summer's evening of Wednesday night racing on the teams' custom 27-foot keelboat, student crews many times rushed ashore to make "last call" for a refreshing, icy cold sweet treat.
Tabitha's Ice Cream Shop, named after a loyal customer's pooch and operated by Sue Hickey and Jack Van Sant, has invented, along with master mixer Micalizzi's Ice Cream of Bridgeport, a spectacular new flavor named The Sail Black Rock. Red raspberry ribbon swirls bursting with flavor complement a rich vanilla base chosen to emulate the red and white colors of both universities' team burgees. The challenge for Sue, in developing the signature flavor, was how to express the "rocks" in The Sail Black Rock.
Sue also operates the candy shop on the Captain's Cove boardwalk, which provided the proper contacts to locate "rocks." These were found in a high-quality dark chocolate, which when sparingly swirled throughout, provides a slightly crunchy nugget of cacao zing. Once experienced, the tongue is constantly searching in anticipation of the next rockin' cacao delight.
Fairfield University team captain Lilly Delmonico noted, "This flavor really tastes best after a day of hard sailing. It gives us something to look forward to once ashore." Head Race Coach Peter Coleman said, "We sometimes use the reward of a Sail Black Rock cone for winning a race. Ice cream seems to be a universal motivator."
This fall, Sail Black Rock will be offering free Sail Black Rock cones to over 400 visiting sailors at the high school and college regattas hosted at the center. Brian Hayes, team leader for Sacred Heart University, stated, "We have for years provided pizza after every regatta. This year, each visiting sailor will receive a scoop of The Sail Black Rock after the pizza party, which should make the regattas even more fun."
First Lady Dolly Madison is credited with first promoting strawberry ice cream by serving it at the White House in 1813. Not to be outdone by Dolly, Sue Hickey has created the first ice cream that really "rocks" in 2019 – The Sail Black Rock. ■