By Carl Gaines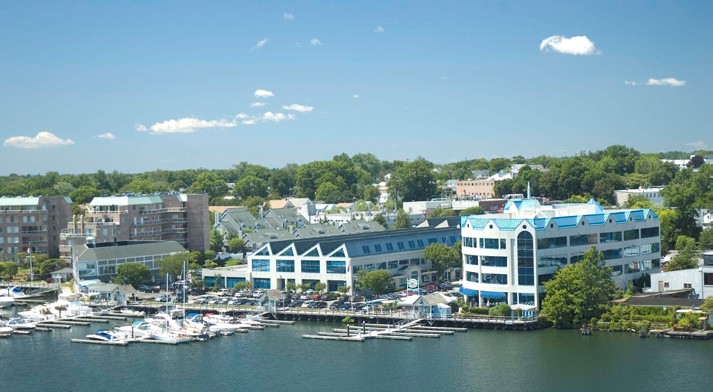 Looking west from Harbor Point
Stamford, Connecticut's deep, protected harbor has long been hailed as a destination for racing sailors, with Stamford Yacht Club hosting the prestigious Block Island and Vineyard Races, and the Breakwater Irregulars hosting their weeknight racing series just outside Stamford Harbor since 1967.
However, in the last five years, the waterfront on both the east and west branches of the harbor has been transformed into a bustling public space with a dozen new restaurants, miles of public boardwalks, and a packed calendar of events. Numerous transient slips, a free water taxi, on-site parking and free trolley service to and from the Stamford Transportation Center and Downtown Stamford combine to make the area easy to access, whether by boat, car or foot.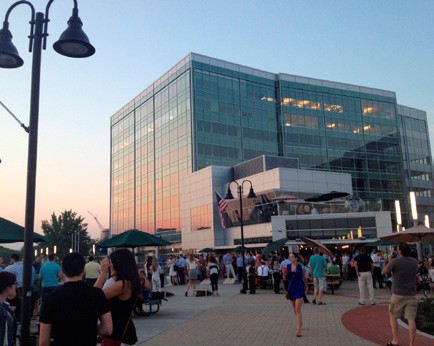 This waterfront redevelopment has been driven by the revitalization of Stamford's South End. Now known as Harbor Point, the formerly industrial waterfront has been revamped by developer Building and Land Technology (BLT) into a true 24-7, live/work waterfront destination, where boaters from all around the region mingle with office workers, residents of the area's thousands of new apartments, diners and shoppers along a newly opened public waterfront.
With a variety of new restaurants, Harbor Point is a popular gathering place for people of all ages.
Options abound for visiting boaters on both the east and west branches of the harbor. On the western shore of the West Branch, visitors can tie up at TGM Anchor Point Marina at 150 Southfield Avenue, or at Stamford Landing Marina. On the eastern shore of the West Branch, boaters can land at Harbor Point North Marina, and more options are on the way. On the East Branch, boaters can tie up at Brewer Yacht Haven East Marina (eastern shore), or the marina at Harbor Point East (located at 333 Ludlow Street on the western shore), which provides direct access to Fairway Market, restaurants like Dinosaur Bar-B-Que, Harlan Social, Asian Bistro, Eclisse, Le Pain Quotidien, Robeks, Subway, and a new CVS Pharmacy and services for nails and hair.
The West Branch of the harbor is a mecca for dock-and-dine boaters, with ten restaurants within walking distance of the waterfront and two more slated to open shortly. Paloma, Chef Aarón Sánchez' acclaimed waterfront restaurant, opened in 2014. The restaurant, with its menu of crab tostada, lobster ceviche, pollo con pepian and other Latin-inspired dishes, is a popular destination for boaters, Harbor Point residents, and visitors to the neighborhood alike. Boaters can literally tie up alongside at a transient slip and dine outdoors overlooking Stamford Harbor.
Paloma is part of an eclectic mix of restaurants on the West Branch, like World of Beer, Sign of the Whale, Corbo's Deli, Top This and The Hut in nearby Commons Park. Bareburger, the organic burger chain, is due to open in the fall of 2015; Italian restaurant Fortina, already familiar to Armonk and Rye Brook, New York residents, will open in late summer; and Boothbay Lobster Company is expected in early 2016. And that's just the western shore of the West Branch. Immediately across the west branch are perennial favorite the Crab Shell, Dolce Cubano, and the Half Full Brewery.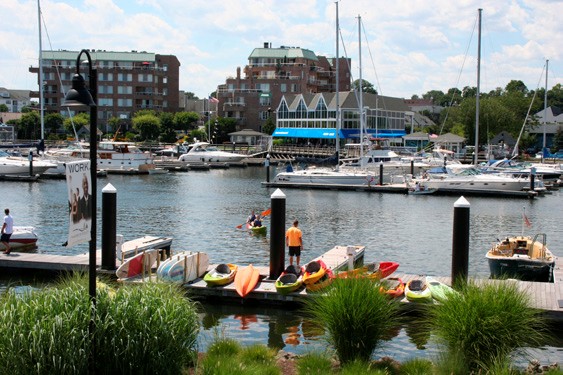 One need not own a boat to enjoy Stamford's waterfront. Kayak and paddleboard rentals are available at the Harbor Point North Marina, with Exhale Mind Body leading yoga classes on both paddleboards and the Harbor Point boardwalk. Miles of newly constructed boardwalks connect the train station to public parks, with additional improvements in progress.
Kayak and SUP rentals are available at the Harbor Point North Marina. Exhale Mind Body offers yoga classes on the boardwalk and paddleboards.

From Memorial Day through Labor Day, a free water taxi ferries passengers across the West Branch of Stamford Harbor from Harbor Point to Stamford Landing. Water taxi traffic has averaged about 200 passengers a night, according to Frank Fumega, a captain who operates his 26-foot motorboat taking passengers back and forth. In all, he estimates he has ferried 8,460 people since Memorial Day. "I've been boating in Stamford all my life, and when I saw them developing Harbor Point I knew that someday we would need a ferry," said Fumega. "Right now it's scheduled to Labor Day, but we may extend it a couple of additional weeks." Those who take Fumega's water taxi across to Stamford Landing will find additional dining options as well as transient slips for those boating in for the day or evening.
"Harbor Point has created a real destination," said Dick Gildersleeve, who has owned and run the Crab Shell restaurant at Stamford Landing (46 Southfield Avenue) for over 25 years. A lifelong boater himself, Gildersleeve said that the restaurant's 11 slips average about 1,500 boats a year, primarily on weekends. "There's a 60-footer out there now," he said. "They came today for lunch."
He pointed out that if there's a dockhand available, the restaurant charges $10 to $15 but if not, as was the case this sunny Monday afternoon, a busboy will help tie the boat up.  It's worth it, he said, for the added revenue that those accessing the water bring. He pegged Fumega's water taxi and Harbor Point more broadly, as great advantages for the area.
Further changes are in store for this side of the harbor. In late 2014, BLT announced plans for Davenport Landing on the West Branch, a master-planned development that will bring a modern full-service boatyard, 28-slip marina and boardwalk to a nearly six-acre site immediately north of Stamford Landing in 2016. The sites will be combined into a waterfront mixed-use village with a mix of maritime, office, restaurant, and residential uses. Taking into consideration the feedback that it received from local boaters, the Stamford Harbor Commission and other constituencies, the Davenport Landing yard will offer the full range of services and facilities required for modern boating.
The proposed Davenport Landing boatyard will have a Travelift, a mast crane, boat sales, heated indoor storage for boats for winter work, year-round repair facilities, a fuel dock, laundry, shower and bathroom facilities, a snack bar, pump-out station, dinghy dock, transient dockage, and much more. The Connecticut Department of Energy and Environmental Protection ("DEEP") recently issued a notice of tentative determination to approve the installation of a full service boatyard on the site, including the removal of derelict structures; installation of a new bulkhead and walkway, travel lift well, new  piers and floating docks, sanitary pumpout system and gas dock; and new dredging to depths of -12 and -8 mean low water. "We're hoping that they'll get their new boatyard approved quickly because it is right next door to us and would further improve our traffic," explained Gildersleeve.
This new boatyard and the rest of Harbor Point's waterfront are easily accessible by land as well, which was a major consideration as the area was being developed. With the Stamford Transportation Center a short (and free) trolley ride away, Harbor Point COO Ted Ferrarone, himself a boater, said that he has seen New York City residents bound for friends' boats use it as a jumping off point for their day.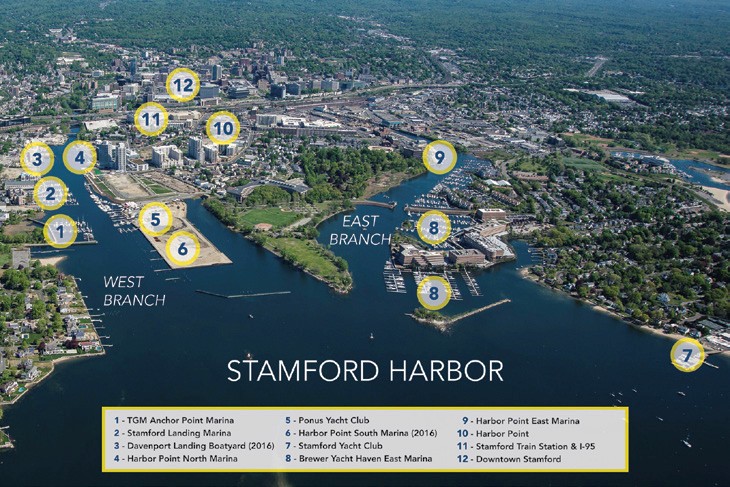 "People will take our free trolley from the train station down to Harbor Point, hop aboard a friend's boat and head out on the water," Ferrarone said. "We're proud of how easily accessible Harbor Point is, in particular the waterfront, and we're committed to finding even more ways to create public space here."
The services at the Harbor Point Marinas and Stamford Landing are just minutes from I-95, the Stamford Transportation Center and Downtown Stamford. During summer months they operate seven days a week, with fuel docks open from 8 am to 8 pm and service available from 8 am to 4:30 pm. Services for boaters abound in and around the harbor, with a fuel dock at Harbor Point South, and West Marine, Hathaway Reiser & Raymond, and Landfall all close by, and Z Sails located at 655 Atlantic Street.
Recreational boaters are asked to remember that commercial tugs and barges operate within the harbor and small craft users (that is below 90' or 50+ tons or 10' draft) are asked to keep well clear at all times, especially on the approach to turns in the channel. Tugs monitor VHF Ch. 13 and are pleased to agree to passing arrangements.
Information concerning harbor regulations and speed/ mooring restrictions can be found at Stamford.gov/harbormanagement.
The harbormaster monitors VHF Ch.16 and can be reached at Harbormaster@StamfordCT.gov or at 203-219-2334.
Stamford's Public Gateway to the Sound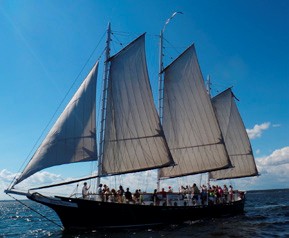 Access to Harbor Point's waterfront, and Long Island Sound in general, is provided in other ways as well. Greg Bilionis, Vice President of development at SoundWaters (www.soundwaters.org), a non-profit dedicated to protecting Long Island Sound through education, said that the group bases its schooner at Harbor Point East Marina on the East Branch.
The schooner SoundWaters sails out of Harbor Point East Marina.
SoundWaters runs public sails for adults and educational programs for 36,000 people a year, 27,000 of them children. Many of these educational programs take place on the Sound itself, aboard the schooner SoundWaters, where Mr. Bilionis said that kids' time is kept full with a range of tasks. "On the schooner they do activities like learning to navigate and raise the sails," said Bilionis. "They'll pull up animals from the Sound and investigate and measure them and record data. They can't tell the difference between when they're learning and when they're having fun."
The Young Mariners Foundation (YMF) is another organization providing access to waterfront and Long Island Sound. This non-profit targets underprivileged children in the Stamford community, providing educational support with sailing as a medium for improving their lives. Tom O'Connell, YMF's Chairman, said that a kayak and paddleboard program that the group runs on the Harbor Point waterfront from Memorial Day through Labor Day on Friday afternoons, and all day Saturday and Sunday, was a major source of funding for the group's initiatives.
Another fundraiser, Summerfest, was held August 1 & 2 on the waterfront in Harbor Point.  "It is absolutely remarkable the transformation that has taken place in recent years in Harbor Point," O'Connell said. "I think we're on the cusp of seeing the final stages of turning that area into a great destination for people in Stamford and the surrounding area." He added that YMF's vision is to build a maritime center that would benefit the entire area in Boccuzzi Park, immediately south of Stamford Landing and Davenport Landing.
These groups' goals are very much in line with what Harbor Point has become – a living, breathing jumping off point for a lifetime of access to Long Island Sound.