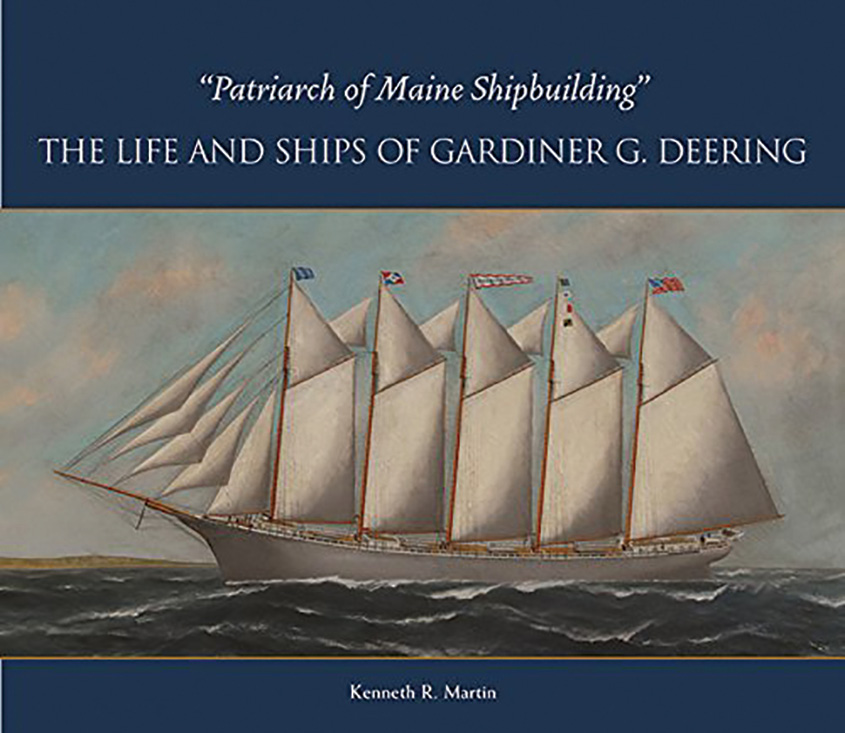 By Kenneth R. Martin
Published by Jackson A. Parker and distributed by
Tilbury House Publishers, 216 pages hardcover $60
In the waning days of the Golden Age of Sail after the American Civil War, steamships were taking more and more trade away from sailing cargo ships. Although the writing on the wall was clear, a small number of builders in Bath, Maine, the "City of Ships," persisted in building and launching wooden schooners, enlarging and modifying them in an effort to remain competitive during a time of inexorable change.
Prominent among these steadfast diehards was Gardiner G. Deering (1833-1921), who started at the bottom of the shipbuilding trade and worked his way to the top. Prospering despite fierce competition from foreign shipyards, Deering built ninety-nine vessels, many of which he personally managed.
Sturdily built for the rigors of a growing nation's coastwise trade, Deering schooners grew ever larger, including three- four- and five-masters over 200 feet LOA. These giant windjammers made money for their shareholders, and a new lease on life during World War I brought voyages to ever more distant ports and prodigious profits.
This book was commissioned by Jackson A. Parker, the great-great grandson of Gardiner Deering and a neighbor of author Kenneth R. Martin. Lavishly illustrated with dozens of archival photographs and paintings, The Patriarch of Maine Shipbuilding is a captivating record of an era, the likes of which we may well revisit…
Formerly a college history professor and museum director, Ken Martin has written or co-written more than fifteen books, mostly on maritime history including Lobstering and the Maine Coast, Around the World in Search of Whales: The Journal of the Lucy Ann Voyage, 1841-1844, and Heavy Weather and Hard Luck: Portsmouth Goes Whaling. He lives on the Kennebec River, two miles north of the site of the old Gardiner Deering shipyards. ■