By Garrett Russ, Clean Ocean Access Development Coordinator
If there's something that all paddleboarders can agree on, it's the first few moments of calm that come with being on the water: from the way the air moves around them, to the glassy water quietly shifting beneath them. Whether in Newport Harbor, or just off Third Beach in Middletown, RI, the reactions are the same, the love for the sport similar. And it is out of love for this usually singular sport that many of these paddlers will convene on Saturday, August 15 for the 2020 Paddle for Access race hosted by Clean Ocean Access (COA).
Since 2006, COA, a Middletown-based environmental nonprofit whose mission is to take "action today so future generations can enjoy ocean activities," has worked to eliminate marine debris, improve water quality, and preserve and protect public shoreline access. In fact, limited access to the Aquidneck Island shoreline is how the organization started, and to this day, public access remains one of the most important, yet least understood issues of their work.
This will be COA's third summer hosting Paddle for Access (formerly known as the Newport SUP Cup) at Safe Harbor Newport Shipyard. Per tradition, the race will include a three-mile course that circumnavigates Goat Island. Last year, a new six-mile course was added by Patrick Sheerin, a Newport resident and Paddle for Access committee member. The longer course, recommended for more seasoned paddleboarders, tracks a course around Rose Island and Goat Island ending back at Safe Harbor Newport Shipyard.
"Newport Harbor and Narragansett Bay are such integral parts of the Newport community…and it's so easy to take it all for granted," Sheerin said, noting that it's important to appreciate the value of these waterways – and all of the important work COA does to protect and preserve water quality and shoreline access.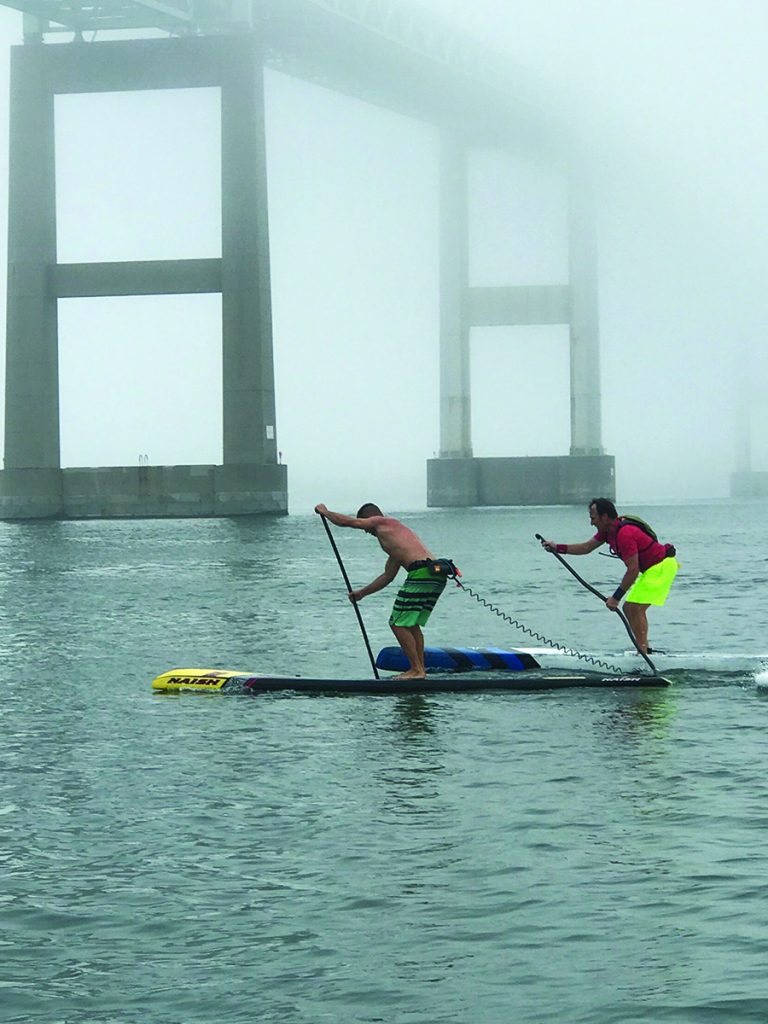 Two racers pass under the Claiborne Pell Newport Bridge.   © Ben Tuff
Paddle for Access has become a key source of support and public awareness for COA's Access program which includes monitoring and adopting public rights-of-way across Aquidneck Island. To date, Clean Ocean Access has adopted thirty public access points for residents and visitors alike to enjoy.
Melissa Lefebvre, another Newport resident and Paddle for Access committee member, participated in her first paddle race two summers ago. Last year, she finished third in the three-mile race. "It's just such a great event," she said, noting that it allows all sorts of local paddlers to come together for a good cause. For Lefebvre, paddling started out as a casual interest and has now become a full-fledged hobby, with her collection of boards continuing to grow. "It's addictive," she says of the sport. "Once you start, it's very addictive, and very fun."
For Marty Casey, a fourth generation Newporter now in his 60s, race day "means a morning of torture – self-torture – for a good cause," he says, with a laugh. "I've got aches and pains, but I can paddle three miles," he added, noting that he likes to make the "young guys" work for their wins. Casey got into paddleboarding about twelve years ago, a sport he now alternates with surfing. In fact, paddling, he says, is "a great way to stay in shape for surfing…and a great way to get in the water."
Beyond bringing awareness to the issue of public access, this race sheds light on Clean Ocean Access's work to improve water quality. As Casey notes, the quality of the water in Newport Harbor has improved drastically during his lifetime, thanks, in part, to the work of Clean Ocean Access.
"Everyone is so nice," says Andrea Breyer, a Paddle for Access committee member who lives in Portsmouth, RI. "It's less competitive and more friendly." Like the others, she notes the event is for a great cause, and commends Clean Ocean Access for using the occasion to promote its work around public access and water quality. For anyone in need of a pre-paddle pep talk, Breyer offers this advice: "Just have fun and go in with an open mind."
Those interested in the paddle can register for the race online through Friday, August 14 at 6 pm. Day-of registration will take place from 6:30 to 7:30 am on Saturday, August 15. The race begins around 8 am at Safe Harbor Newport Shipyard.
Clean Ocean Access will be following state guidelines for social distancing as the situation evolves. For the latest information regarding the event including registration, please visit
cleanoceanaccess.org. ■