As many WindCheck readers know, our editorial staff produces the Block Island Race Week News for the Storm Trysail Club in odd-numbered years. In 2007, we were particularly interested in watching a Wyliecat 30 named One Up, owned and skippered by Lincoln Schoenberger of Shelton, CT and competing in the PHRF division. We'd seen this blue 30-footer at the Park City Regatta, a breast cancer charity event hosted by Fayerweather Yacht Club in Bridgeport. We admired her handsome lines and the simplicity of her free-standing, single-sail cat rig (hence her name), and were impressed with her speed.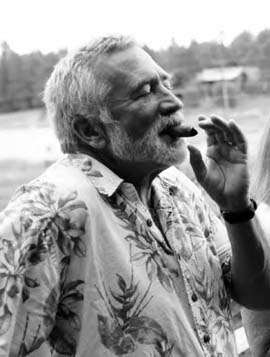 At Race Week, we spoke enthusiastically about One Up aboard the Rolex Media Boat, and were surprised one morning to find her apparently bringing up the rear of the six-boat PHRF 5 class. A colleague even commented, "Gee, your buddy's not doing very well." Our captain had just driven us to the PHRF race circle from another, and it wasn't until the day's score sheet was posted that we realized One Up had already completed the first windward and leeward legs of that race and was poised to overtake her rivals…all still sailing the first beat!
Linc notched two bullets that day, despite painful kidney stones that eventually forced him back to the mainland for recovery. Averse to missing any of the action, he soon returned to Block. One Up went on to win more races on her way to a class victory, earning her skipper WindCheck's unofficial Race Week "Heart of Oak Award."
An avid racer since age ten, Linc owned several boats before One Up, including a Laser, a Soling, an Evelyn 26 and a Merit 25. In addition to active membership at Fayerweather (where he has served as Sailing Committee Chair) and Cedar Point Yacht Club in Westport, CT (where he's been a Governor in charge of Races & Regattas), Linc is a member of the Windjammers Sailing Club and the Off Soundings Club. He's a frequent participant in local and regional regattas and race weeks like Block and Key West. He's worked on PHRF committees of the Yacht Racing Association of Long Island Sound and the Eastern Connecticut Sailing Association, and served as ECSA's Chief Handicapper. A certified IRC measurer and US Sailing Club Race Officer, he is currently ECSA's Rear Commodore. Unsurprisingly, Linc's Facebook page indicates his favorite sport is sailboat racing…and identifies his favorite activity as "racing sailboats."
"I've known Lincoln for about 30 years," said John McArthur of Stratford, a Past Commodore of Cedar Point YC. "We were competitors in Fayerweather Yacht Club's Wednesday night series. He had a Soling, which really wasn't the kind of boat that was raced on Wednesday nights, but it's what he had so that's what he did. I had a one-off custom 27-footer called a Devillard 27, and we became friends from talking across the water. Our friendship really started to become strong in the '90s, when Linc had a yellow Evelyn 26 named Brazen. I think he also had a Sonar between Brazen and the Merit 25, which was named Audacity. He'd also sail with us on a friend's J/24 when we were looking for crew. I talked him into joining Cedar Point Yacht Club, and he joined around 2004 when he bought his Wyliecat." "Lincoln and I were competitors, although we sometimes ended up sailing on one another's boat," said McArthur. "The first time I raced with him was at Block Island Race Week in 2003. At age 56 or 57 I was the youngest guy on the boat, and I was called 'the kid.' I raced on One Up at Key West Race Week in 2009. Bruce Kuryla from Port Milford Marina towed the boat to Key West, and we won our division. Linc has also raced on my J/30, Smiles, in two Annapolis NOOD Regattas. At our second NOOD, a good friend – a longtime crewmember – had a massive heart attack while we were preparing for the regatta. Lincoln's friendship and support were very valuable, and he helped us get through a rough time. Linc took over for me on the ECSA PHRF Committee in the mid-90s. After serving as the Fayerweather representative, he became the ECSA Chief Handicapper and served for several years."
"Linc's a good guy," McArthur continued. "He's very opinionated, like most of us, but he's fun to sail with. He has a very good sense of humor, he's easy to relate to, and we share similar interests. We pick on one another pretty regularly, even when we're competing. We get along very well…but his cigars are really annoying! During the winter months we often get involved in projects, either on his boat or my boat, just to keep us out of trouble. He has access to a machine shop, so we're always making things for the boats. He's always there to help whenever I put my boat in, and I'm there when he puts his in. We have a lot of fun, although there's a lot that I can't talk about!"
Linc is especially keen on sharing his passion for sailing with young people, and the Cedar Point YC Junior PHRF Team has sailed One Up in the Dorade and Beach Point Overnight races with him aboard as safety advisor. A photo on the CPYC website, taken in 2005, shows Linc and several young sailors wearing tiedyed One Up t-shirts. Linc's Facebook page also reveals that one of his Music favorites is Ry Cooder, a slide guitar virtuoso known for an acerbic wit. We relish the thought of youthful ears being introduced to classic Cooder albums like Paradise and Lunch and Chicken Skin Music (each recorded, in all likelihood, before most CPYC juniors' parents were born) during those overnight races with Linc, naturally, savoring a fine cigar. If more young people had an opportunity to sail with such a hip, enthusiastic mentor, the future of our sport would be bright indeed.