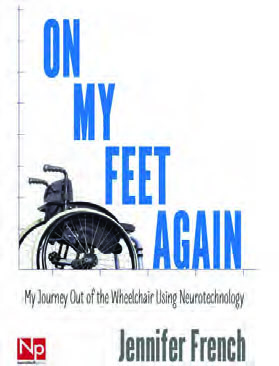 My Journey Out of the Wheelchair Using Neurotechnology
By Jennifer French
Published by Neurotech Press 155 pages paperback $19.95
Jennifer French won the US Disabled Sailing Championship in 2009, and last year she and her US Sailing Team Sperry-Top-Sider teammate JP Creignou won the silver medal in the doublehanded SKUD-18 class at the Paralympic Games in England. Jen is US Sailing's 2012 Rolex Yachtswoman of the Year – the first woman to receive this honor for achievements in disabled sailing. Not bad for someone who was told by doctors that she'd be confined to a wheelchair for life after being paralyzed in a snowboarding accident.
In 1998, Jen lost control on an icy slope and slid off the trail into the trees, sustaining a severe spinal cord injury that left her a quadriplegic. Refusing to accept a wheelchair-bound life, she sought out experimental new technologies for people with spinal cord injuries. The following year, she participated in a clinical trial of the Implantable Stand & Transfer System and is the first woman to receive this revolutionary neuroprosthetic system.
Working closely with the research team, Jen helped develop neurotechnology, defined as "the application of medical technology, devices and treatments to improve functions throughout many parts of the body." This emerging medical field has helped hundreds of thousands of people with neurological or psychiatric disabilities. Today, Jen is the Executive Director of Neurotech Network in Tampa, FL, a non-profit organization dedicated to improving education about neurotechnology and providing advocacy for its accessibility by people with impairments.
Before her injury, Jen enjoyed snowboarding, fly fishing, SCUBA diving, snorkeling, bicycling, canoeing and sailing. Amazingly, she still participates in all of those activities! She now has set her sights on success in an open one-design class. In a recent interview with Scuttlebutt Editor Craig Leweck, she said, "[The SKUD-18] is a fun boat to sail, but what I dearly missed while doing the campaign is that it is not an open class. I want to be able to compete against able-bodied people, too. But what the boat did introduce me to was the fun of sailing with an asymmetrical spinnaker. Once you sail with that configuration you kind of get addicted to it. However, now I am looking for the next able-bodied class I can participate in. That's what makes sailing so unique for people with disabilities – we can go out and race against able-bodied people and be treated the same…I have been doing some beach cat sailing and I've been checking out the J/70."
On My Feet Again is an exceptionally inspirational book by a truly amazing woman. It's available, in both print and e-book editions, at amazon.com, where it has garnered a string of 5-star reviews. To learn more, visit onmyfeetagain.com.