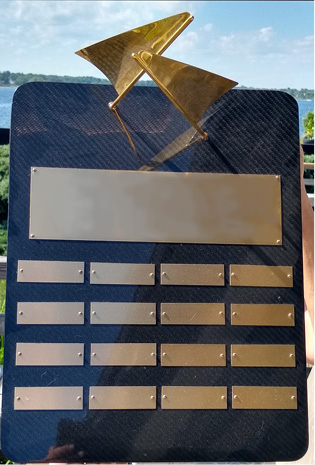 The Ida Lewis Yacht Club in Newport, RI has teamed with the Narragansett Bay Yachting Association (NBYA) to announce a new trophy for a "Narragansett Bay Middle Distance Champion" in 2021. The trophy, made of pre-preg carbon fiber and gold-plated brass, will be presented to the PHRF skipper/team with the best overall combined performance in the Ida Lewis Distance Race IN BAY race (Saturday, August 21) and NBYA's Inaugural 'Round the Bay Regatta (Saturday, July 24).
The Ida Lewis Distance Race introduced its IN BAY Race last year while COVID-19 restraints were in place and decided to repeat the race this year for those who do not wish to participate in its traditional overnight OFFSHORE race. The race is 33 nautical miles, starting off Fort Adams and heading north around Conanicut and Prudence Islands.  (The Ida Lewis Distance Race OFFSHORE race, in its 17th edition, is between 112 and 169 nautical miles, depending on the weather forecast, and starts on Friday, August 20.)
Classes for the Ida Lewis Distance Race IN BAY race are for boats 28 feet and longer in PHRF (Aloha and Coronet divisions), PHRF Double Handed and PHRF Cruising Spinnaker classes.
The Inaugural 'Round the Bay Regatta had four different starting areas near Barrington/Bristol, East Greenwich, Newport and Wickford. Boats finished where they started after sailing the same course of approximately 30 miles. The regatta was created to raise awareness for Save The Bay and support their efforts to protect and improve Narragansett Bay.
For more information, contact Ida Lewis Distance Race Chairman Pat Kennedy at Distancerace@ilyc.org or NBYA President David Schwartz at david@gmtcomposites.com. ■