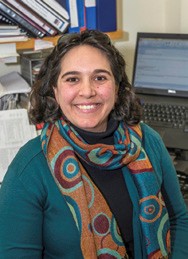 Mystic Seaport has promoted Elysa Engelman to be the Museum's new Director of Exhibits. Engelman will be responsible for creating and delivering an ongoing program of dynamic, interdisciplinary exhibits that attract diverse audiences and introduce new scholarship and content in support of the Museum's mission and strategic vision. She will direct all aspects of exhibit design and production.
© Dennis Murphy/Mystic Seaport
"Elysa Engelman takes on this position at an exciting time for the Museum, and we are very pleased that her exceptional creative, innovative, and academic expertise will play an important role in maximizing the potential of the new Gallery Quad," said Susan Funk, Executive Vice President of Mystic Seaport.
Engelman assumes the directorship after 10 years as Exhibit Researcher/Developer for the Museum, where she has contributed to the creation of numerous exhibits, including "Women and the Sea," "TUGS!," "Black Hands, Blue Seas," and the upcoming "Voyaging in the Wake of the Whalers" due to open this June. She was also intimately involved in the programming of the 38th Voyage of the Charles W. Morgan last summer.
Engelman holds an undergraduate degree in English and Theater Studies from Yale University and a Ph.D. from Boston University in American and New England Studies. She has also been a guest lecturer at the Williams-Mystic Program at Mystic Seaport and an adjunct professor at the University of Connecticut. She is a resident of East Greenwich, RI, where she lives with her husband and family. Mystic Seaport is the museum of America and the Sea. For more information about current or upcoming exhibits, go to http://www.mysticseaport.org