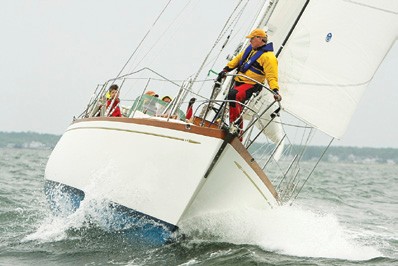 Information sessions to help you prepare for a race to Bermuda or any offshore passage will be presented by the Marion Bermuda Race team in October and November. These presentations will begin with the changes to the race and fun family activities planned for Bermuda in 2015, followed by a discussion of the knowledge and equipment needed for a safe passage by Captain Henry Marx of Landfall, and advice on boat preparation from a representative of Hinckley Yachts. The schedule is as follows:
© Spectrum Photo/Fran Grenon
Harraseeket Yacht Club, South   Freeport, ME: October 19 at 5 pm
Hinckley Yachts, Portsmouth, RI: November 1 (time TBA)
Stamford Yacht Club, Stamford, CT: November 6 at 6:30 pm
Stonington Harbor Yacht Club, Stonington, CT:  November 8 at 4 pm
Additions to the 2015 Marion Bermuda Race include Youth Trophy for teams of sailors between the ages of 16 and 23 who will race with adult mentors, and an increase in the handicap benefit for skippers using celestial navigation from 2% to 3%. To provide a more enjoyable passage for Maine and New Hampshire-based sailors, a new rally from Portland, ME will arrive in Marion, MA a few days before the race. The rally is open to all crews whether they're doing the race or not.
Organized and run entirely by volunteering members of The Beverly Yacht Club, The Blue Water Sailing Club and The Royal Hamilton Amateur Dinghy Club, the biennial Marion Bermuda Race is a premier 645-mile ocean race for amateur sailors aboard cruising and racing/cruising monohull yachts.
The next one starts June 19, 2015. For more information, visit www.marionbermuda.com.