By Nancy Kaull & Paul Jacobs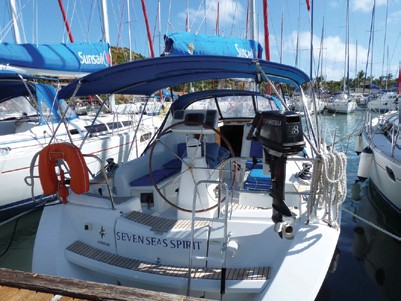 We had never been to St. Martin, Anguilla, St. Barths, St. Kitts, or Nevis, so like kids in a candy store we chose to use Sunsail "Advance Booking" points to sail this part of the Caribbean. With Clair de Lune on the hard in Wickford, RI, I called John Keyes and reserved a Jeanneau 36i for two weeks, purchased Chris Doyle's Cruising Guide to the Leeward Islands, and pored over his descriptions of anchorages.
Seven Seas Spirit is a Jeanneau 36i.   © Nancy Kaull
Getting to St. Martin was straightforward. We took a 6:25 am flight from RI to Charlotte, arriving at 8:40 am.  After a brief layover our 9:40 am flight arrived in St. Maarten at 2:20 pm. As usual, we pack for two weeks each using a single L.L. Bean "medium" rolling duffle that fits in all airline overhead compartments, and a canvas bag for books, a few snacks, passports, boarding passes, and the Sunsail paperwork.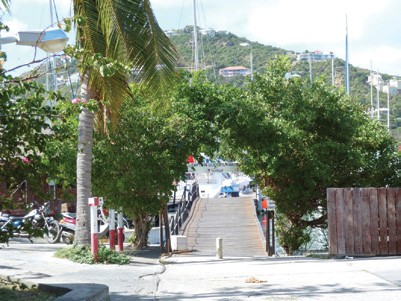 The Sunsail base on St. Martin is located in Oyster Pond on the French side of this unique dual-nationality island, on the eastern (windward) coast. However, the airport is located on the southwest or Dutch portion of St. Maarten, near Simpson Bay Lagoon. After clearing customs and immigration one must then take a taxi completely across the island. Had we known that the best market for provisioning was nearer the airport, we would have provisioned "on the way." As it was, we took a taxi to Oyster Pond, and found out that there were only a few small, very expensive grocery stores nearby.
The entrance to the Sunsail base at Oyster Pond   © Nancy Kaull
So, the next morning we took another taxi back across the island, provisioned for two weeks, again took the taxi back across the island, and finally stowed everything. Not very efficient!
Our sailboat for the next two weeks was the Jeanneau 36i Seven Seas Spirit, out of Portsmouth, England and hereafter referred to, for brevity, as S3. She was identical to our 36i Sandpiper so our boat briefing was brief. The converse was true for our chart briefing, which took two hours and, in our opinion, spent too much time on the virtues of various restaurants, and ironically insufficient time describing where and how one should clear customs and immigration on exiting or entering the waters of a new country, since in the Leeward Islands almost every island is a different country!
Dining in French locations can be a gastronomic experience, but our focus on these voyages is on sailing and discovering beautiful anchorages, not on gaining weight, or spending money. On a two-week vacation we typically dine out four times, with ten dinners aboard. These are often consumed under a canopy of stars with the sound of waves breaking on a nearby beach; a décor and ambiance many well-intentioned but overpriced restaurants cannot match.
After checking in with Sunsail, and stowing our gear on S3, we walked to Captain Oliver's outdoor bar where "painkillers" relieved travel-related stresses. We had a plate of chicken wings, and afterwards took travel fatigue-induced naps. Awake by 6:30 pm, we walked to the Dinghy Dock for light salads and iced teas. There we learned the location of Le Grande Marché, and decided to provision in the morning.
On Thursday, Nancy learned via text message that it had snowed 12 inches at home. The contrast between a foot of snow in Rhode Island and 80°F air and water temperatures at Oyster Pond was absurdly apparent, and we remarked to each other how incredibly fortunate we were. We then took a taxi to Le Grande Marché, where the driver waited outside while we shopped. After purchasing about $300 of food and beverages, the same taxi ($50 + tip), returned us to Oyster Pond, where we unloaded and stowed everything aboard S3.
At 2:30 pm we started the engine, untied the docklines, and powered out into the small harbor. As required by Sunsail, we raised the mainsail and secured a first reef, met the escort RIB and then followed it out of the harbor on a bright, sunny day with 15 to 20-knot easterlies. I have been in and out of many harbors in 55 years of sailing; most were straightforward, some were tricky, a few were challenging, and then there was Oyster Pond! The exit/entrance is like an aquatic slalom course with reefs and breakers waiting like lions on the left, and more reefs waiting like tigers on the right.  It is sufficiently adventurous that Sunsail escorts each vessel in and out to help the skipper successfully negotiate the twisting, turning route.
Afterwards, we realized it is actually safer than it looked, but the three "privately maintained" red poles close to the reef on the northeast side do not inspire ultimate confidence. Overall, I would rate exiting or entering Oyster Pond, St. Martin in a strong wind as a white-knuckle ride. Throughout our departure I was especially conscious that if…God forbid…our engine were to fail at a moment critical, disaster was only 50 feet away. Fortunately the 29 HP Yanmar diesel on every Jeanneau 36i is very reliable, starts easily, never stalls, and ours drove S3 around the deep water twists and turns effortlessly. Once well clear of the reefs the Sunsail crew on their RIB departed. We waived goodbye and were soon sailing a course towards St. Barths.
The course to Anse Columbier on the northwest corner of St. Barths was just about southeast. The trade winds normally blow from the east. However, Jacobs' first corollary to Murphy's Law notes that on the initial day of any cruise there is a substantial probability that the wind will be blowing directly from wherever it is that you might wish to go. So it was on this day. The seas were six to eight feet, the anemometer read 18 – 20 knots, and beating to weather was a wet and bumpy affair.
We typically select a nearby harbor for our first day's sail, to help Nancy get her sea legs. Fortunately, I have never had a problem with mal de mer. This was fortuitous years ago when, as navigator, I had to go below on a pitching, rolling racing sailboat, look up many tiny numbers among numerous rows and columns in the Nautical Almanac, perform multiple arithmetic operations, and then look up additional tiny numbers among even more rows and columns in a sight-reduction table in order to do celestial navigation in an era prior to the discovery of GPS.  Throughout these intervals below, mal de mer never clamped its sickly greenish grip on me.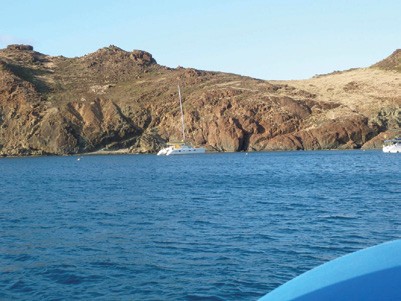 Therefore, we decided to detour to Isle Fourchue, a small boomerang-shaped volcanic island with an opening to the southwest. The island sheltered S3 against the primary southeasterly, but waves often refract around landforms. Thus, we rolled a bit while anchored in 20 ft of clear water on about 150 feet of chain. Dinner of chicken Marsala, rice with gravy, steamed carrots, and Sauvignon Blanc, was served on the cockpit table under a tableau of stars. It was very dark and we were far from light pollution, so Orion, its twin first magnitude stars Betelgeuse and Rigel, the
Our anchorage at the rather stark Isle Fourchue   © Nancy Kaull
easily identified trio of stars forming the hunter's belt, the stars in his dagger, Sirius and Procyon behind, and Aldebaran ahead, as well as Nancy's favorite little star cluster, the Pleiades nearly directly overhead were all clearly visible. It was magnificent! After dinner and washing, drying and stowing the dishes and pots and pans, we sipped a bit of Brogans while listening to Beethoven's Violin Concerto in D. Not too shabby for our first day in this part of paradise.
On Friday morning the anemometer showed 20 – 25 knots, the seas were six to eight feet outside, with some at 10 feet. The good news was that the water was warm, the air was warm, we both were wearing bathing suits, and it was not far to Anse Colombier on St. Barths. Now this is a beautiful harbor! A wide crescent of white sand, hills to protect against prevailing winds from northeast to southeast, little wave refraction, calm, clear water from dark blue to light blue to turquoise, and good snorkeling over narrow reefs on both its north and south extremes. We picked up a mooring, but not without some minor misadventure. As I was attempting to snag the mooring line the working end of the boathook got caught in a loop just as a gust pushed the hull of S3 away. As the force became sufficiently great, I could no longer hold onto the boathook. Fortunately a nice fellow in a dinghy saw the dilemma happening and quickly rescued the temporarily buoyant boathook before it sank. On our second attempt Nancy positioned the hull slightly to windward so I had more time, was able to snag the loop in the mooring line, pull it up, set the boathook on deck, run our dockline through the loop, and secure it to the opposite bow cleat before the hull blew off station.
Obviously, this system works, but the boathook approach is much more prone to error – and loss of the boathook – than the simple method used in New England involving a pickup wand on a small float attached to a dual mooring pendant, attached to the primary mooring line. There, one slowly comes up on pickup-wand whose top is six feet above the water, grasps the wand, and then pulls both the wand and dual mooring pendant aboard. The twin spliced pendant eyes are then easily secured to both bow cleats, and the boat is secure, with nothing to lose overboard! We took the dinghy to the beach, secured its painter to a tree, and went snorkeling.  The water was gorgeous, but perhaps we did not find the best location as we only saw a few tropical fish.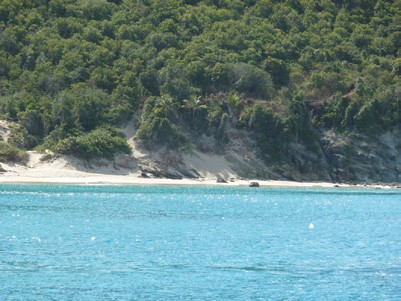 We loved this spot so much we decided to spend two nights here. This was fortuitous, since on consecutive evenings we both saw the famously rare "green flash" at sunset. In my lifetime I had only seen it twice, and Nancy had only seen it once. However, at Anse Colombier we each saw the green flash twice in two nights! If atmospheric conditions are just right the phenomena will occur just as the upper limb of the sun sinks below the horizon.
The beach at Anse Colombier, St. Barths   © Nancy Kaull
A place like Anse Colombier presents a pleasant dilemma. It is so lovely that you want to stay at such a wonderful location for a long time. But there are more places to see, and more things to do, so conversely one wants to weigh anchor and see what is around the next point of land. Nonetheless, this lovely and well-protected harbor with its white sand beaches quickly became one of our all-time favorite harbors. Sitting in the cockpit after another glorious day of swimming, snorkeling, reading and relaxing we remarked while sipping a rum, orange juice and ginger ale "spinnaker," that this harbor already made the trip more than worthwhile, and we vowed to return after sailing south to visit St. Kitts and Nevis. Sautéed chicken and mushrooms finished with peach nectar over rice and green beans with a lovely Riesling finished the meal, and a splendid day. Yet another starry, starry night!
Sunday finds the unthinkable: the winds are from the south! The tradewinds in the Leeward Islands blow basically from the east, with atmospheric conditions shifting them towards the northeast in the winter and southeast in the summer. As January is winter in the northern hemisphere, somebody clearly forgot to inform Mother Nature's wind machine. Initially we were disappointed as we had planned to sail south to St. Kitts and Nevis. So, we weighed anchor at about 7:30 am, raised the mainsail, set a first reef, and proceeded out of the bay. Once away from the distorting effects of St. Barths, we discovered that the true wind was from about 140° so we would be on a close reach to St. Kitts. Good enough! We got hit by a rainsquall, secured a second reef when the apparent wind settled in at 25 knots, and were sailing at seven knots directly towards St. Kitts. The seas were six to eight feet with occasional 10-footers, and the decks were wet.
With the more favorable wind direction we soon pointed S3 on a close reach towards St. Kitts, about 52 nautical miles away. For the first hour the winds were about 140° true at 20 – 25 knots. By about 9 am they had backed slightly to southwest at 18 – 20, and continued to back and decrease to 10 knots from the east-southeast. The good news was that we could shake out the second reef, and then the first reef at noon, while easing the jib sheets as we shifted to a beam reach.
At 3 pm the winds further decreased to 6 or 8 knots, boatspeed hovered just below five knots, and we definitely did not want to arrive after dark in an unknown harbor, so we turned on the engine, furled the genoa, sheeted the mainsail in snugly, and continued motorsailing until 5:15 pm when we rounded the point near Mosquito Bluff. Unfortunately, any geographic place-name that includes the word "mosquito" inevitably sets off a loud interior alarm in me. Sadly your author has, for many years, been disgustingly susceptible to vigorous mosquito biting well before any other people within 100 yards have even heard their first buzzing sound. Thus it was that we bypassed Ballast Bay adjacent to a salt pond, and hence nearby brackish water, with the all too commonly associated mosquito breeding grounds, in favor of White House Bay, St. Kitts. The Cruising Guide lists White House Bay as "well protected, with a sand bottom near shore, and a rocky bottom further out."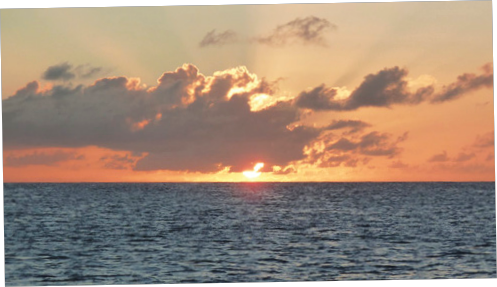 About 30 minutes before sunset we dropped anchor in 15 feet of water, let out 130 feet of scope, and were soon snug in a large bay with but a single catamaran nearby.  A 10-hour sail and motorsail, while tiring, had us ready for some dinner. A nice breeze blew all night, we had no problems with mosquitoes, S3 nicely pointed her bow into the wind, and with only a six-inch chop we spent a lovely night at anchor. Nancy soon
We saw the elusive "green flash" just after taking this photo at Anse Colombier.   © Nancy Kaull
prepared a splendid dinner of ham slices in maple syrup, fried potatoes, and peas, with a Shiraz having a velvety finish. If Anse Colombier was dark, White House Bay needs a new adjective to describe a level of darkness like the interior of a coal mine! While an often heard cliché, you literally could not see your hand in front of your face.
The little cockpit light supplied by Sunsail almost blinded us when we first plugged it in. After dinner and clean-up we unplugged it, and after about 15 minutes, even with natural dark adaptation neither of us could see the shrouds from the cockpit! Of course the anchor light remained on all night to keep any late arriving sailboats from crashing into S3. We were both tired from a long day, and after a wee dram of Brogans, our heads hit the pillows by 9 pm, and it was 7 am in what felt like ten seconds, not ten hours. I love that kind of sleep.
This article is excerpted from Voyages: Stories of Ten Sunsail Owner Cruises by Nancy Kaull & Paul Jacobs, who reside in Saunderstown, RI. Voyages is available in eBook format for iPad, Kindle and Nook, as well as a paperback print edition at lulu.com.
Since purchasing their Jeanneau Sun Odyssey 36i Sandpiper in 2009, Nancy & Paul have sailed with the Sunsail Owners Program in Abaco, Bahamas; Tortola, St. Martin, St. Barths, St. Kitts, Nevis, Anguilla, St. Vincent & the Grenadines, Granada and Carriacou in the Caribbean; Dubrovnik, Croatia, Tugutreis, Turkey and Vounaki, Greece in the Mediterranean; and Raiatea, Tahaa, Huahine, Bora Bora and Maupiti in French Polynesia. Special thanks to Daniela Clark at TUI Marine for her assistance with this article.