SHU Sailing Wins Class in Vineyard Race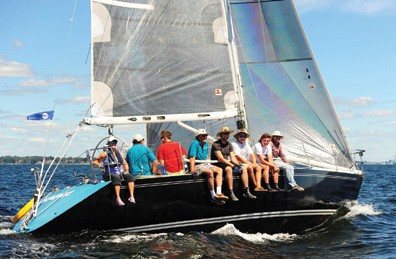 In Stamford Yacht Club's 80th Vineyard Race over Labor Day Weekend, the Sacred Heart University Keelboat Team, based at SAIL BLACK ROCK in Black Rock, CT, sailed Dave Otterbein's Tripp 37 Breakaway (Stony Point, NY; Nyack Boat Club) to first place in PHRF Class 5 and second in the Seaflower Course fleet.
In the second race they've ever entered, the Sacred Heart University Keelboat Team sailed Breakaway to a class victory in the Vineyard Race.  © Allen Clark/PhotoBoat.com
Five SHU sailors including Team Captain Brian Reilly '17, David Tampellini '18, Colby Jennings '16, Joe Aiuto '18 and Will Herlihy '16 were aboard, along with Otterbein, Vincent Dert, Patty Lukes and SHU Coach Dave White. This was the second race ever entered by the team, who finished in the middle of the pack last October in the Storm Trysail Foundation's Intercollegiate Offshore Regatta hosted by Larchmont Yacht Club. "It was a fast and easy race until the last mile trying to get around Cows Buoy to the finish," said Reilly. "The wind had completely died. We had to sail the boat like a dinghy the last mile, hiking hard to leeward and hand filling the chute."
Breakaway, celebrating her thirtieth anniversary of competing in the Vineyard Race (she was the overall fleet winner in 1984), was one of four boats competing in the Corinthian Challenge division for youth and collegiate sailors. Otterbein remarked on the crew's hard work and a great team effort, and White enjoyed Stamford Yacht Club's lavish tented lawn party. "One of the best awards ceremonies I've ever attended featuring Chinese, Mexican, freshly baked s'mores and gear vendors," he said.
Stamford Yacht Club and SAIL BLACK ROCK encourage all youth sailors to enter the Vineyard Race. Teams can choose to sail the full 238-nautical mile Vineyard Course, the 143-nm Seaflower Course, or the 116-nm Cornfield Point Course. "The Seaflower and Cornfield courses are perfect for less experienced teams," said White. "SHU Sailing is geared up for a season of collegiate dinghy racing throughout New England and looking forward to more keelboat events."