Story and photos By Alyssa Ringler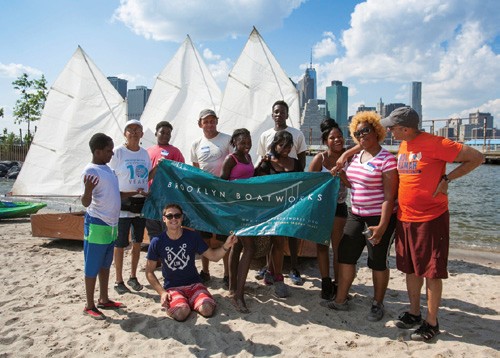 For most students that enter the classroom, drop their backpacks and circle up, the concept of building a boat and then sailing it is purely anecdotal. Maybe they had a friend or an older sibling that participated in the program but to build a boat, no less a seaworthy vessel that they will then singlehand in the Hudson River, sounds like a "cool" idea at best. Maybe it's eight weeks into the program before the realization materializes that those pieces of wood that have been hand-cut and painstakingly sanded for four weeks are now the hull of a
Red Hook Initiative comes to Brooklyn Bridge Park to learn how to sail their handbuilt Optis with Brooklyn Boatworks.   © Alyssa Ringler
small boat. The excitement of the students steadily grows as the hunks of plywood become a boat. It is contagious and rewarding for everyone involved.

The mission of Brooklyn Boatworks in Brooklyn, NY is to encourage, inspire and empower young people through the unique craft of wooden boatbuilding and on-the-water experiences. Brooklyn Boatworks' vision is a New York City where all children have the opportunity to experience the rewards, accomplishments and thrill of hand crafting and sailing their own boat.  Program leaders teach and promote the values of learning by doing, encouraging cooperation and fostering perseverance and craftsmanship.
Brooklyn Boatworks (BBW) is a non-profit started by Brooklyn-based naval architects Carl Persak and Jeremy Wurmfeld. The duo had previously been involved with various youth boatbuilding programs throughout New York City and Maine. They saw a critical shortage of quality, academically focused and engaging after-school activities available for middle school students, especially in underserved communities in New York City. In 2005, they set out to create a completely unique and challenging program for students in the often "make or break" early adolescent years.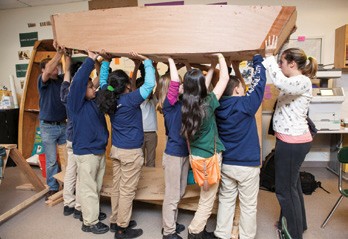 Persak and Wurmfeld re-engineered the International Optimist Dinghy Association-published  'Class Rules for the Wood/Epoxy Optimist' so that students as young as 10 years old could execute them without power tools or adults doing the work, and still have a class-approved Optimist. Each participant would claim ownership of the entire boatbuilding process and then launch their completed boat in the waterways of New York City.
Students and instructors lift a nearly-completed Optimist at Metropolitan Expeditionary Learning School in Forest Hills, NY.   © Alyssa Ringler
The pilot program began as a volunteer effort in the hallway of a Manhattan middle school. It has steadily grown into a healthy organization serving over 70 students annually with a goal of bringing the opportunity to build handcrafted sailboats to students throughout the five boroughs. The project-based learning curriculum has evolved with the incorporation of STEM (science, technology, engineering and math) programming. Weekly lessons include basic design, engineering and construction, fractional math, measurement, geography and map reading, water pollution and more. "Brooklyn Boatworks gives our students these critical moments of success, even when they feel so closed off from school and other adults here," said Priscilla Chan, Principal of the Brooklyn School for Collaborative Studies. "The program leverages positive change for students struggling with behavior and academics."
Each week a Captain of the Day is assigned to lead his or her group through the day's projects, making sure the correct boat parts are worked on and finished. Rather than students going to the instructor for questions, they first refer to the Captain, who builds confidence throughout the session by assisting fellow classmates. At the end of the day, the Captain blogs about their experience and shares photos from that day's build.
"As Captain, I learned that if you have a good leader things will get done," said Captain of the Day Ian. "When the other kids saw what they had to do, they were less likely to fool around. If they know exactly what to do, there is a better chance they will do it." Captain of the Day Aaliyah added, "I learned that in order to get the boat finished we have to work really hard as a team because if we work separately then we won't know where things go and how to put them together. I am really excited to go to the Hudson and sail it!"
Every spring, all participating schools get together and launch the completed boats in the Hudson River. Each student has a chance to sail the boat they built and see the city skyline from an entirely new point of view. With all the fun and excitement of launching the boats, "Launch Day" becomes an emotional day. For many participants, this is their first on-the-water experience. They grow up surrounded by water that is inaccessible to them and through perseverance, cooperation and a steady drive, they have created their own way to access it. Fear and trepidation of the water and getting into a handcrafted vessel is quickly replaced by burgeoning pride and excitement in sailing their boat.
The positive and quite visible transformation in participants coupled with a unique program design has attracted a team of dedicated and committed volunteers and interns. BBW volunteers assist teachers in each classroom, and work closely with students that benefit from extra attention. The roles of interns and volunteers are often almost without limits and might involve spending a weekend at the Webb Institute with ventilators and epoxy to refinish boats, or driving a van around the city to deliver lumber to schools. Yet each year the program begins with a core group that just wants to help the organization thrive. "Giving New York children the opportunity to build their own sailboat is simply fantastic," enthused longtime BBW volunteer Laurent Apollon. "Each boat is the summation of hours of work and accomplishments and personal stories of perseverance and patience."
Persak and Wurmfeld and the remarkable team that BBW has developed over the years are always eager to reach further with its programming. This summer, young boat builders were invited to learn how to sail in Brooklyn Bridge Park on the boats they built during the previous school year. In July, BBW launched its successful pilot program that included both on-land and on-water sailing lessons culminating in each child singlehanding an Optimist. The pilot was the first of its kind for the Brooklyn waterfront and gave all involved the confidence to forge ahead. "We are so excited to see the community boating program become a reality in the park," said Regina Myer, President of Brooklyn Bridge Park. "We look forward to seeing Brooklyn Boatworks youth sailing here again this season, and for years to come."
In years past, students' only chance to sail their boats came at the spring launch. This summer, with the Manhattan skyline as the backdrop, young boat builders were invited back to sail their boats off the newly created beach in Brooklyn Bridge Park with the support of Brooklyn Boathouse, Brooklyn Kayak Guides and the forthcoming Brooklyn Bridge Park Marina. With these boating-focused community organizations and a beautifully renovated Brooklyn waterfront, the youth of New York City are able to access their environment in new ways.
There is now a hardy and growing fleet of more than 20 wooden Optimists in New York City, built entirely by 6th-8th graders. "Our students express a well-deserved sense of accomplishment and pride upon launching their handcrafted sailboats each spring," said BBW co-founder Carl Persak. "Now they have the opportunity to sail those same boats through the summer months. We are all so excited to expand our programs to include this incredible opportunity for the students." For more information including volunteer opportunities and internships, visit brooklynboatworks.org.
Alyssa Ringler is the Program Administrator at Brooklyn Boatworks.
Editor's note: Brooklyn Boatworks co-founders Carl Persak and Jeremy Wurmfeld are the principals of Persak & Wurmfeld, a yacht design and naval architecture firm in Brooklyn, NY. Their portfolio includes the e33 squared edition daysailer and the Motive 25R trimaran. Visit persakwurmfeld.com to learn more.