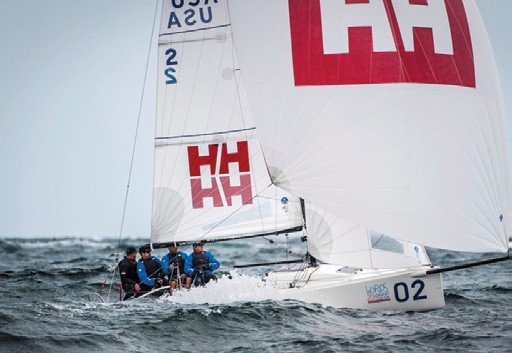 Eighty-six teams from around North America as far away as Bermuda, Chile, Great Britain, Germany The Netherlands, Sweden and Russia competed in the inaugural J/70 World Championship presented by Helly Hansen, hosted September 8-13 by New York Yacht Club at Harbour Court in Newport, RI, with regatta headquarters at Sail Newport.
Team Helly Hansen are the first J/70 World Champions.©Paul Todd/OUTSIDEIMAGES.COM
When the dust had settled, Tim Healy of Jamestown, RI and crew Gordon Borges, Geoffrey Becker and Paul Abdullah aboard Helly Hansen emerged victorious. Finishing behind Helly Hansen in the 43-boat Gold Fleet were Joel Ronning's Catapult (Minneapolis, MN) in second place and Brian Keane's Savasana (Weston, MA) in third. The 43-boat Silver Fleet was won by Mark Ploch's Sugar Daddy (Bronx, NY), followed by Marco Teixidor's Cachondo (Guaynabo, PR) and Geoffrey Pierini's Surge (Rumson, NJ).
Except for one day, conditions over the five days of racing were strenuous and exhausting. "It was a fun week," said Healy. "The nice part is there was wind the whole time. We enjoyed that, but because there's wind you have to work hard and at this point everybody is tired but also excited at the same time."  This is Healy's third world championship title; he won in the J/24 Worlds in 2010 and '13.
"The key to doing well is time spent in the boat," Healy continued. "As soon as I sailed the boats I knew the class was going to be huge. I think it's the simplicity of it. Anybody who grew up sailing dinghies or got into small keelboat sailing can look at the rig and see that it's simple, and how the spinnaker works and how the main works, the deck layout is totally simple and clean and it's easy to handle. The boat performs really well upwind; downwind it's exciting and it's planing. It's got just about everything for the typical sailor looking for a fast one-design boat that's easy to sail. Younger sailors can handle it – same for older sailors, and it's a good fit for women's teams also."
For 86 teams representing 14 nations to be contesting the first-ever world championship of the J/70 class is a testament to the popularity of a boat that was introduced just over two years ago. Even more notable was the mix of sailing royalty, including several Olympians, world champions and Rolex Yachtsmen and Yachtswomen of the Year, peppered throughout the fleet.
The regatta's youngest competitor was 13-year-old Julian Sudofsky of Marion, MA, who missed a week of eighth grade to handle the bow on his father Mike Sudofsky's Carlos. A J/70 class veteran, Sudofsky has twice raced in Key West Race Week, along with events in Annapolis, MD and at Cedar Point Yacht Club in Westport, CT. "Even though we didn't do too well, we had so much fun because everyone was top competitors," he said.
One team garnering lots of attention on the course was Team RAFBF Spitfire from Great Britain, helmed by Simon Ling of Burford. "Team Spitfire was formed about six years ago," explained Ling. "We're made up of serving and ex-serving members of the Royal Air Force and a couple of civilians as well. We basically look to sail as competitively as possible but also to promote the RAF Benevolent Fund. The name Spitfire comes from the iconic airplane that was built in the south where we sail in the Solent, and it seemed the perfect name for an RAF team."
This was the first time Team RAFBF had been overseas with the boat. "It was absolutely fabulous," Ling enthused. "What can you not enjoy about Newport? It's my first time here, we've all fallen in love with the place; the race organization has been second to none, the racing has been fabulous and we're really pleased with our result (12th overall and second Corinthian team). [The J/70] is a fabulous boat. They're great fun to sail, they're demanding to sail, and they put a smile on your face. What's not to like about that?"
Since its introduction in March 2012, the J/70 has quickly established itself worldwide with over 600 boats sailing in more than 20 countries. For more information, visit j70ica.org. In addition to presenting sponsor Helly Hansen, North Sails was the Official Regatta Support Partner for the inaugural world championship. Other sponsors included Harken, Marlow Ropes, Newport Storm, Seadek Marine Products, Southern Spars, Torqeedo and Triad Trailers. For results, photos and additional information, visit j70worlds.com.
Jan Harley at Media Pro International contributed to this report.