by TRACEY MUNSON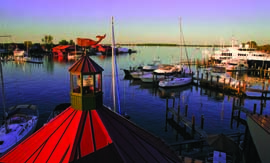 As you cruise, paddle, sail along the Miles River, or stroll among historic homes and storefronts, it's easy to imagine yourself in another world while visiting the waterfront village of St. Michaels.
That's because the authenticity of this Chesapeake town is abundantly preserved along its picturesque harbor, and among its historic district of boutique shops, romantic inns, four-star restaurants, and museums. It's a peaceful place that includes all the modern-day amenities you would expect—minus the neon hustle and bustle that often comes with a resort town.
St. Michaels dates back to the mid-1600s, when it served as a trading post for area tobacco farmers and trappers. Throughout the 1800s and early 1900s, St. Michaels' economy focused around the booming shipbuilding and seafood industries, which carries forward today in restaurant offerings of Maryland blue crab and other local seafood.
Located about halfway along the Chesapeake Bay's Eastern Shore, St. Michaels shares 600 miles of Talbot County shoreline. This well-preserved port is situated between the Miles River and Michener's Broad Creek. As legend goes, St. Michaels gained its name as "the town that fooled the British" during the War of 1812. St. Michaels' residents—forewarned that British barges were positioned to attack with cannon fire—hoisted lanterns high into the trees above the town. This fooled the British into overshooting St. Michaels' houses and shipyards.
Today, families, couples, boaters, and other visitors are the focus of attention in St. Michaels, with tourism the modern-day economic engine of this vibrant town. It's a place of celebration and reflection, and home to the Chesapeake Bay Maritime Museum, where the maritime cultures and traditions of the region are shared along 18 waterfront acres, without a single "Do not touch" sign in any of its 12 exhibit buildings. A climb to the top of the 1879 Hooper Strait Lighthouse reveals a spectacular view of St. Michaels and the Miles River.
St. Michaels is also home to world-class spas and a Pete Dye golf course, not to mention friendly locals with a laid-back style. Biking and walking trails, waterfront parks, and various on-the-water activities— including kayaking, guided river cruises, crabbing and fishing—give adults and families plenty to do. The town is also very dog friendly, with pets welcome at several inns and B&Bs, and water bowls found at dockside bars and local shops everywhere you turn.
The town also hosts several festivals throughout the year, including WineFest in St. Michaels in the spring, and OysterFest in the fall. On select summer weekends, log canoe sailing races can be watched on the Miles River, either by boat or on land.
A local winery, brewery, and distillery are situated along the town's main street, with samples, tours, and demonstrations offered to visitors. Mementos from your trip won't be found in plastic tchotchkes or through chain stores. Instead, you can enjoy the town's boutique shops, where unique finds are yours to take home and treasure. Nightlife in St. Michaels brings the culinary treats of award-winning chefs to the docks and tables of numerous restaurants. Alfresco dining and live music make for memorable evenings, while the cool breezes from the Miles River envelope visitors walking the town's historic neighborhoods and harbor by lamplight and foot.
While Baltimore Clipper ships and seafood processing plants are no longer found in this waterfront town, one thing remains. St. Michaels is like visiting another world, with its shipbuilding and seafood traditions carried forward in a way that engages the visitor in a truly authentic experience, one to be treasured and remembered for a lifetime. For more information, visit stmichaelsmd.org.
Editor's Note: While you're cruising the Chesapeake, don't forget to pick up a copy of SpinSheet. It's a great magazine and the source of Chesapeake Bay sailing news and information.