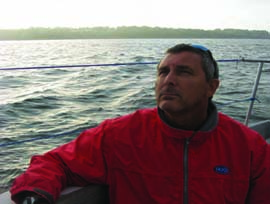 Picture this: You're sitting around the club bar swapping sea stories. After a pause in the discussion, maybe for another sip, someone starts speaking again and you hear "Block Island Race Week" and "double-handed sailing." You sink back into your reverie and take another sip. "I'm not a racer," you think. Well, apart from the suppression of the natural competitive traits of the human race, which I will ignore, I recommend you pay attention to the second part of the phrase: "doublehanded."
In the Northeast most sailors, racing or otherwise,
are at least aware of Block Island Race Week. This year's
edition, June 23- 28, was the 25th running of this famous
(infamous?) week-long party coupled with great racing to
fill in the daylight hours. Fifty years of Race Weeks is a
significant milestone for the Storm Trysail Club, and for the
first time they extended the entries to double-handed boats,
which sailed one race a day around courses defined mainly by
government marks.
Focus, for a minute now, on Block Island. Cast your
mental gaze out over the Great Salt Pond from your deck
chair at The Oar. You will see, except during Race Week, a
goodly supply of sailboats at the docks, on moorings and at
anchor. I'd bet you a week's supply of Dark 'n Stormies that
most of them are operated by two people. I think the next
cohort might be couples with kids. Next, on the larger boats,
(say 45 feet and up) there might be two couples. There might
even be a boat or two operated by one sailor. Virtually all of
these boats are almost certainly equipped to compete in the
double-handed class at Block Island Race Week.
The simple fact is that most owners cruise their boats,
and they are equipped for shorthanded sailing. A 40-footer
with three or four people is, by cruising standards, full. So
cruising sailors have a totally different take on seamanship
than "racing" sailors: not better or worse, just different. What
might be a pain in the neck on a fully crewed 40-footer
(broken kite, for instance) is a situation that, on a 40-foot
cruising boat with only a couple or four people aboard,
needs careful consideration and a good, sound plan before
anyone moves. This ability to look and think ahead is a core
component of good seamanship.
Racing offers the opportunity to push a boat's limits and
improve systems, techniques and equipment. Double-handed
racing is a cousin of ocean sailing and cruising, whereas
crewed racing is a long way from how most sailors use their
boats. DH sailors can be very competitive with working sails,
rather than a 100-hour carbon sail that must be babied along.
When I started the DH class in the Block Island Race in
1991, there were perhaps two single-handed races on Long
Island Sound. In 2013, a list of short-handed (DH and some
solo) I've compiled has 21 (mainly double-handed) races
between Long Island Sound and Maine. Only four are out in
the ocean and so oblige crews to have a lot more offshore stuff
aboard, and 16 are piggy-backed onto existing races.
In this year's Block Island Race, the double-handed class
was the largest division with 13 entries. Stamford Yacht Club
hosted a dedicated DH regatta on June 1 & 2 and had 24
entries in three classes. If you subtract the Olson 30, Melges
24 and J/80, the rest were cruisers or cruiser-racers with all
the trappings of a "cruising" boat: headsail furlers, autopilots,
low-friction mainsail luff systems, asymmetrical spinnakers,
on-deck navigation screens, bunks, heads, doors and so on.
Why the growth? Well, in no particular order and
without disparaging crewed racing, when speaking with
sailors competing in DH races I often hear: "It's a lot of fun."
"I get to do everything." "I don't have to organize crew, and
crew dinners are cheaper." "I don't have to get into the arms
race." "I don't need a pro aboard." "I can sail the boat I go
cruising in and still have a chance…"
No longer is shorthanded racing a bit "out there" or
wacky. It's almost mainstream. If you have given up racing
(for any reason) but miss the competition, ask your club to
offer a DH class for a couple races. Then get some of your
mates in similar situations to join you. Most clubs will give
a class a start with five or six boats, some less. I'll bet ya, the
satisfaction in coming third in a DH race is almost as good as
winning a crewed race…and a lot less stressful to boot.
Australian born, Joe 'Coop' Cooper stayed in the US after the
1980 America's Cup where he was the boat captain and sailed as
Grinder/Sewer-man on Australia. His whole career has focused
on sailing, especially the short-handed aspects of it. He lives in
Middletown, RI where he coaches, consults and writes on his
blog, joecoopersailing.com, when not paying attention to his wife,
teenage son, dog, two cats and several, mainly small, boats.