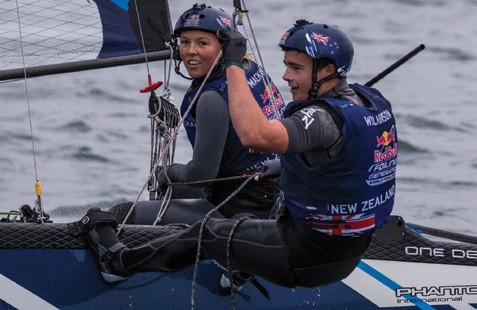 In a high-energy, high-emotion celebration, New Zealand sailors Olivia Mackay (age 20; helm) and Micah Wilkinson (20) were crowned the World Champions in the first-ever Red Bull Foiling Generation World Final. Fifteen teams from around the world, each comprising two sailors ages 16 to 21, raced identical Flying Phantom foiling catamarans on Narragansett Bay in a spectacular regatta that was hosted by Sail Newport in Newport, RI October 21 – 23, 2016.
New Zealanders Olivia Mackay & Micah Wilkinson are World Champions.   ©Stephen Cloutier/photogroup.us
When the organizers, double Olympic gold medalists Roman Hagara and Hans Peter Steinacher, were forced to cancel the final round due to winds gusting to 35 knots, earlier results in the regatta were used to determine the outcome. Joining the Kiwis on the podium were Sébastien Schneiter (21; helm) and Grégoire Siegwart (19) of Switzerland in second, and Matteo Pilati (19; helm) and Francesco Rubagotti (21) of Italy in third.
Hagara and Steinacher launched Red Bull Foiling Generation in 2015 to find the world's most talented youth sailors and give them the opportunity to advance their careers through top-notch hydrofoil racing. Over two seasons, 15 national champion teams emerged from Japan, the United Kingdom, Italy, Sweden, Denmark, Russia, France, New Zealand, Turkey, Germany, Switzerland, the Netherlands, Spain, Belgium and the USA to compete in the World Final. (The USA Qualifier series, also hosted by Sail Newport, was held October 11 – 16.)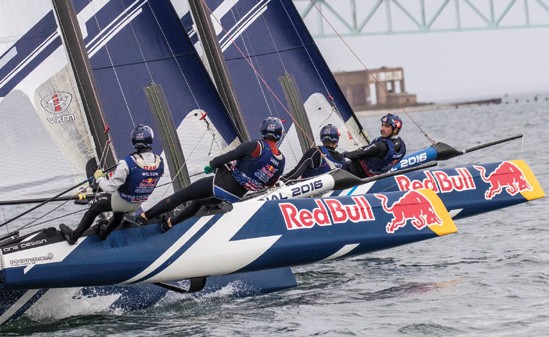 The American team of Quinn Wilson & Riley Gibbs duke it out with Swiss sailors Sébastien Schneiter & Grégoire Siegwart. ©Stephen Cloutier/photogroup.us
"We wanted to provide an opportunity that didn't exist for young sailors, not only though racing these boats, but by providing coaching and mentorship," said Steinacher. "The athletes in this World Final battled winds to 25 knots, with several capsizes and near misses, and their impressive performances have us convinced that Red Bull Foiling Generation is the perfect start on the pathway into professional sailing."
The champions from New Zealand had won all their World Final heats with style, and as one of only two women in the field, skipper Mackay confirmed that female sailors have a place right along with the men in the high-stamina, high-speed world of foiling. "I'm so excited right now," she smiled. "This was the biggest opportunity of my life, and I want to thank my teammate Micah as well as Roman and Hans Peter, who have taught me more than ever before. I can't believe we're taking this trophy back to New Zealand!"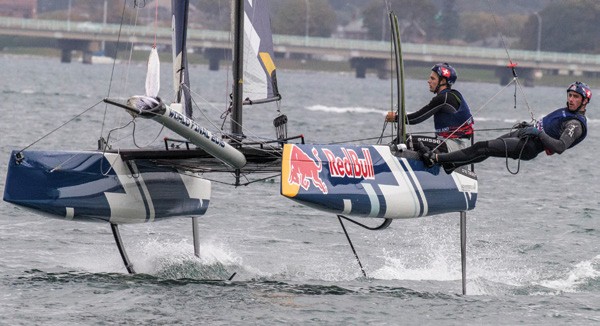 Cleared for takeoff. The Swiss team shreds the bay on their way to second place.   © Stephen Cloutier/photogroup.us
Red Bull Foiling Generation worked in partnership with US Sailing and the non-profit Sail Newport, which hosted the event. "Newport was such an exciting place for these passionate, talented young athletes to take the spotlight," stated Hagara. "We hope the skills they've learned will help them throughout their sailing careers, and especially that we'll be seeing some of them in the Red Bull Youth America's Cup, and, eventually, the America's Cup."
Using hydrofoil technology to lift completely out of the water, the 18-foot Flying Phantom can attain speeds of up to 35 knots and it's by far the fastest sailboat of its size. Red Bull Foiling Generation is the world's biggest youth sailing program, with Qualifier regattas held in 15 countries to give talented sailors the opportunity to represent their country in the World Final. For more information, visit www.foilinggeneration.redbull.com.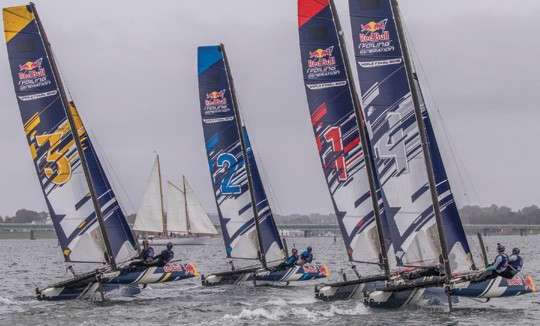 Fifteen teams from around the world competed in the inaugural Red Bull Foiling Generation World Final.   © Stephen Cloutier/photogroup.us