Register by March 1, 2017 for Early Discount on Block Island Race Week
The only five-day race week in New England features great racing, 6 parties in the Storm Trysail Club's Tent at The Oar – all framed by Block Island's special ambiance.
Major championships will be decided: IRC, J/44, J/109 and C&C30 North Americans, PHRF and J/88 East Coasts and the J/105 New England Championship.
Racing also offered in Performance Cruising classes, both spinnaker and non-spinnaker (PHRF), double handed (PHRF), classics (CRF) and multihulls (NEMA).
Entries are coming in ahead of past years – see who is signed up to date (2/8).
Enter Now! $2 per foot LOA early pay discount if entry fee paid on or before March 1, 2017.  Details, NOR and entry at blockislandraceweek.com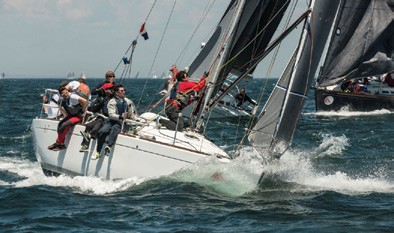 The Storm Trysail Club's Block Island Race Week, the granddaddy of the club's broad regatta portfolio, is scheduled for June 18-23, 2017.
The 27th edition of the Storm Trysail Club's Block Island Race Week  is poised to be the best one yet.   © Allen Clark/PhotoBoat.com
Founded in 1965 and heading for its 27th running, Block Island Race Week is a great biennial tradition of New England summers and one of the oldest race weeks in the U.S. Racing on Block Island Sound in late June, as the season changes from spring to summer, often brings ideal conditions, with a gentle breeze in the morning building to a challenging seabreeze in the afternoon. Many who sailed the regatta in 2015 completed 11 races over five days, including a gearbustin' Around Block Island Race, amid some of the finest weather ever to grace the regatta.
The Championships Regatta
Block Island Race Week's legacy is built on Corinthian racing ideals and shoreside camaraderie, but next year's edition will be notable for the number of championships that are scheduled for competition. Five one-design classes and the IRC Congress have designated BIRW as their New England, East Coast or North American championship. The list will most likely grow as regatta organizers are in discussions with another five classes.
"We're referring to Block Island Race Week 2017 as 'The Championships Regatta,'" said AJ Evans, Chairman of Block Island Race Week and Storm Trysail Club Rear Commodore. "Block Island continues to be the ideal venue for this highly competitive and social regatta. Some classes designated BIRW as their championship before we even invited them to do so. They clearly recognize BIRW as offering top-level race management and that's a nice tip of the cap to our race committee volunteers. They're probably also familiar with our tent parties and Block Island's idyllic setting."
The IRC division will be competing for the IRC North American Championship at BIRW. One-design class championships scheduled include the C&C 30 One-Design North American Championship, J/109 North American Championship, J/44 North American Championship, J/105 New England Championship and the J/88 East Coast Championship.
New Twists on a Proven Formula
As always, BIRW is open to PHRF-rated classes, double-handed sailors and performance cruising (spinnaker and non-spinnaker) classes. New for 2017 is an invitation to multihulls. It is expected that the multihull entries, like the monohull entries for so long, will represent a broad range of boat types, from racer/cruisers to all-out racers.
There are also some changes in store for the Performance Cruising classes. All Performance Cruising classes will get one throw-out after just three races. "This idea started as Pick Your Own Lay Day and actually wasn't designed by the Chamber of Commerce," Evans said. "I'm hoping some boats will have the option to pick a day during the week to either cruise around, fish, bike the island, or enjoy its beaches."
A Cruising class will also have a Plus One crew limit. Made popular by Storm Trysail Club member Adam Loory, Plus One sailing is a limit on crew to the tens digit of the boat's length plus one. For example, a boat between 30 and 39 feet could carry four in crew. Plus One enables boats to come race without having to rent a house – crews can stay aboard and get breakfast from Aldo's alongside.
Block Island Race Week long has been a rite of passage for youth sailors, many of whom sailed their first "big boat" regatta with their parents or parents' friends at this event. The Storm Trysail Club is committed to promoting youth sailing and will permit all crews to carry one extra crewmember under the age of 14 who will not count against the maximum crew number or crew weight for a particular class. In addition, the GEM Trophy will once again be awarded to the best performance during the week of a boat with a crew composed of at least 70% of its skipper and crew, male or female, younger than 25 years of age.
Entry Details
Entries for the Storm Trysail Club's Block Island Race Week will be accepted until June 1, 2017. The first registration period runs through March 1, after which the entry fee increases by $2/foot. A second period runs through June 1. Any entry fee paid after June 1 is subject to a further rate increase.
For more information, visit stormtrysail.org, and follow Block Island Race Week on Facebook.